BEACH MOTEL WEDDING IN HEILIGENHAFEN
WEDDING PHOTOGRAPHER HEILIGENHAFEN, BALTIC SEA, GERMANY
These two rocked their wedding in the Beach Motel in beautiful Heiligenhafen, Germany! As a wedding photographer I was allowed to accompany them at the beautiful Baltic Sea and Fehmarn and felt a little bit like on vacation.
After a drive of about 6 hours we arrived in the gorgeous place, Heiligenhafen, at the Baltic Sea and were allowed to stay in the cool hotel "Bretterbude". It was already clear there that it will be a fantastic time. This hotel even had a small pipe and an old photo booth at the reception, which we used for some memories. In the evening there was a get-together with BBQ in the Beach Motel on the other side of the road, which finally catapulted you into your vacation. It was a wonderful evening with beautiful weather, which I never would have expected from Heiligenhafen and the Baltic Sea (the one time we were in Fehmarn, it was stormy for two weeks).
On their wedding day, they got ready in the Beach Motel, where they could celebrate with their loved ones in the evening. With a view to the sea and everything in a beach styling. Freya enchanted me with her gorgeous dress and shoes from Kaviar Gauche. Oh how I love the dresses and the style! And it looked so good on her!
For the wedding ceremony we went by oldtimer to Fehmarn to the beautiful St. Nikolai and afterwards back to Heiligenhafen. There, between the Beach Motel and the Bretterbude, a reception was prepared for the wedding guests. From there it was only a short distance to the dunes, typical beach chairs and the sea. As the sun was low in the sky, we went to the beach for the bridal couple shooting. Because of the wind between the dunes and the soft light the two of them looked like in a painting. The shooting was a wonderful start into the evening and the end of a sunny day in Heiligenhafen.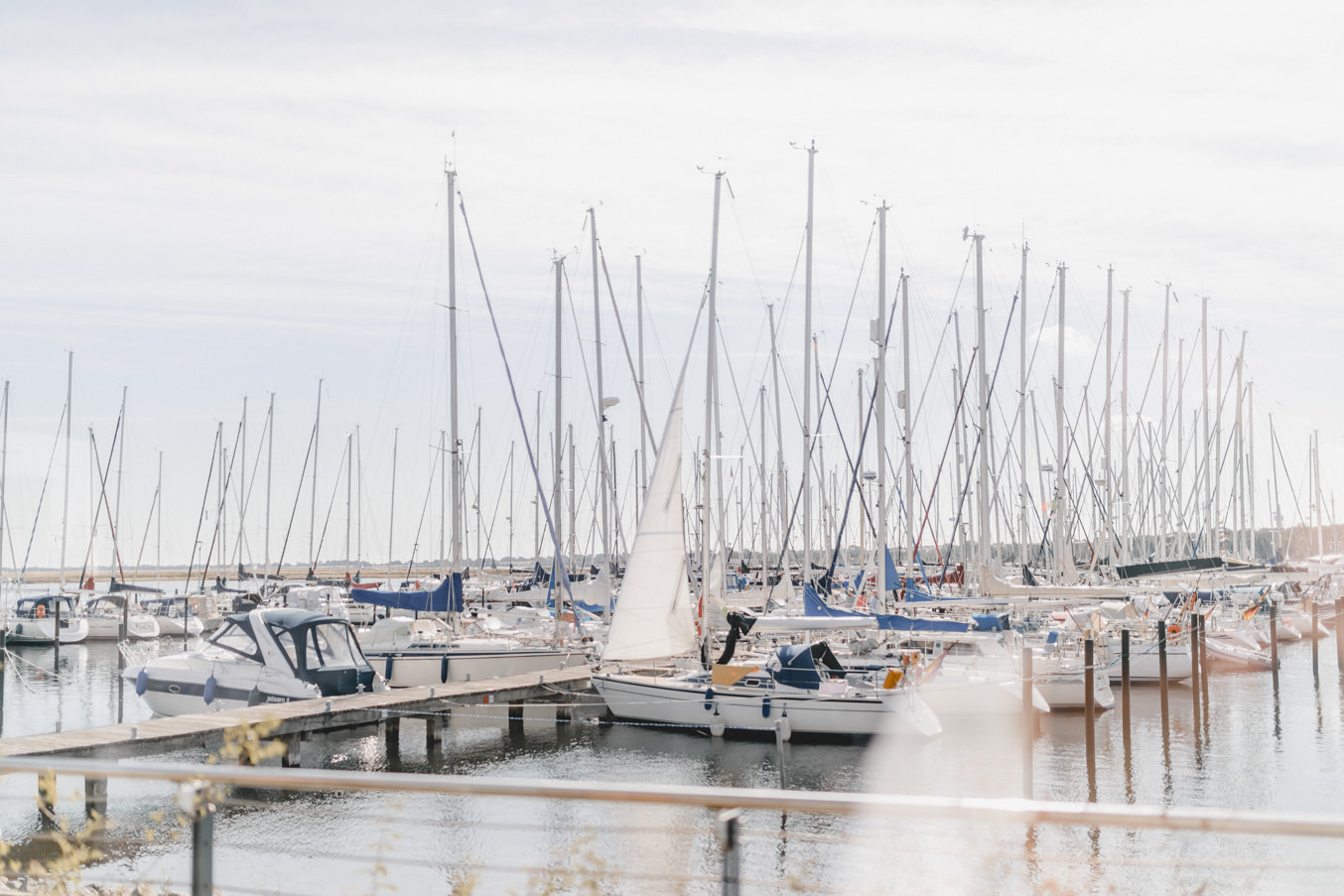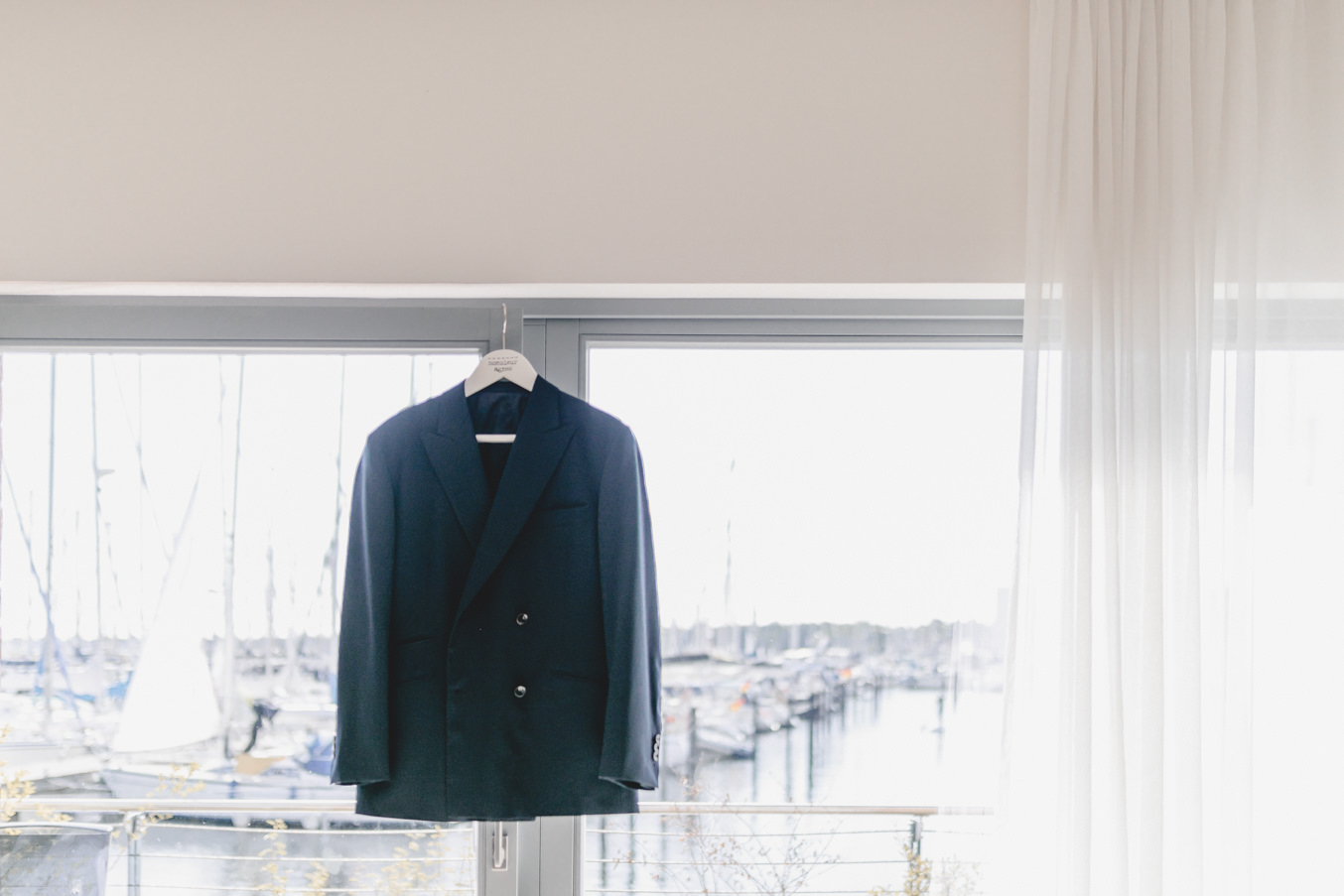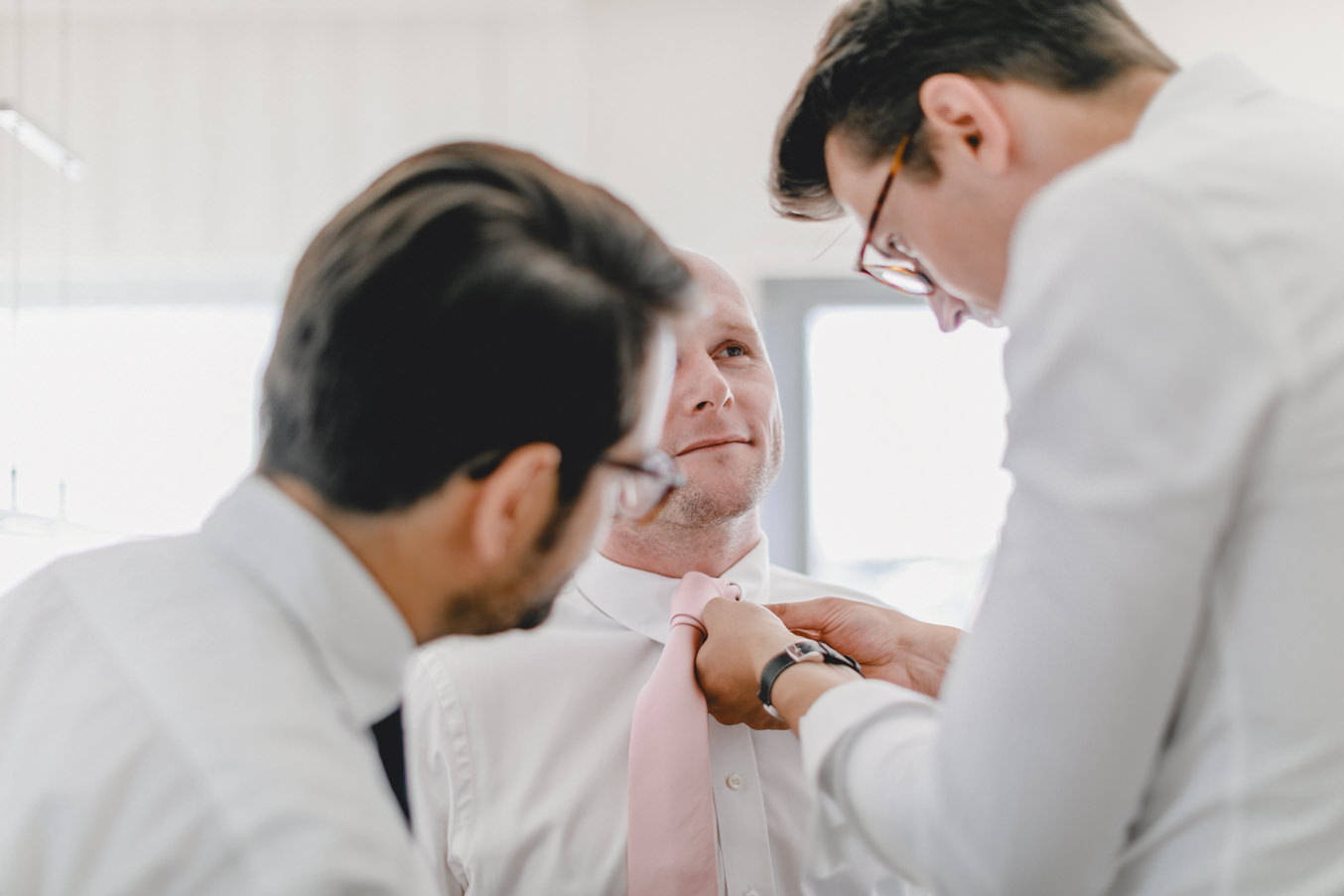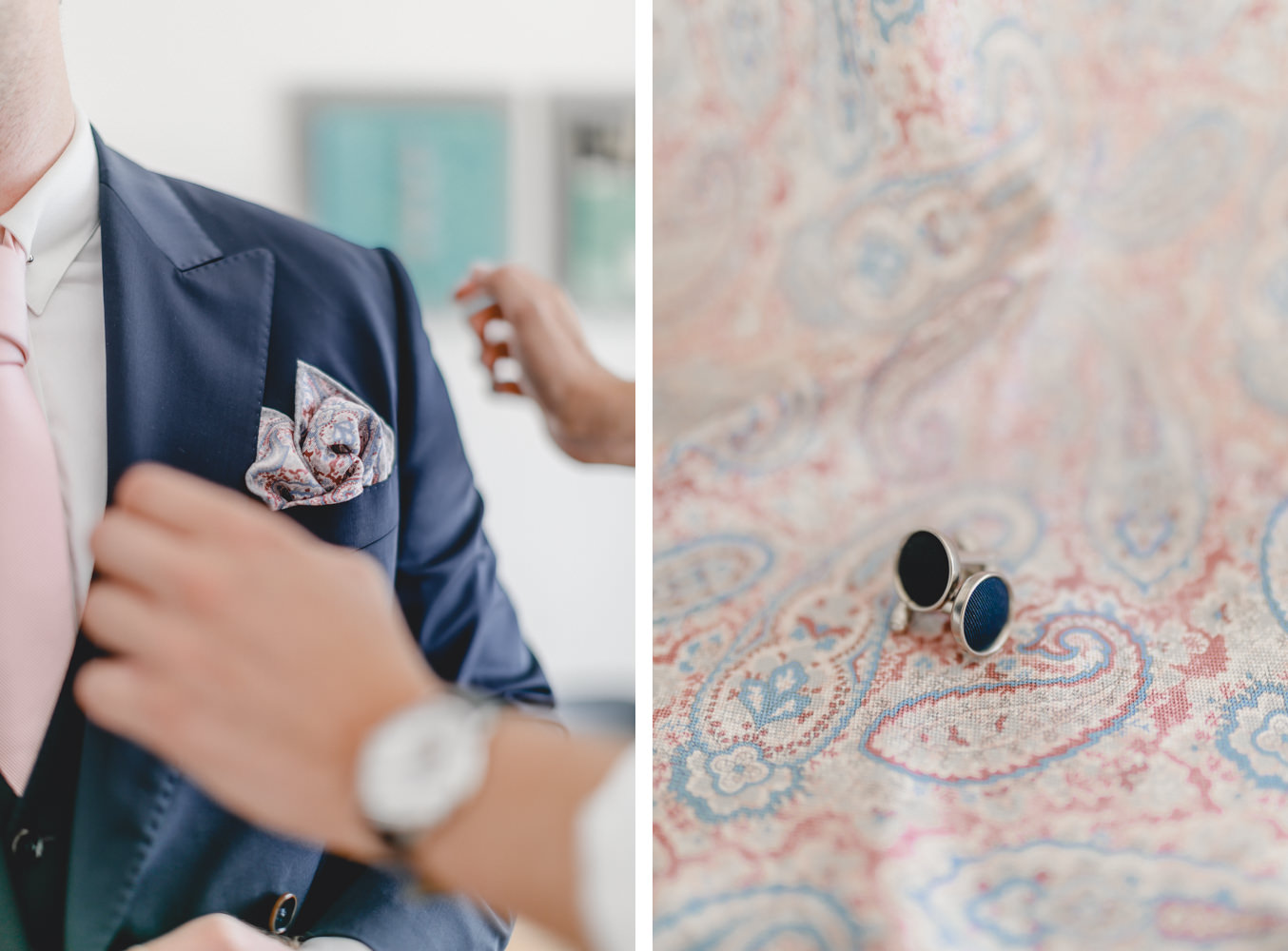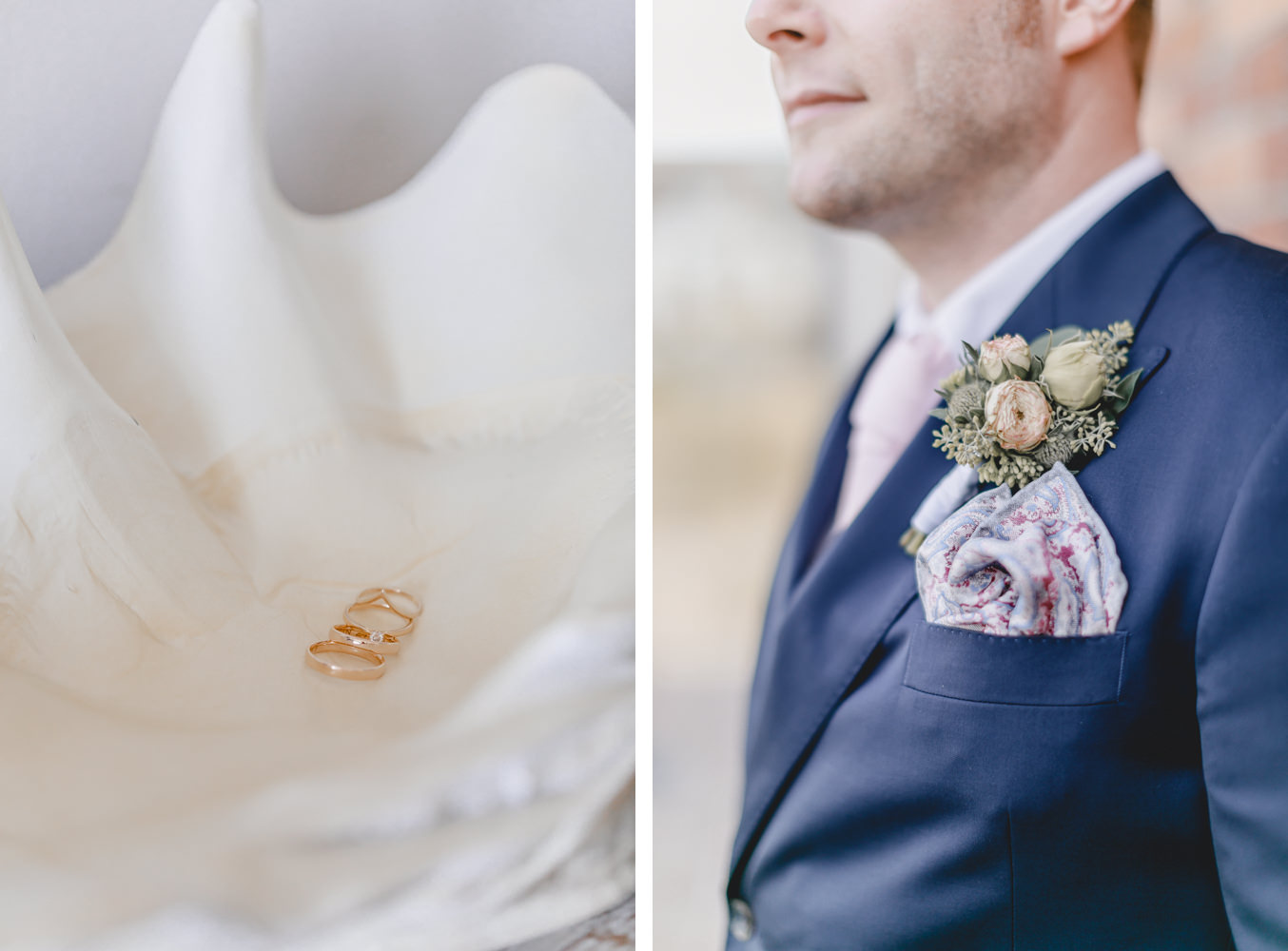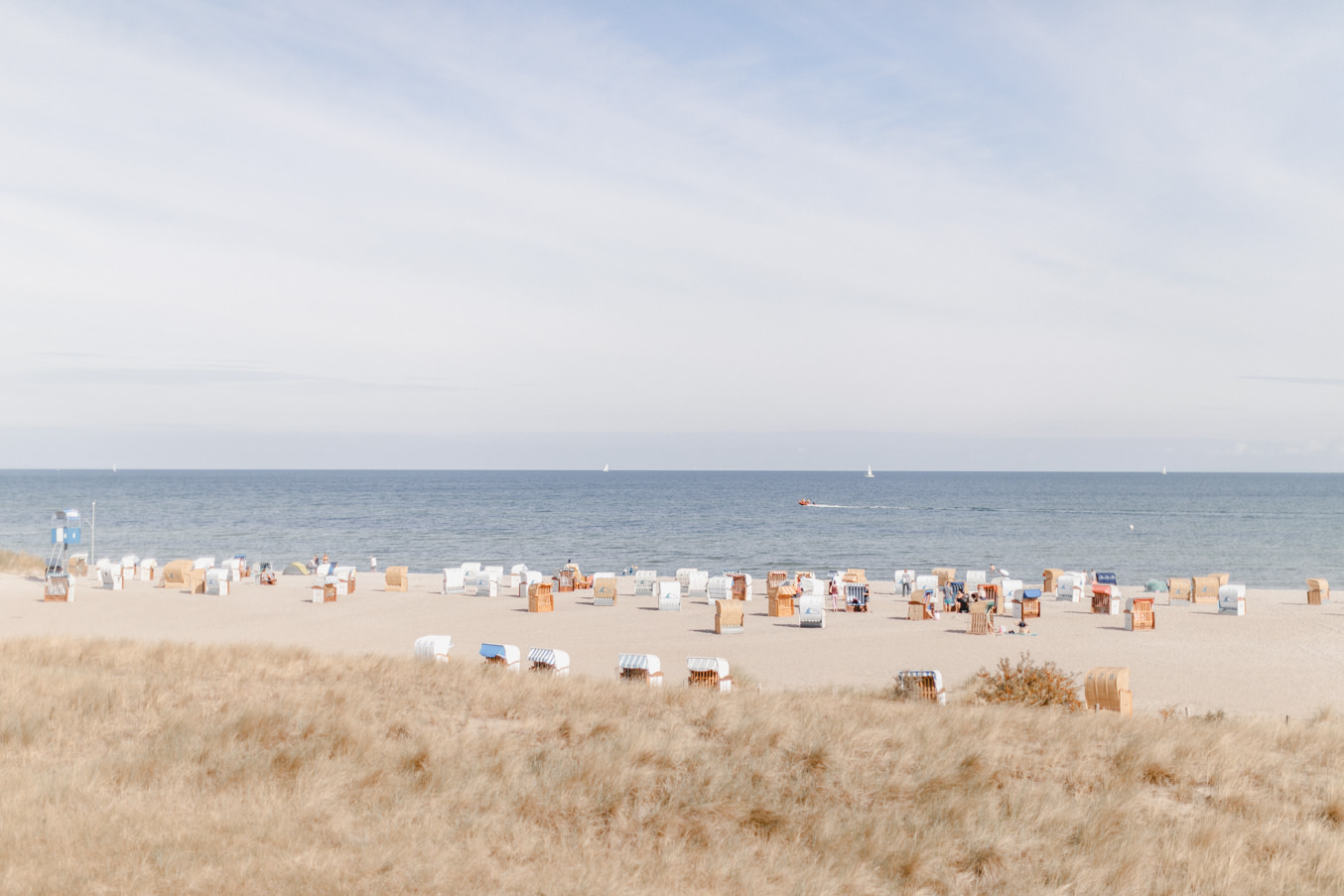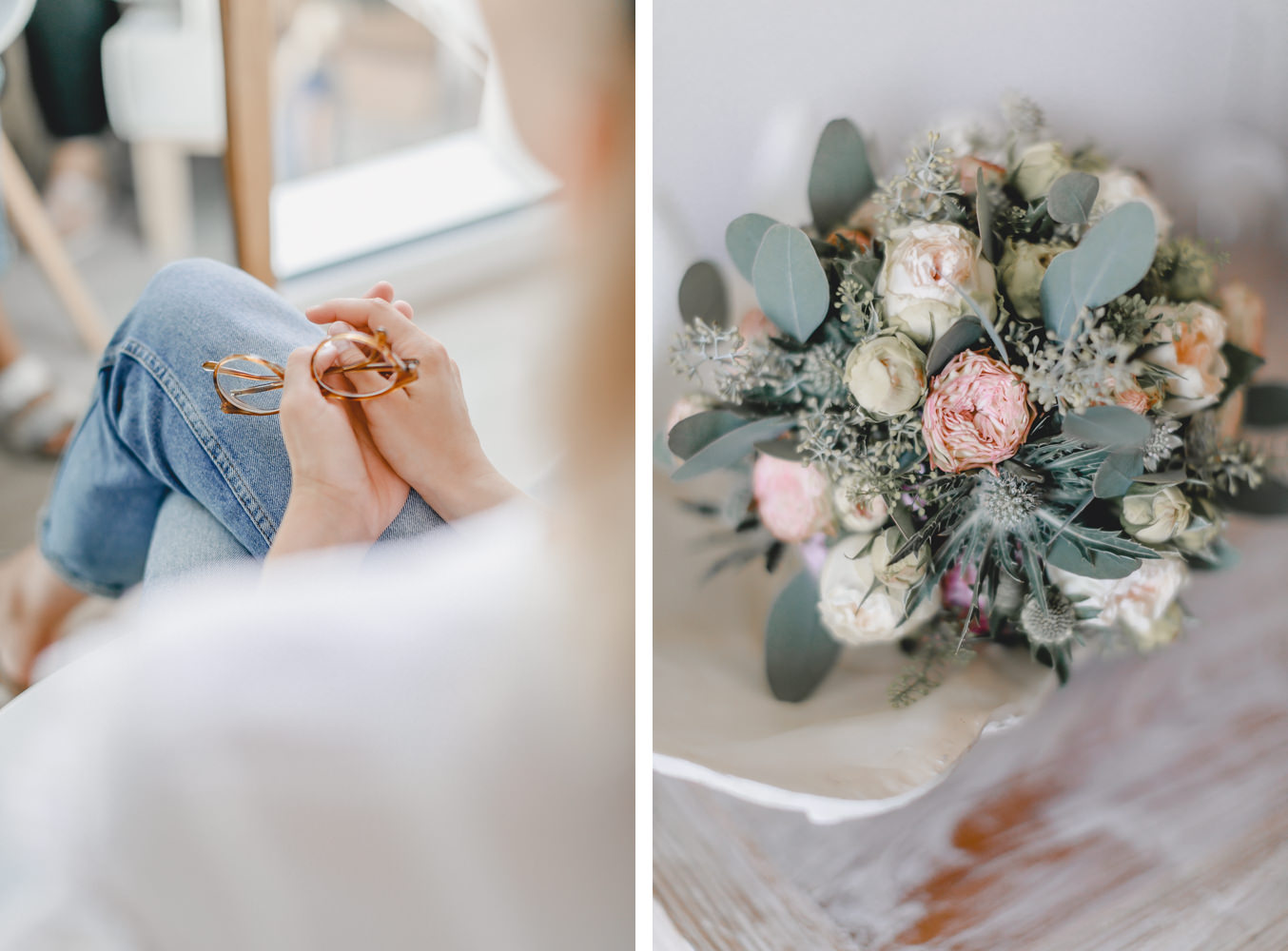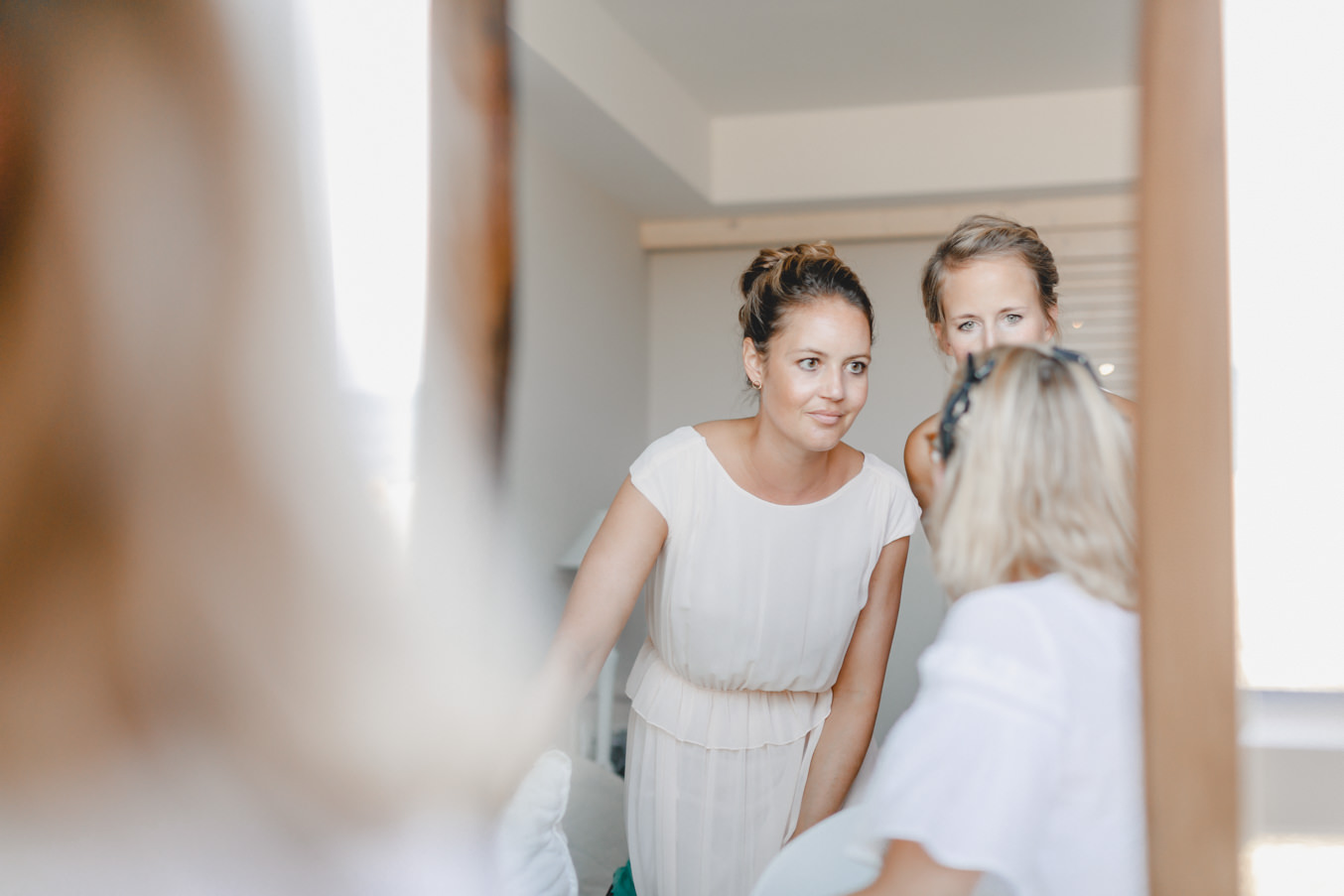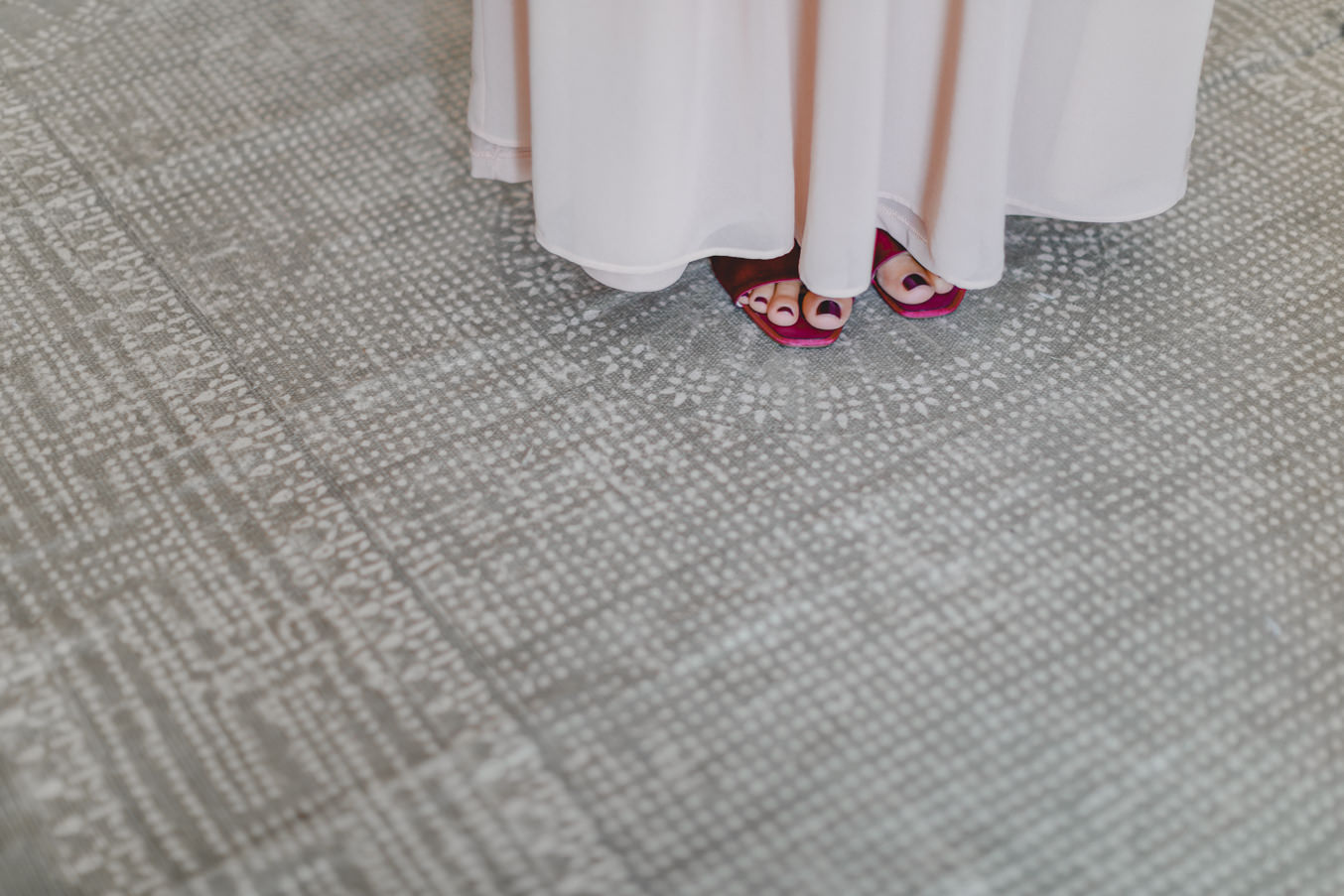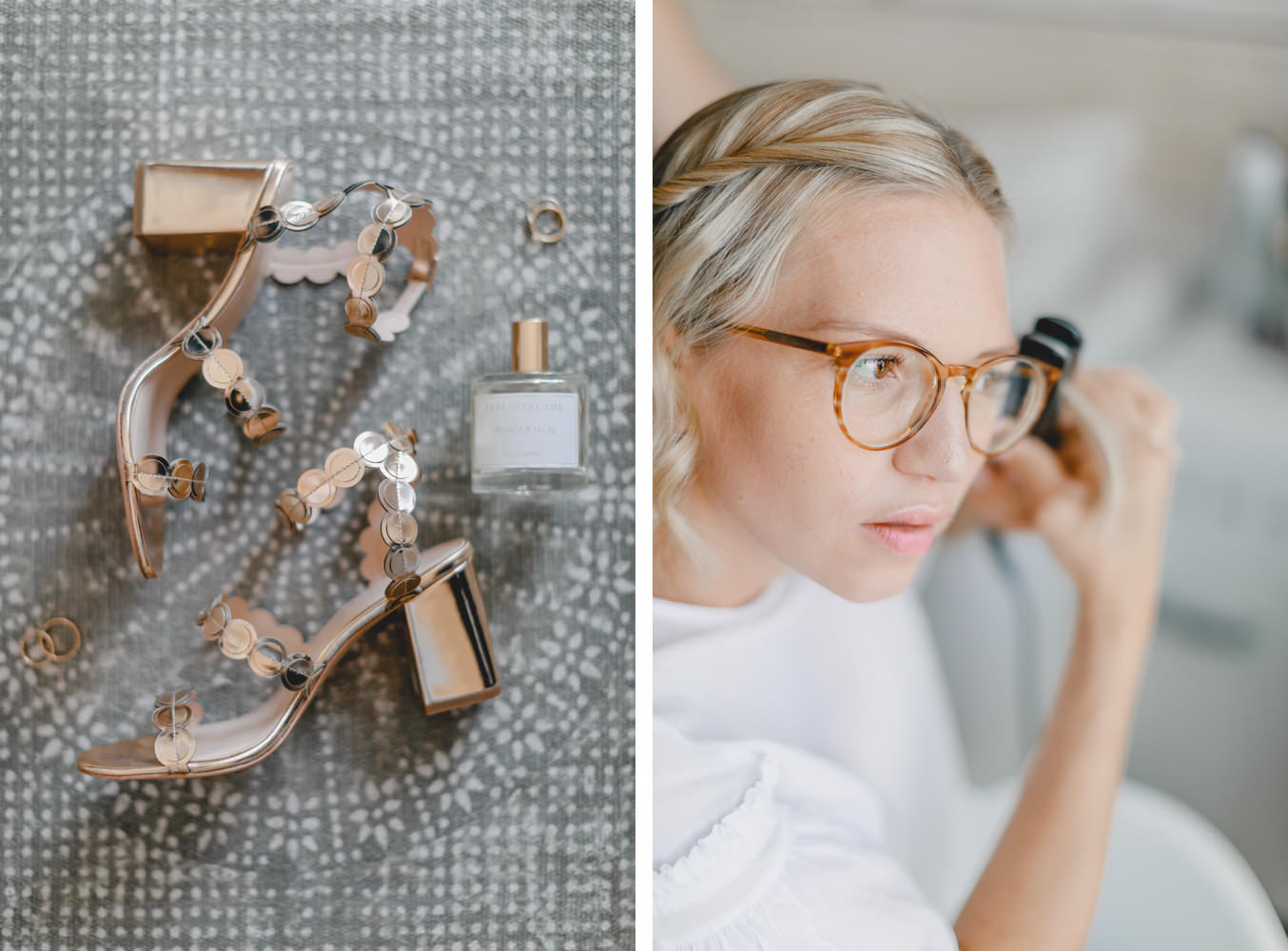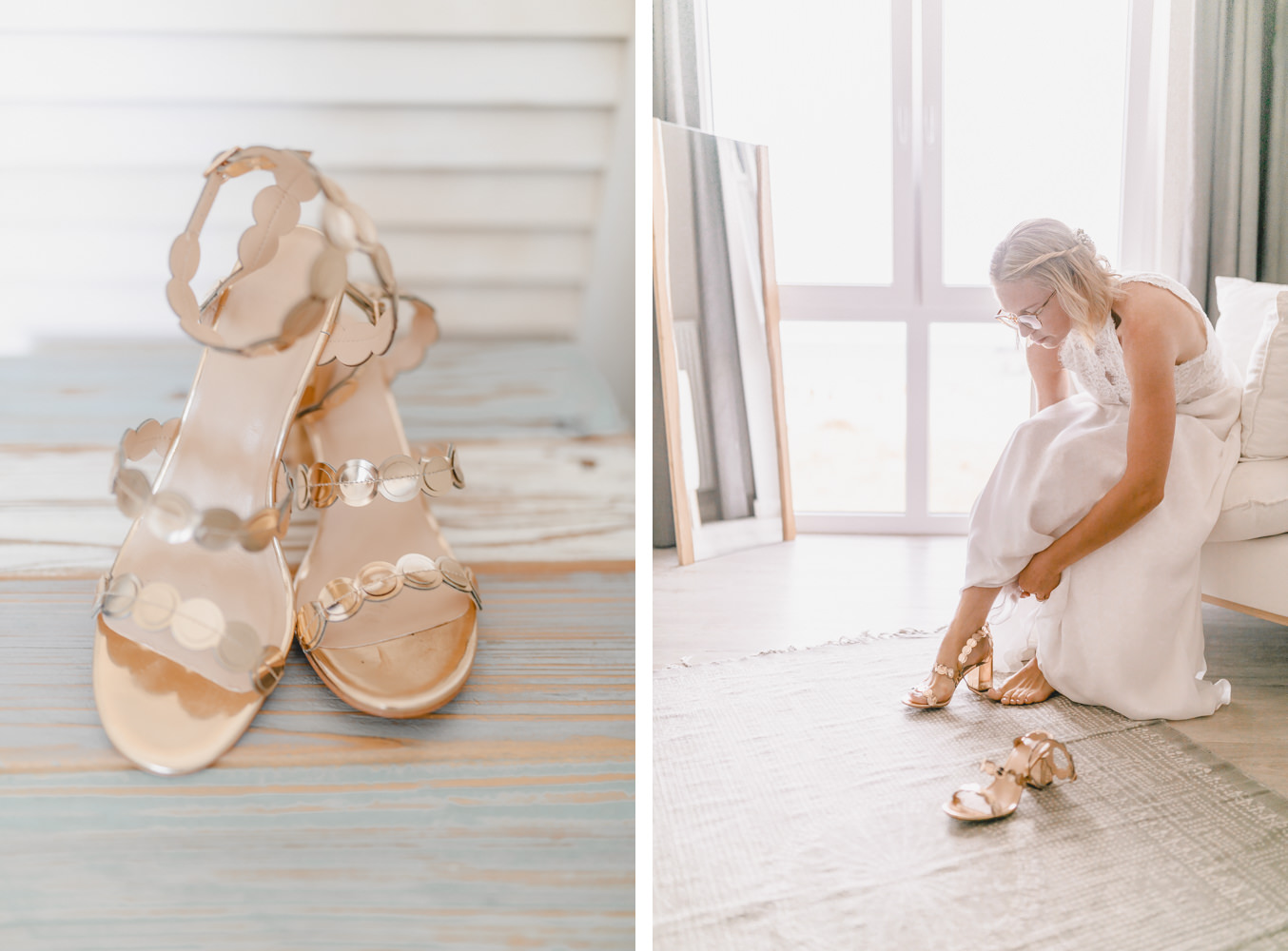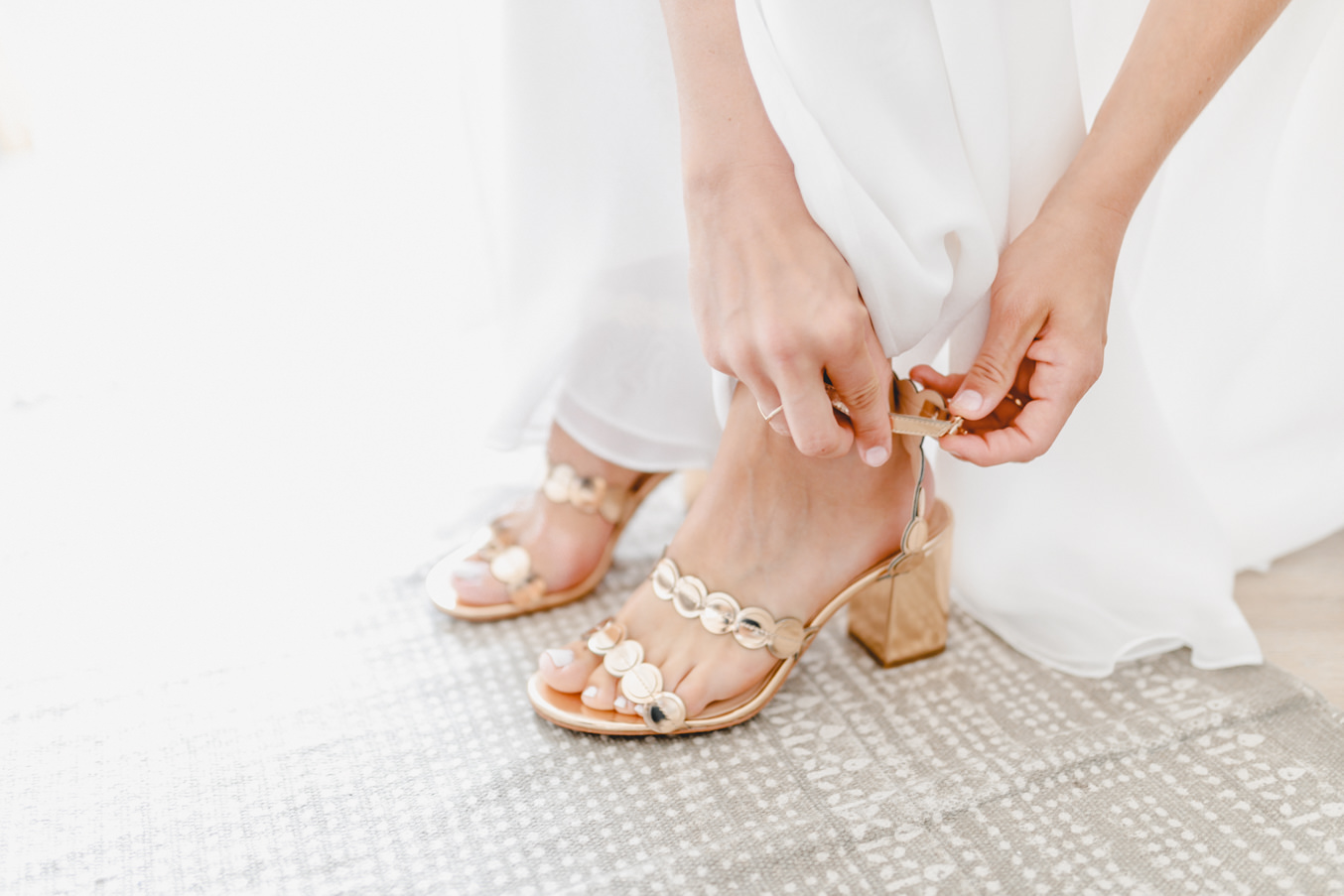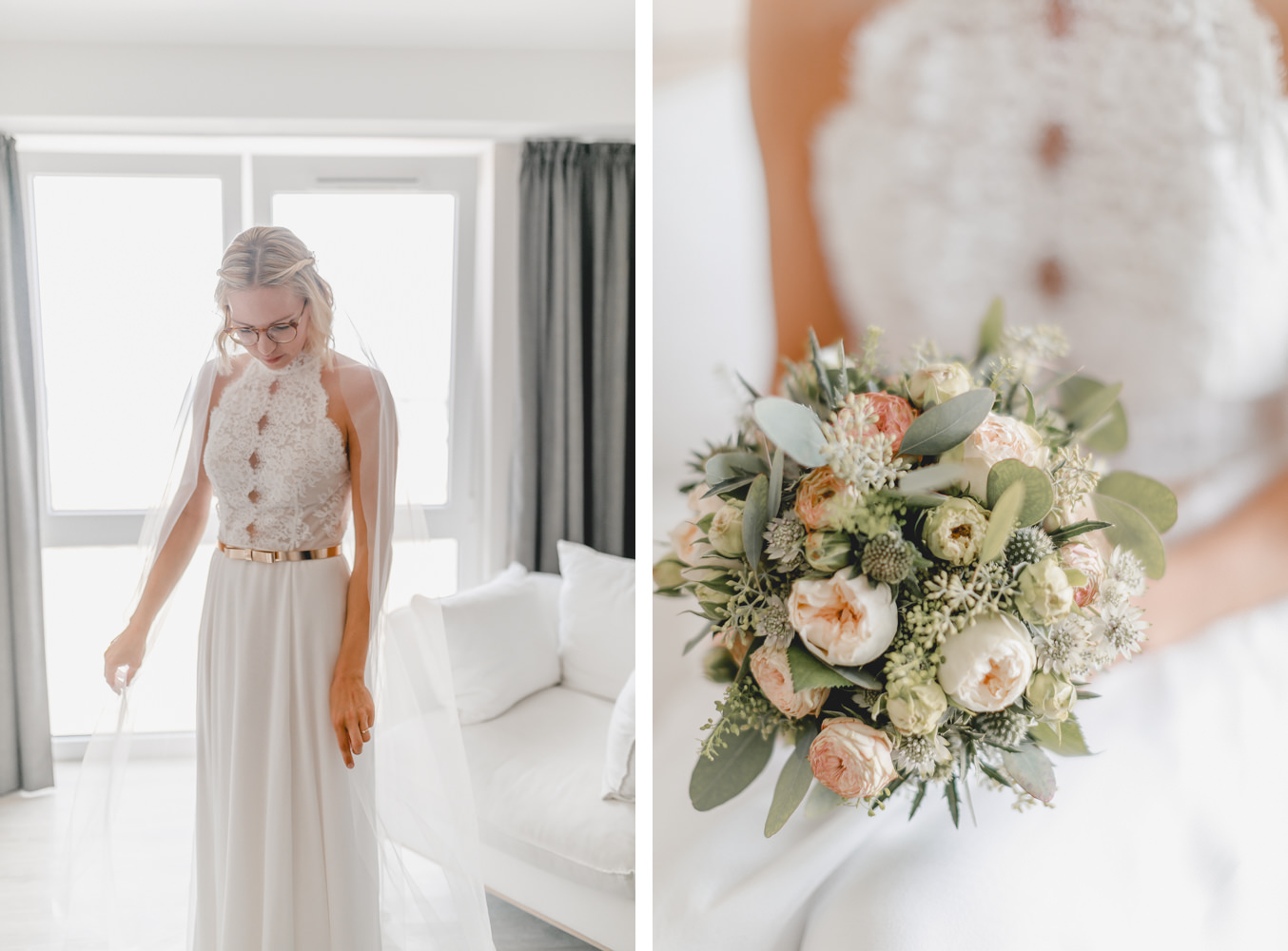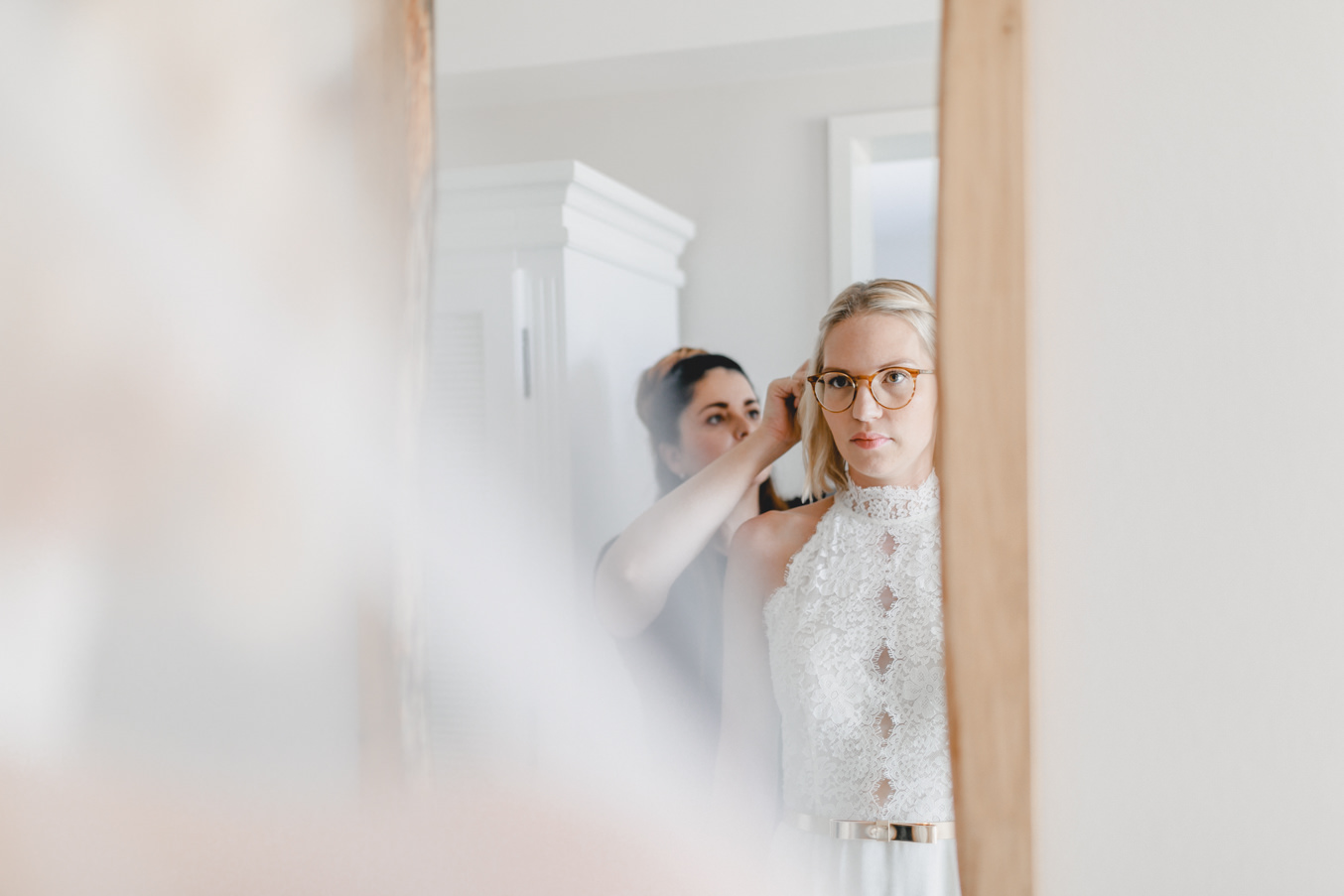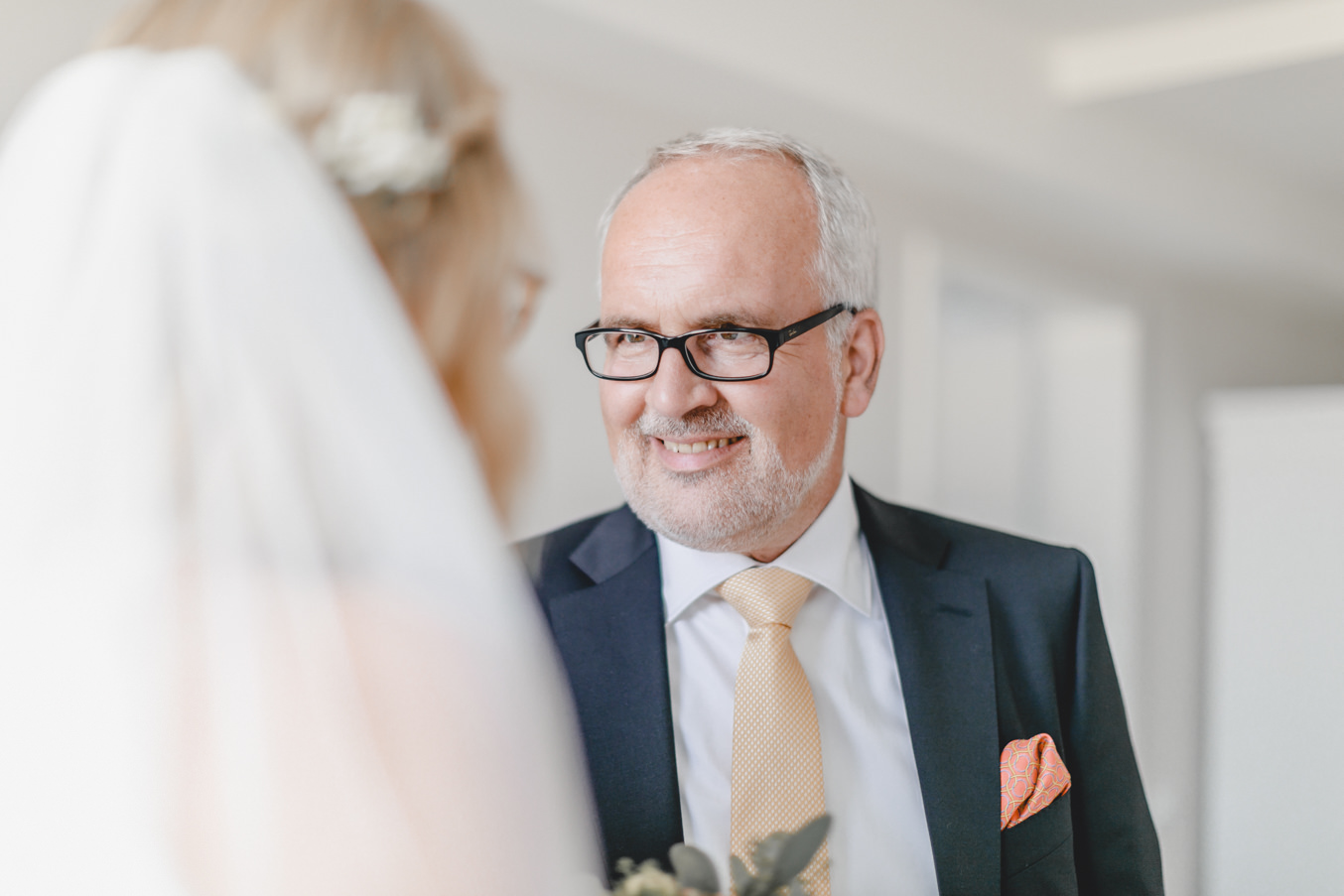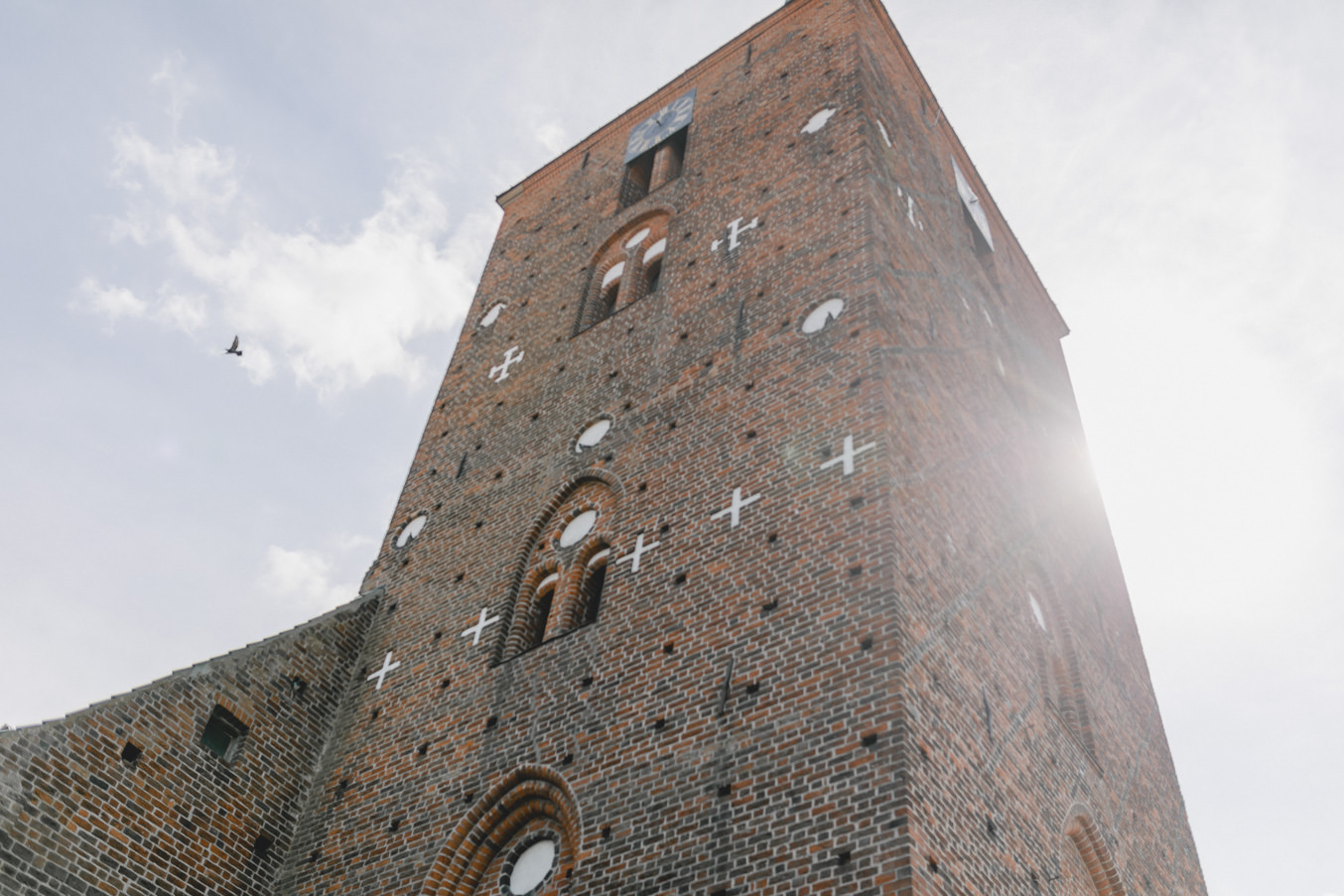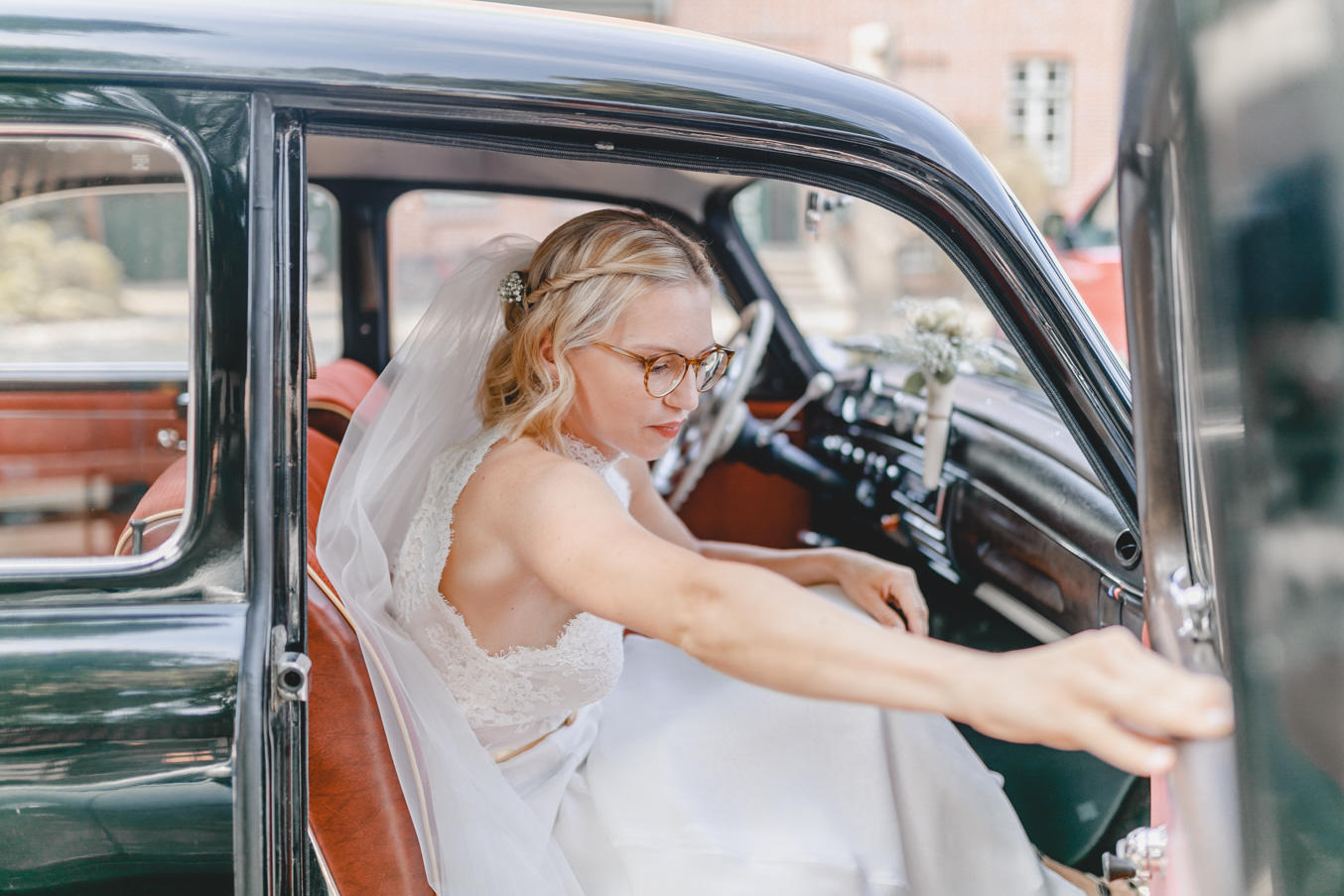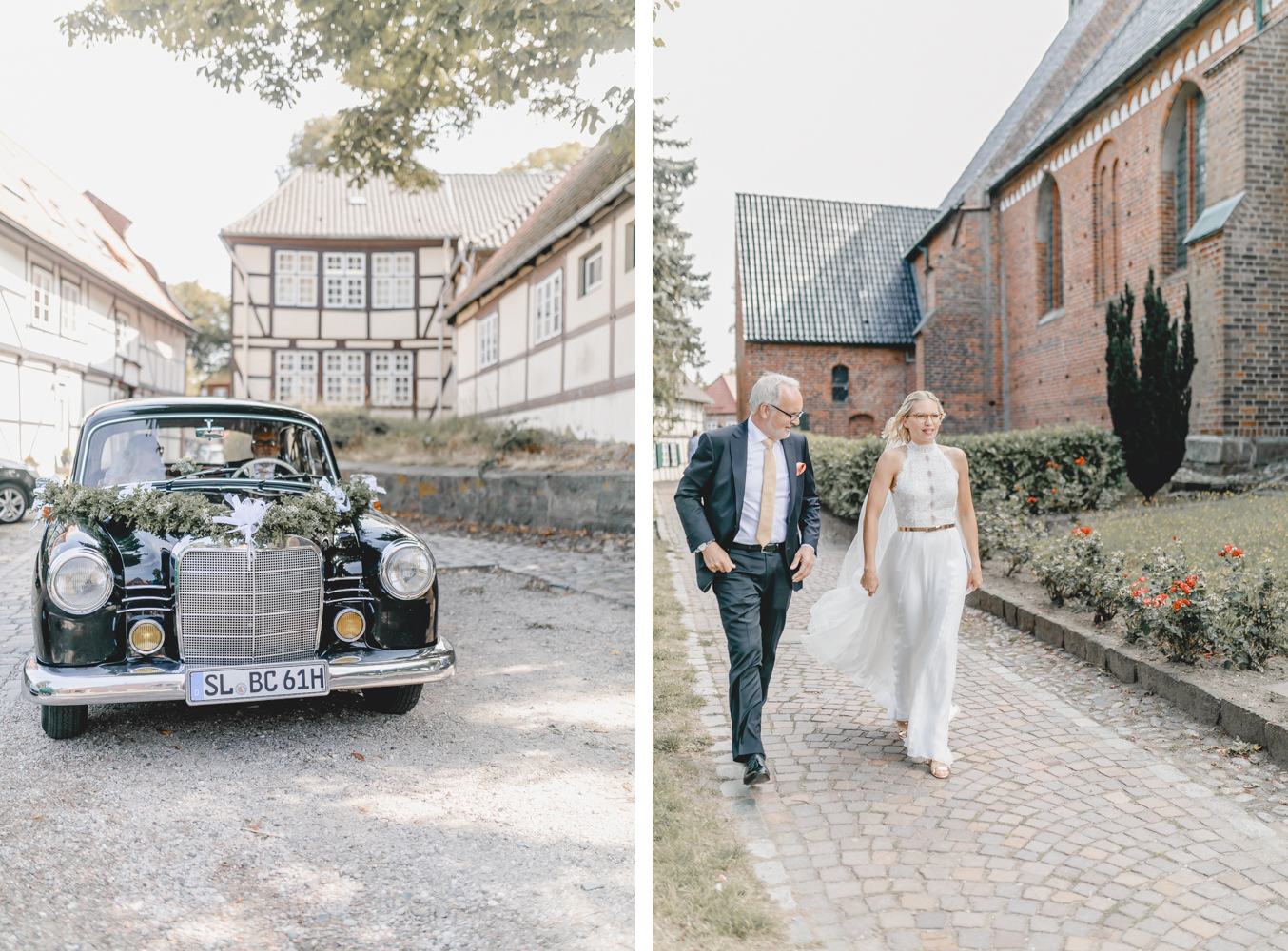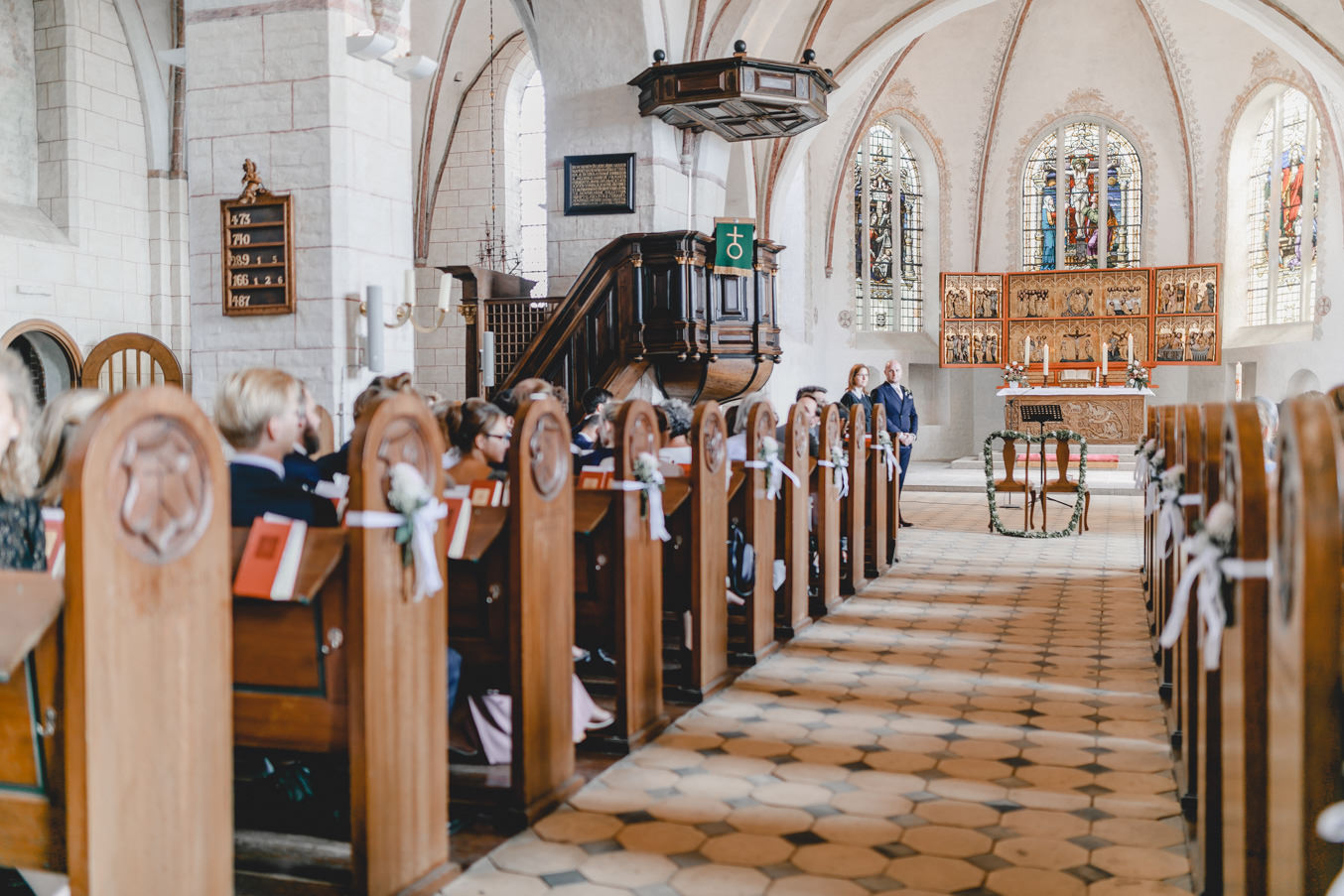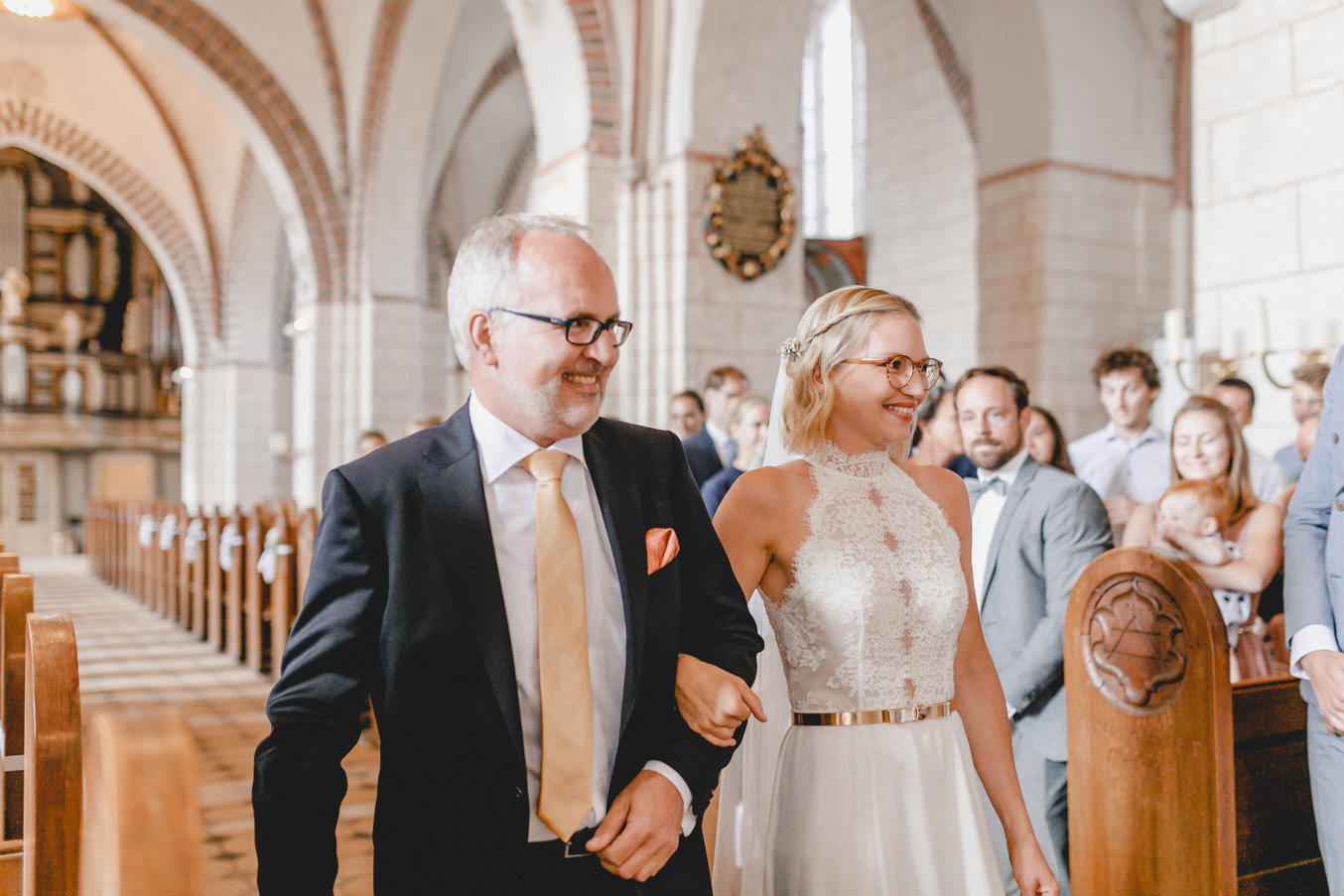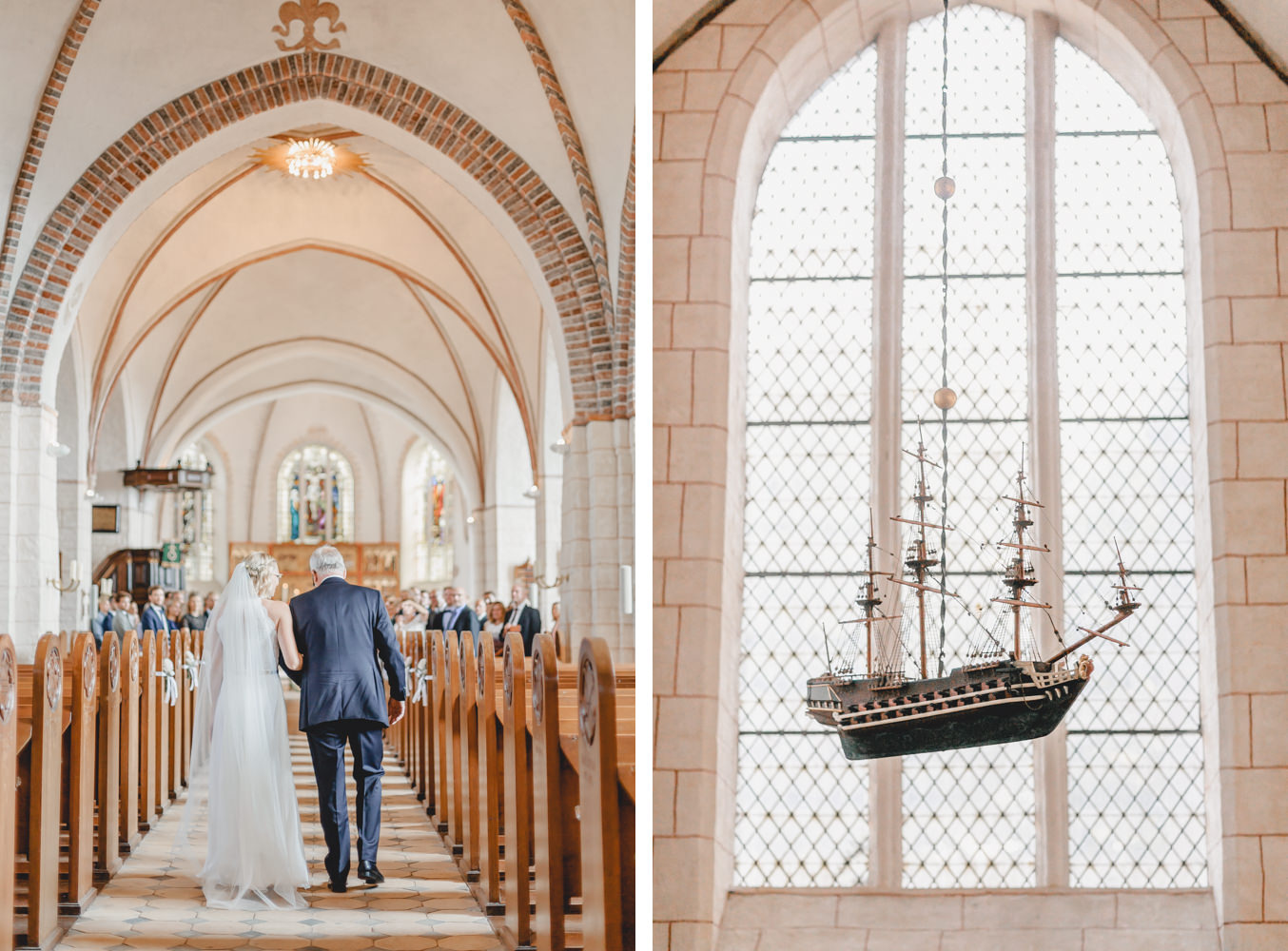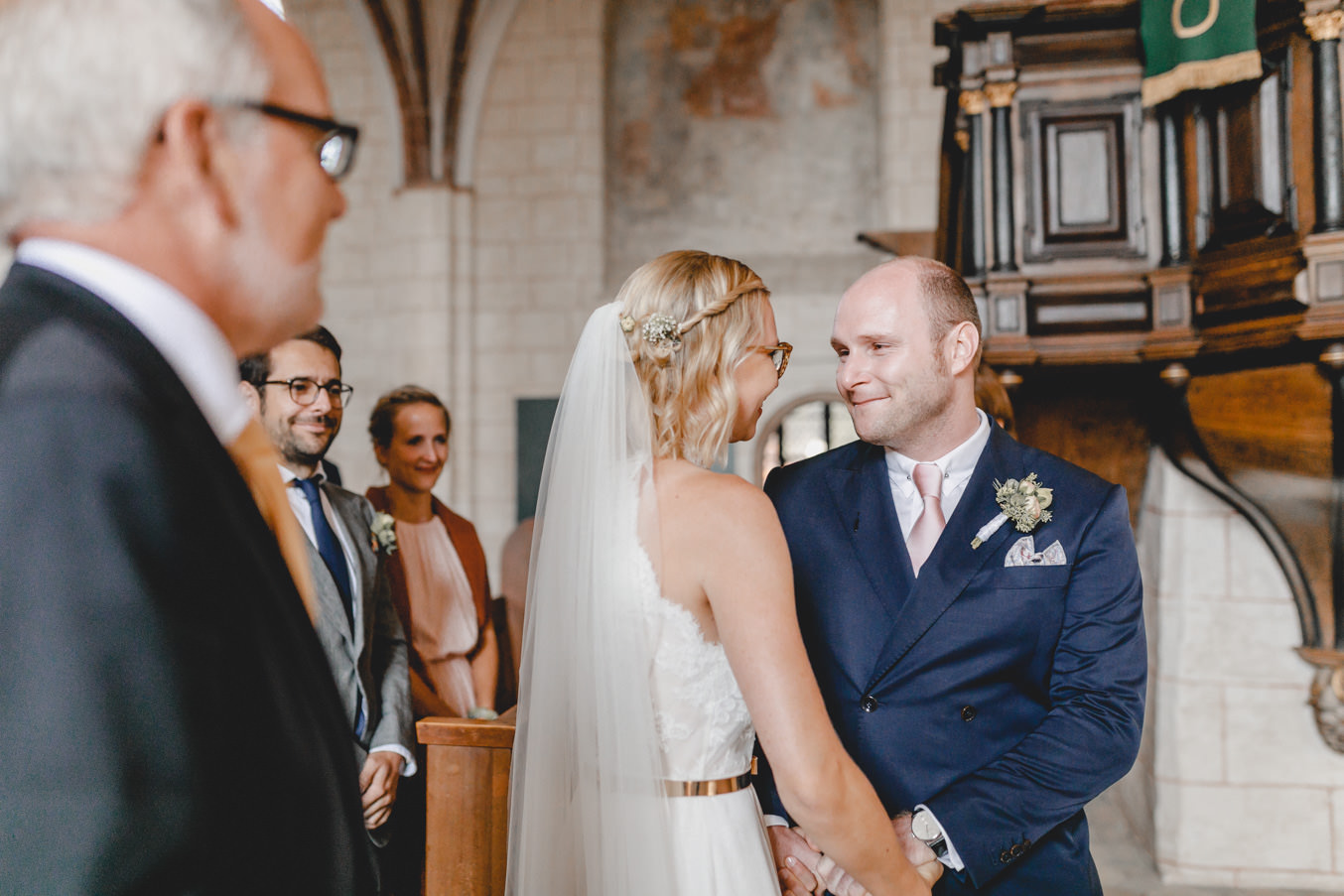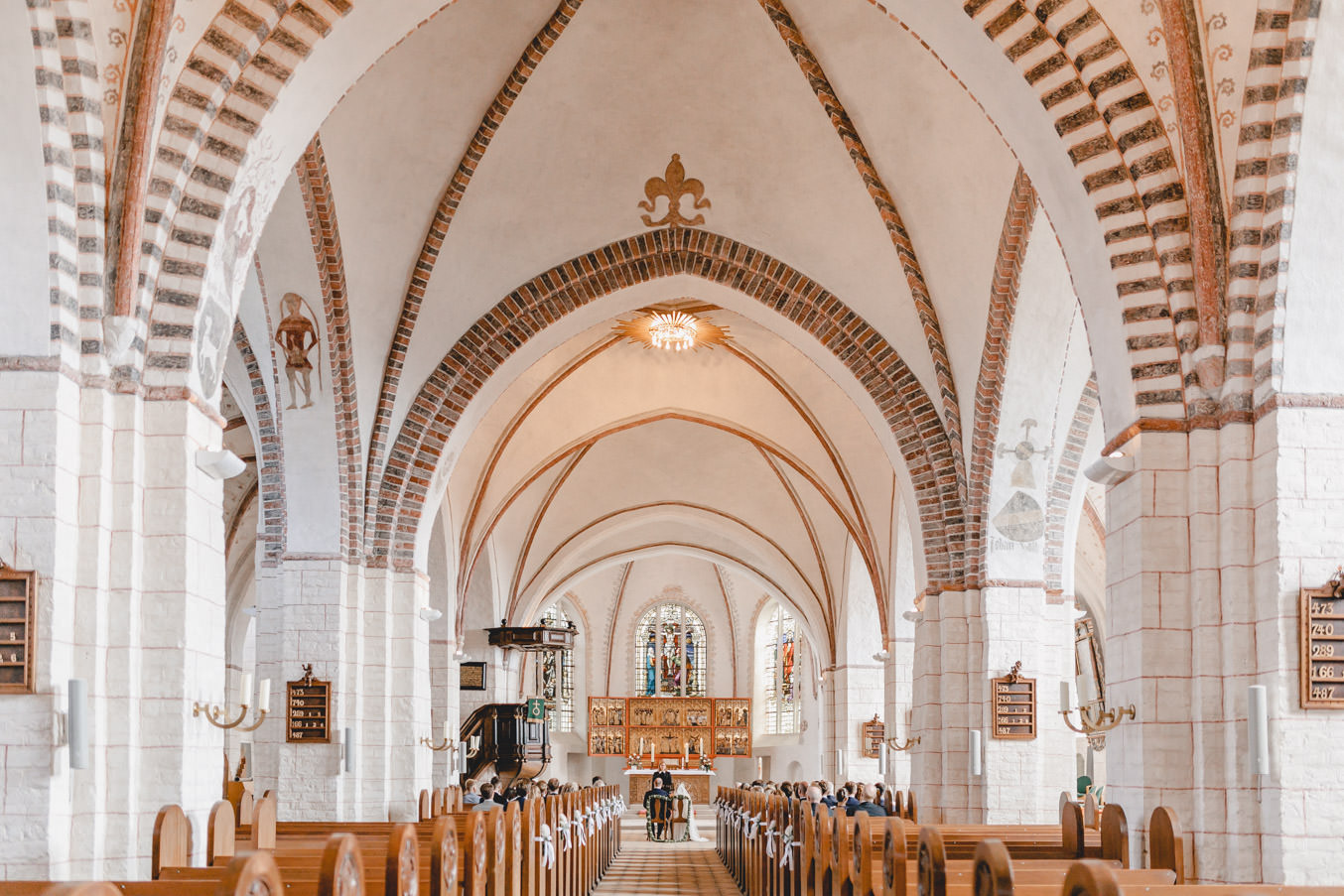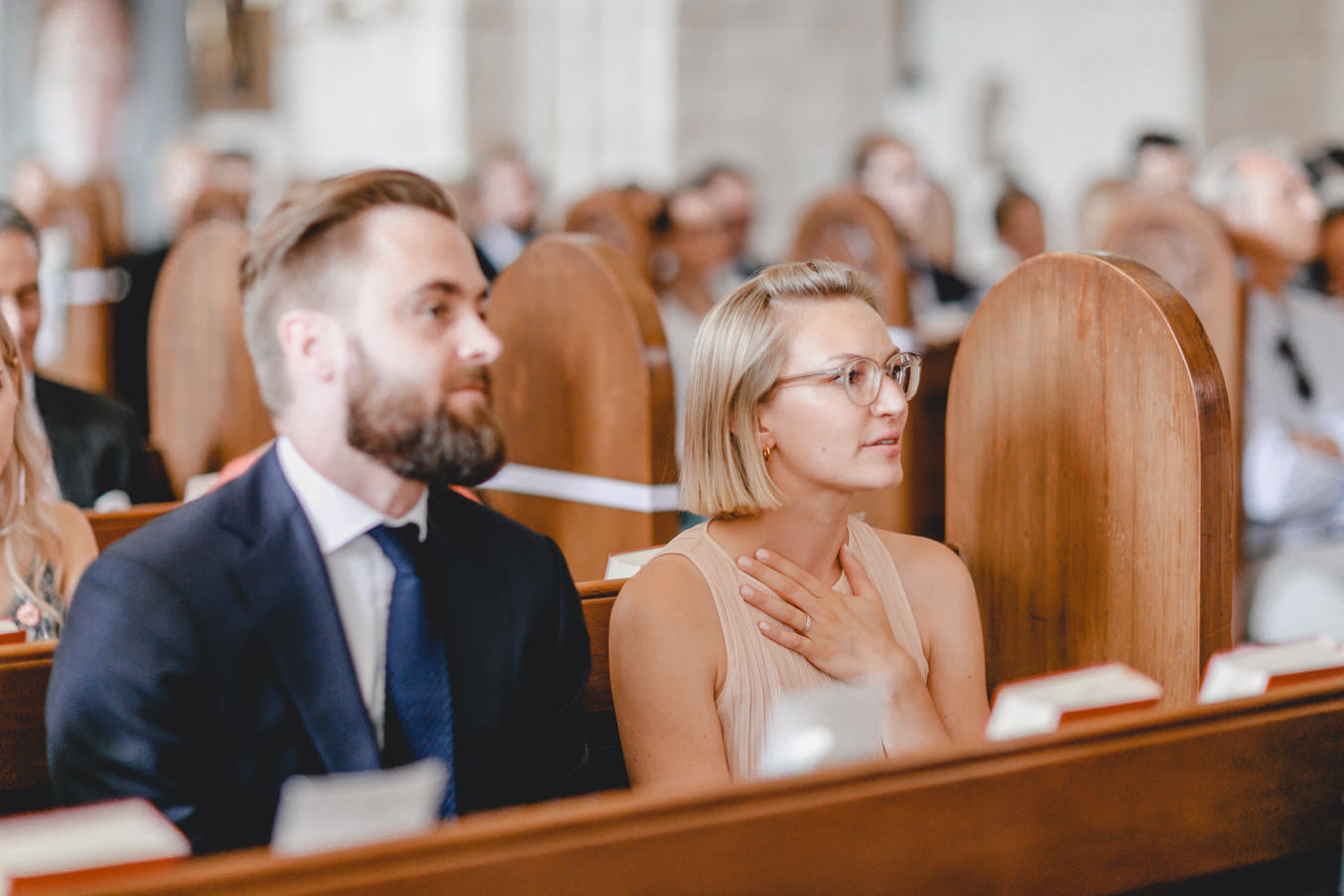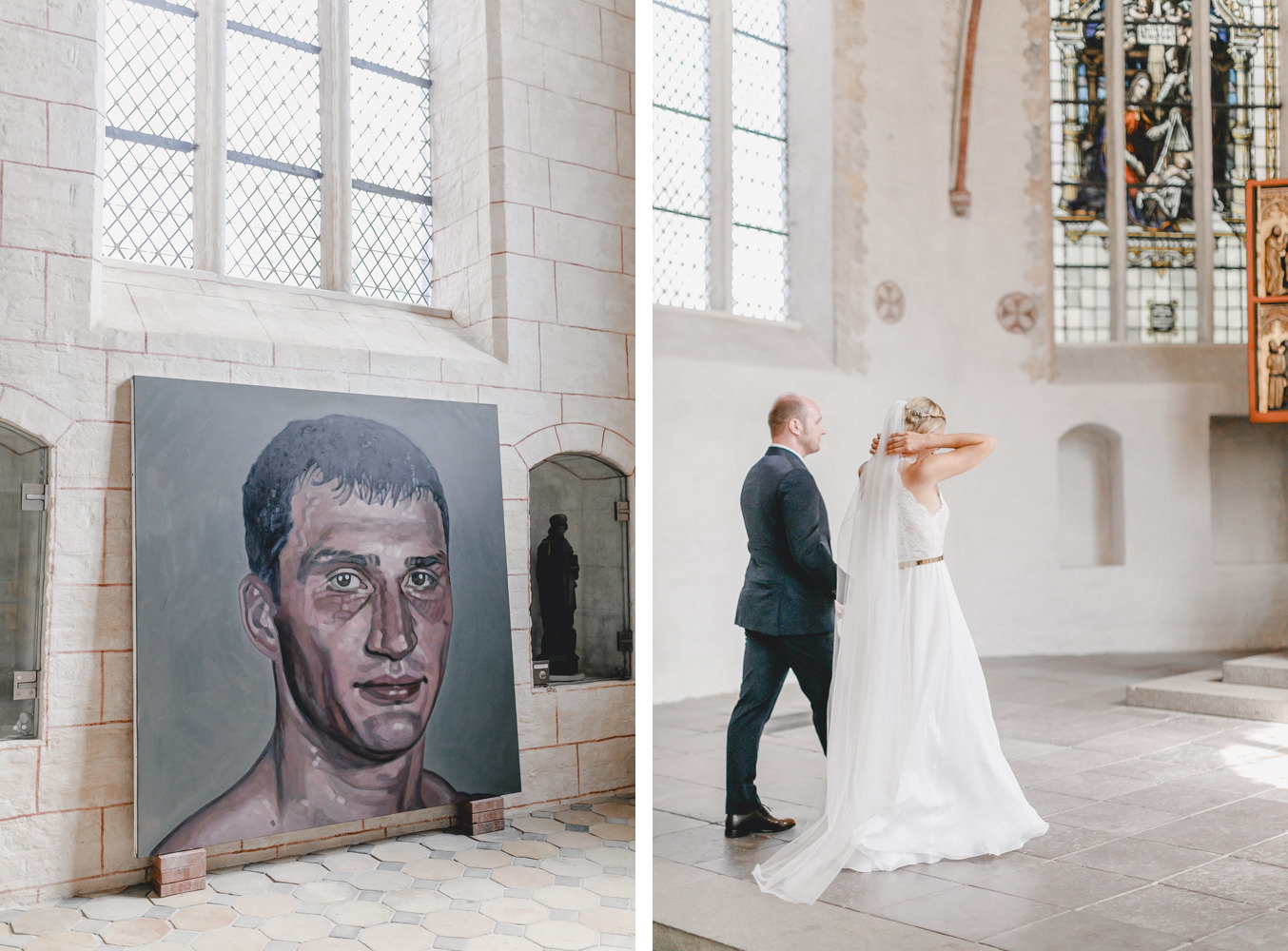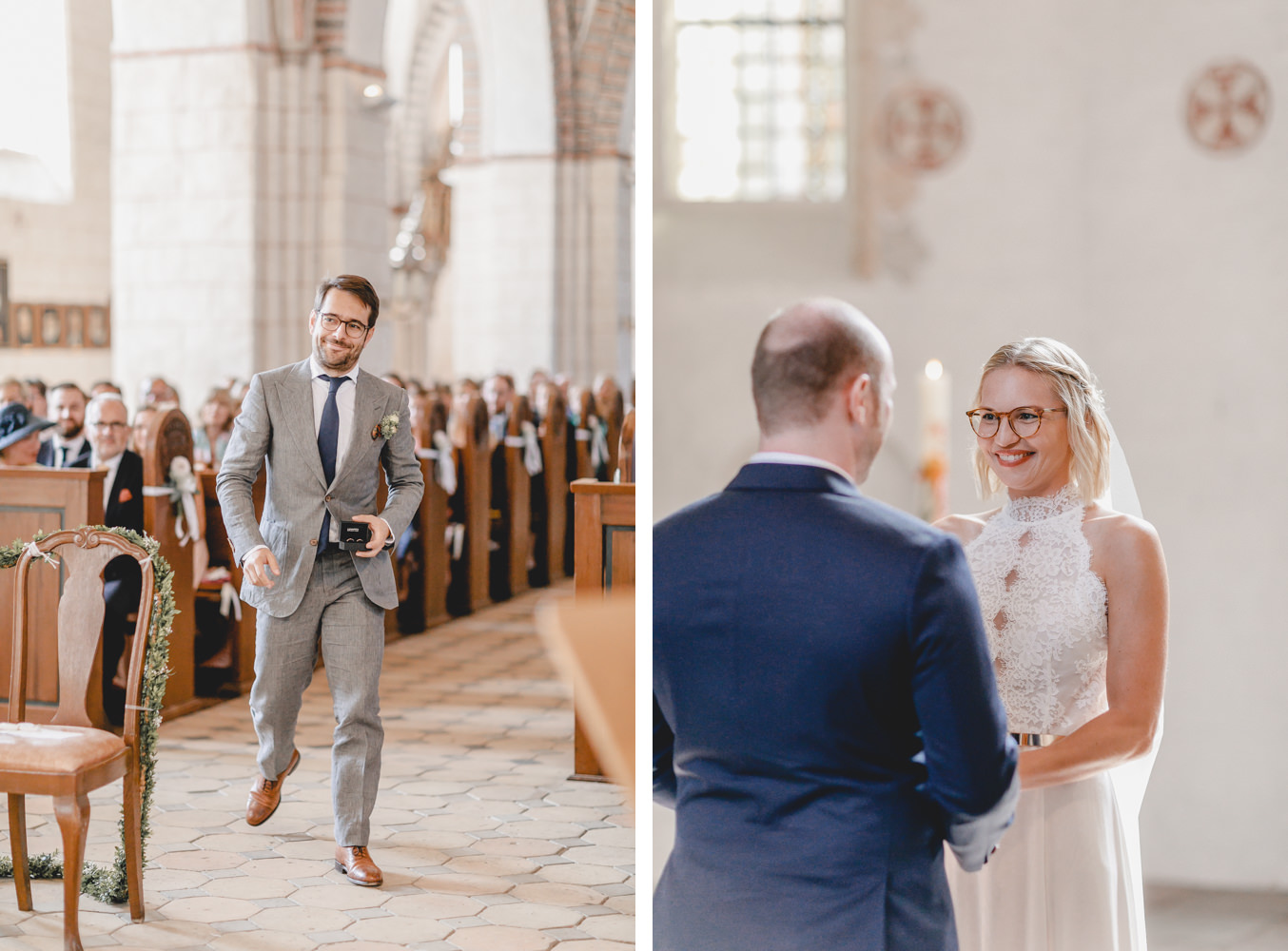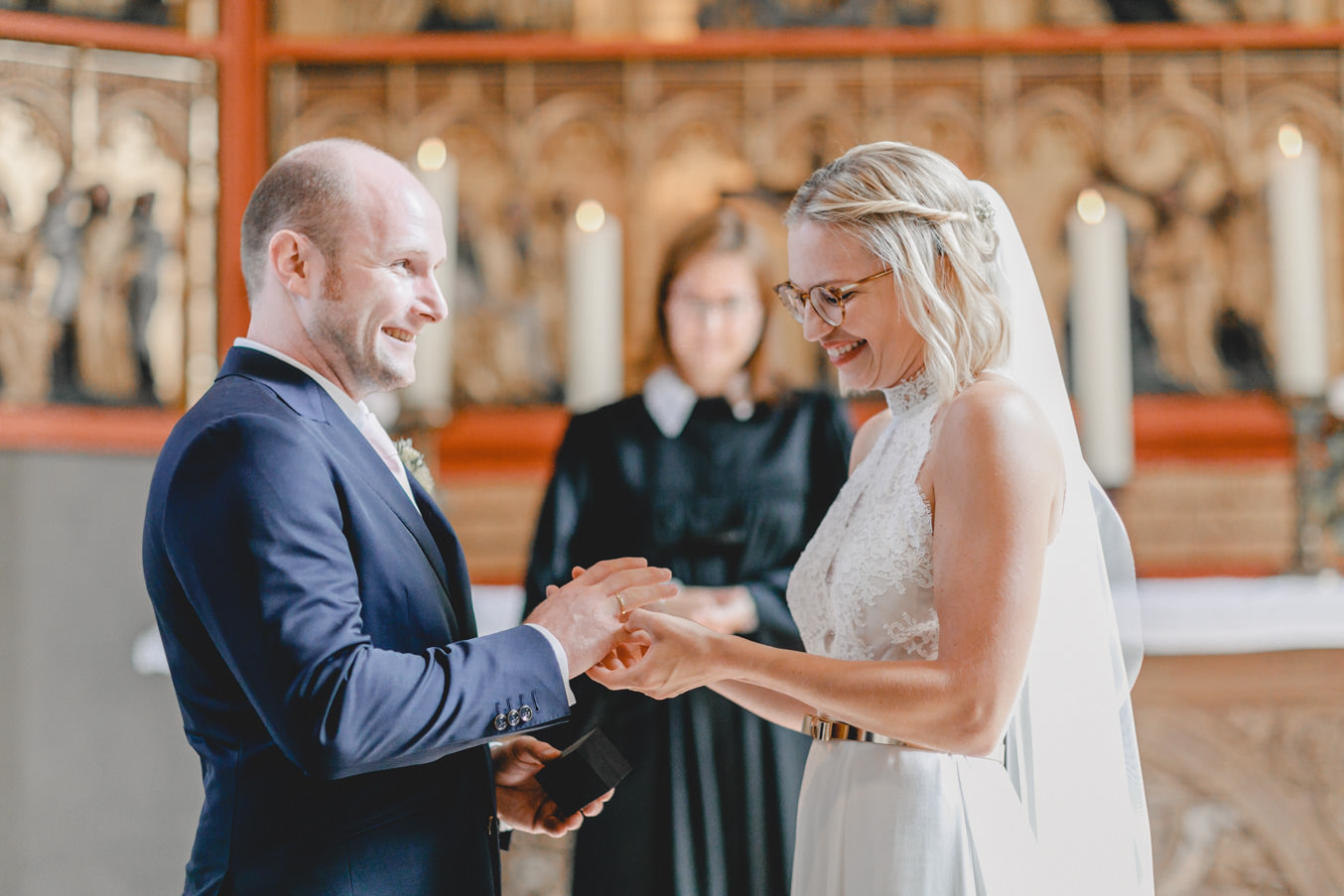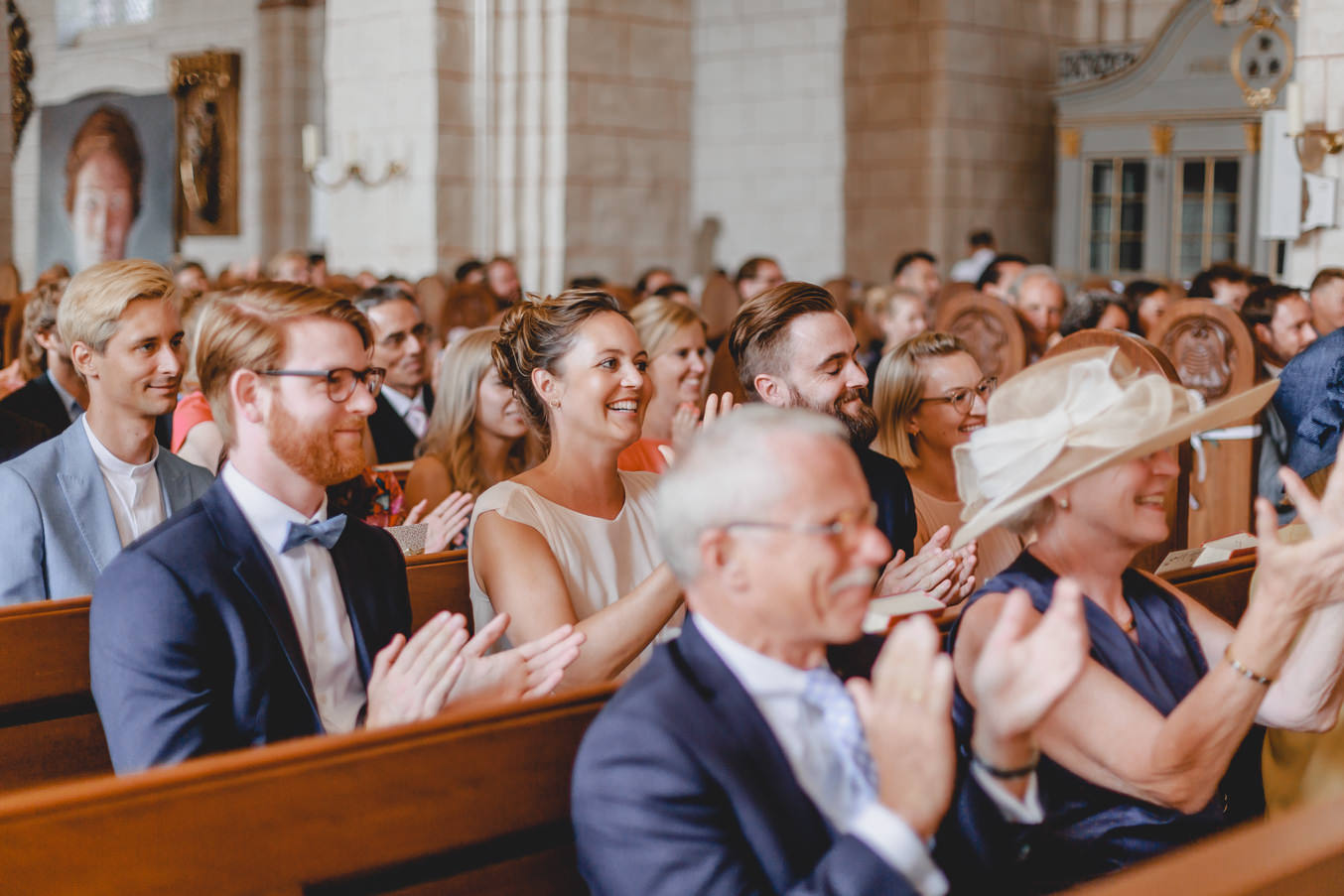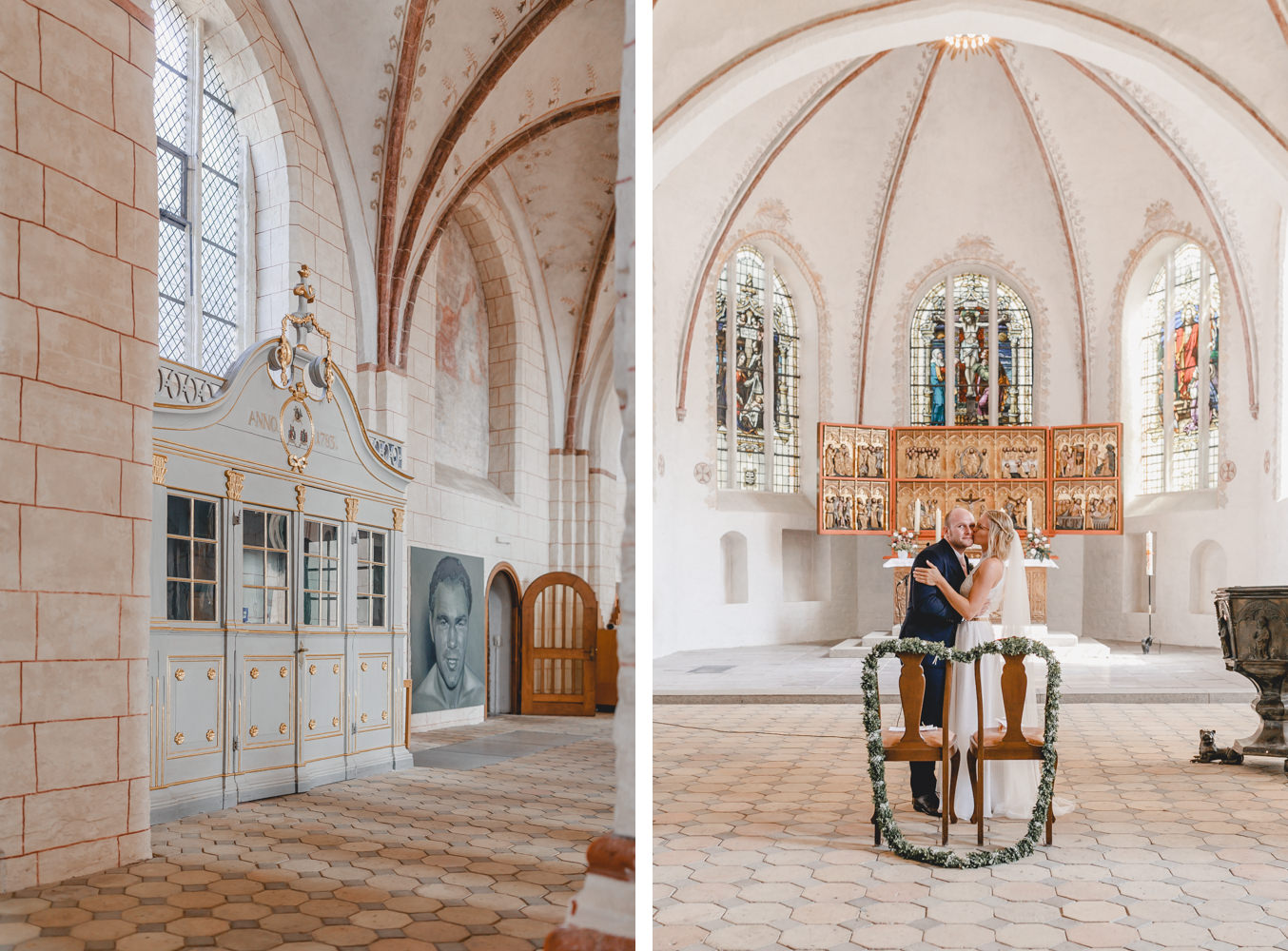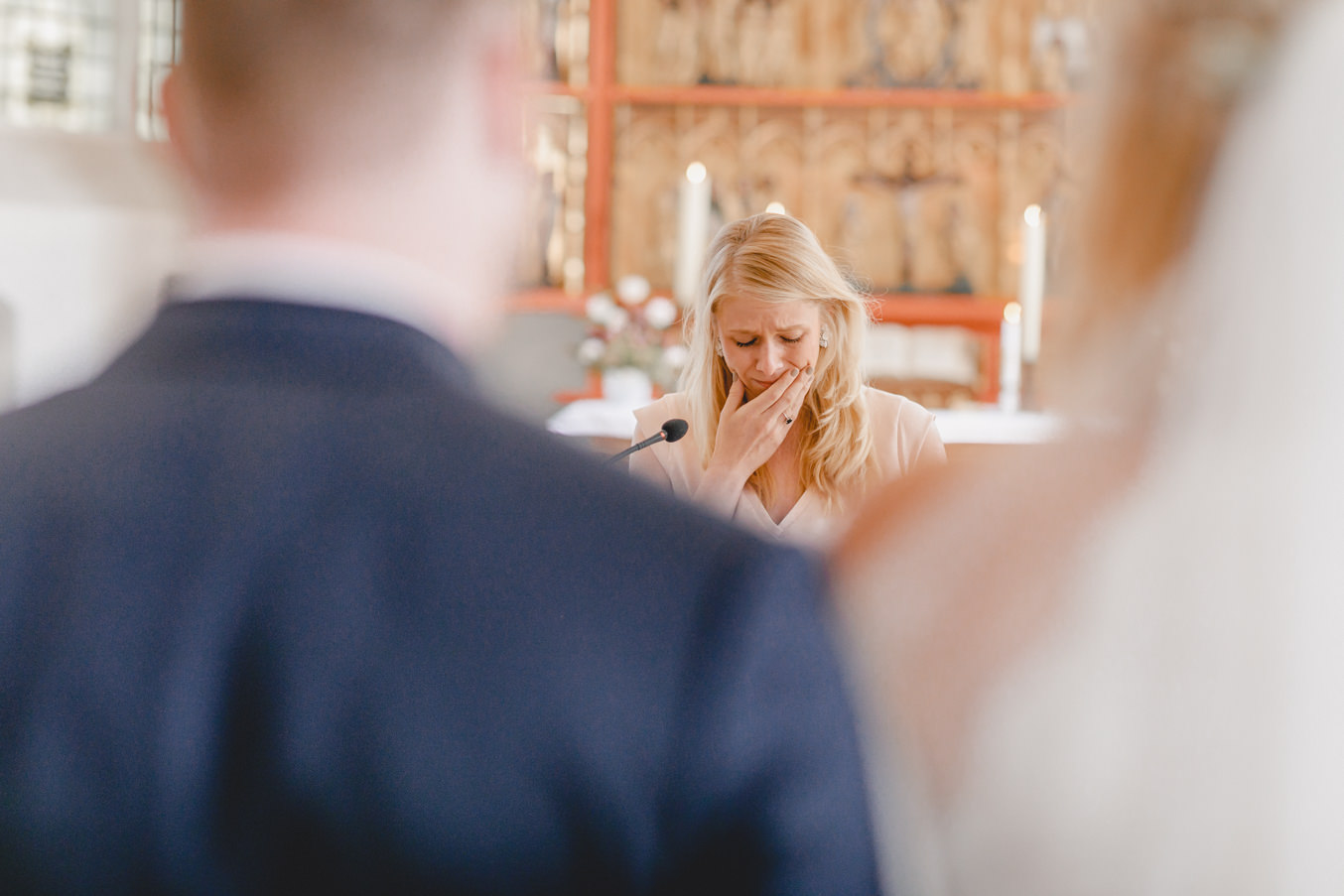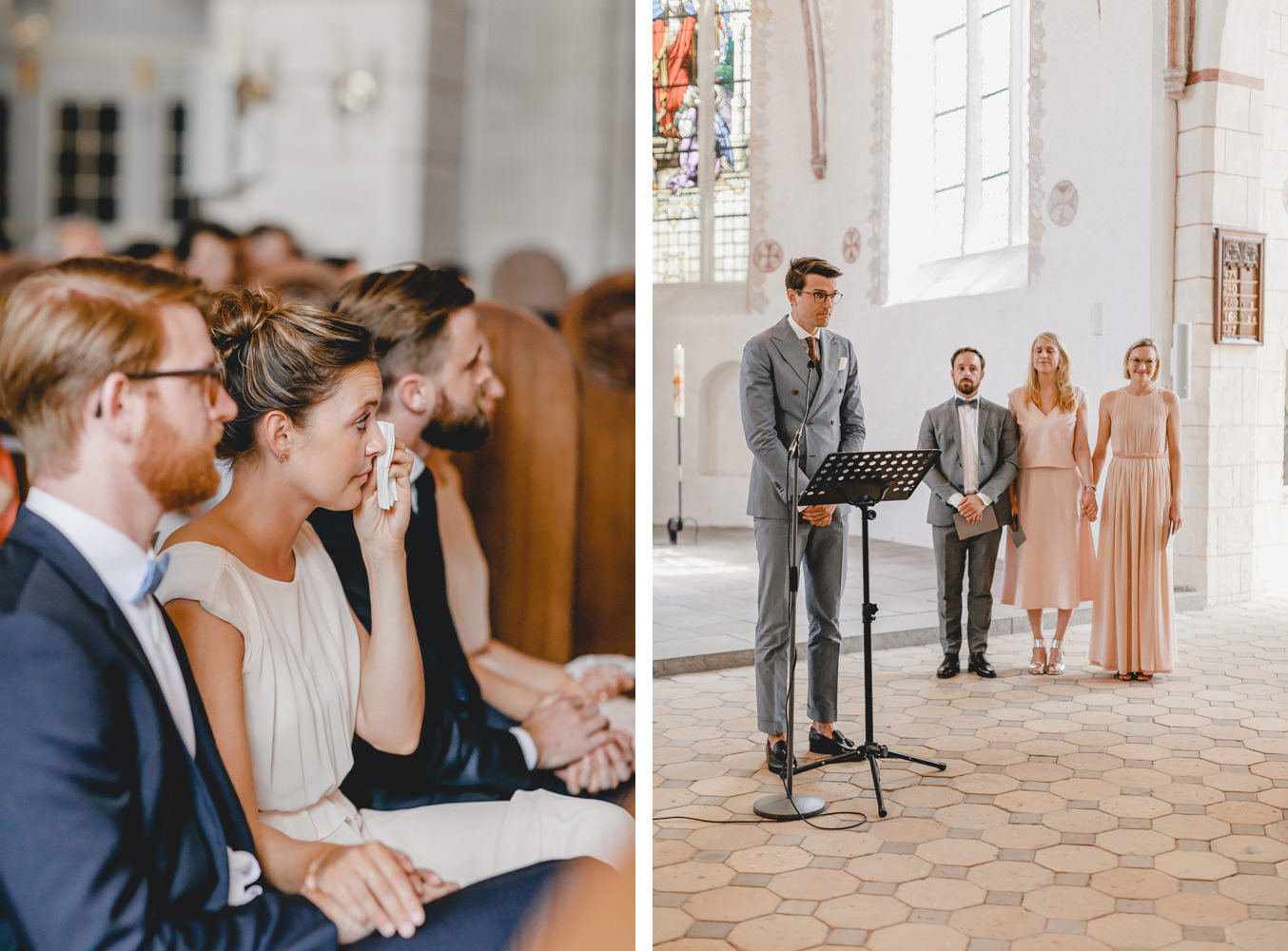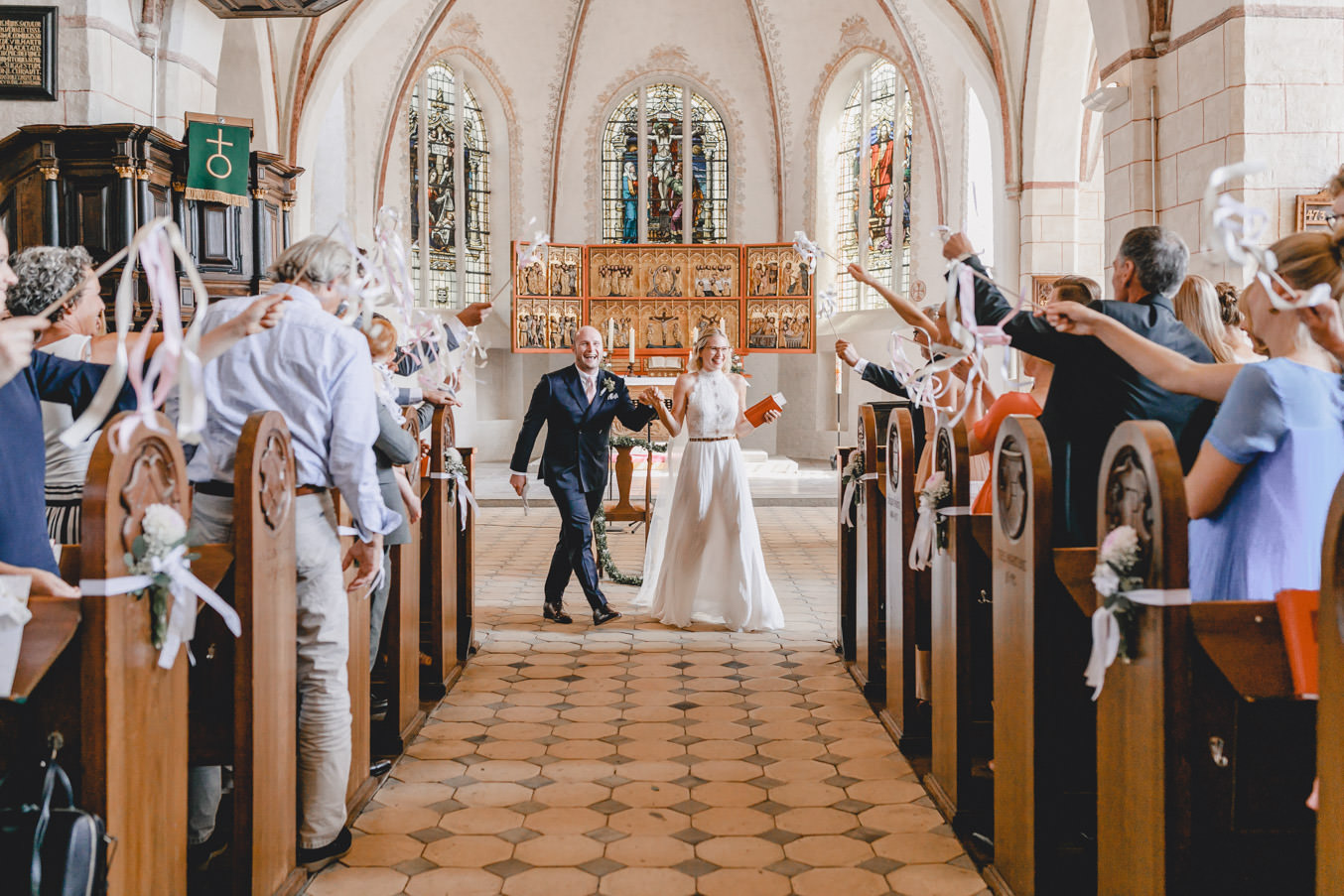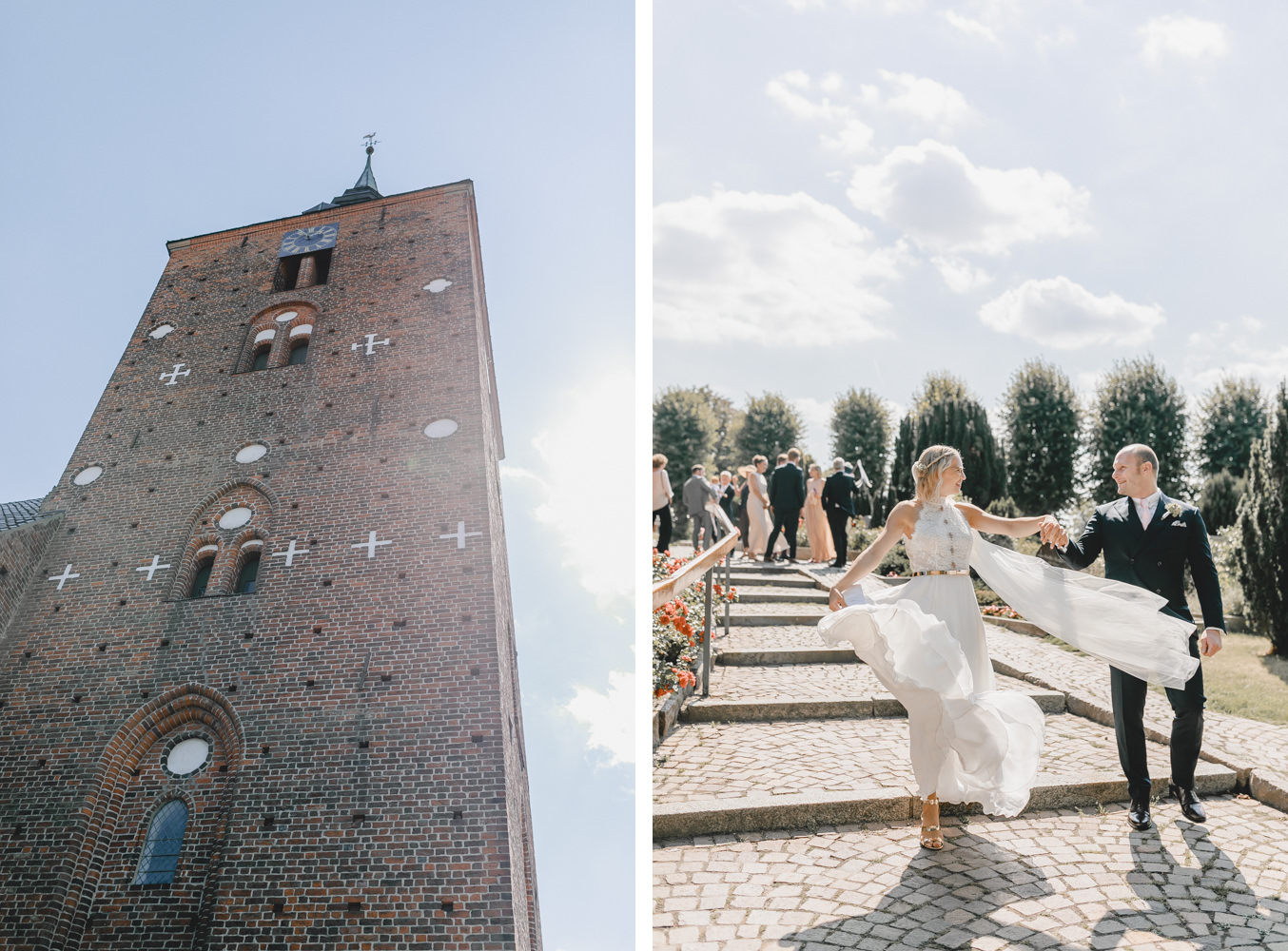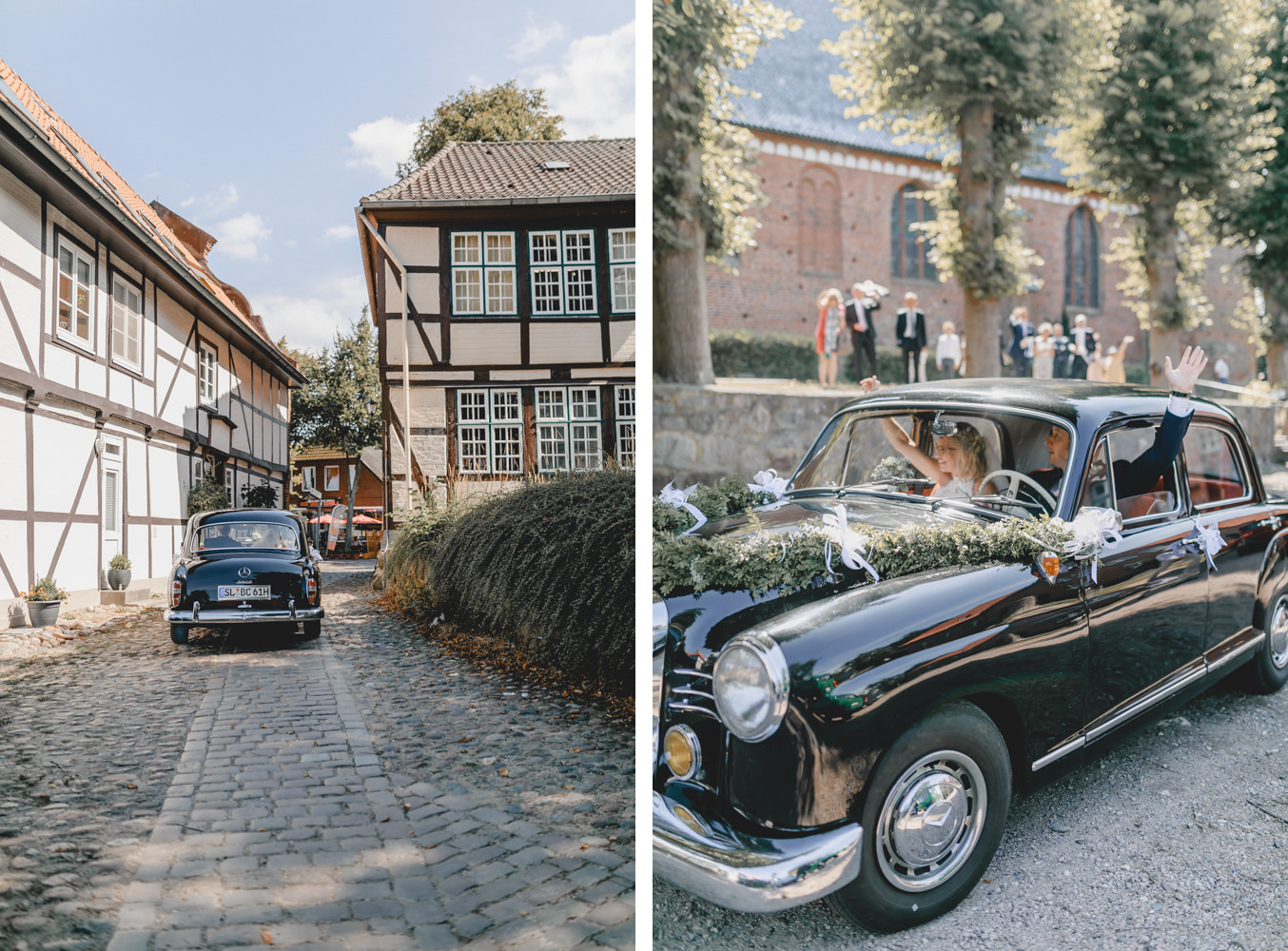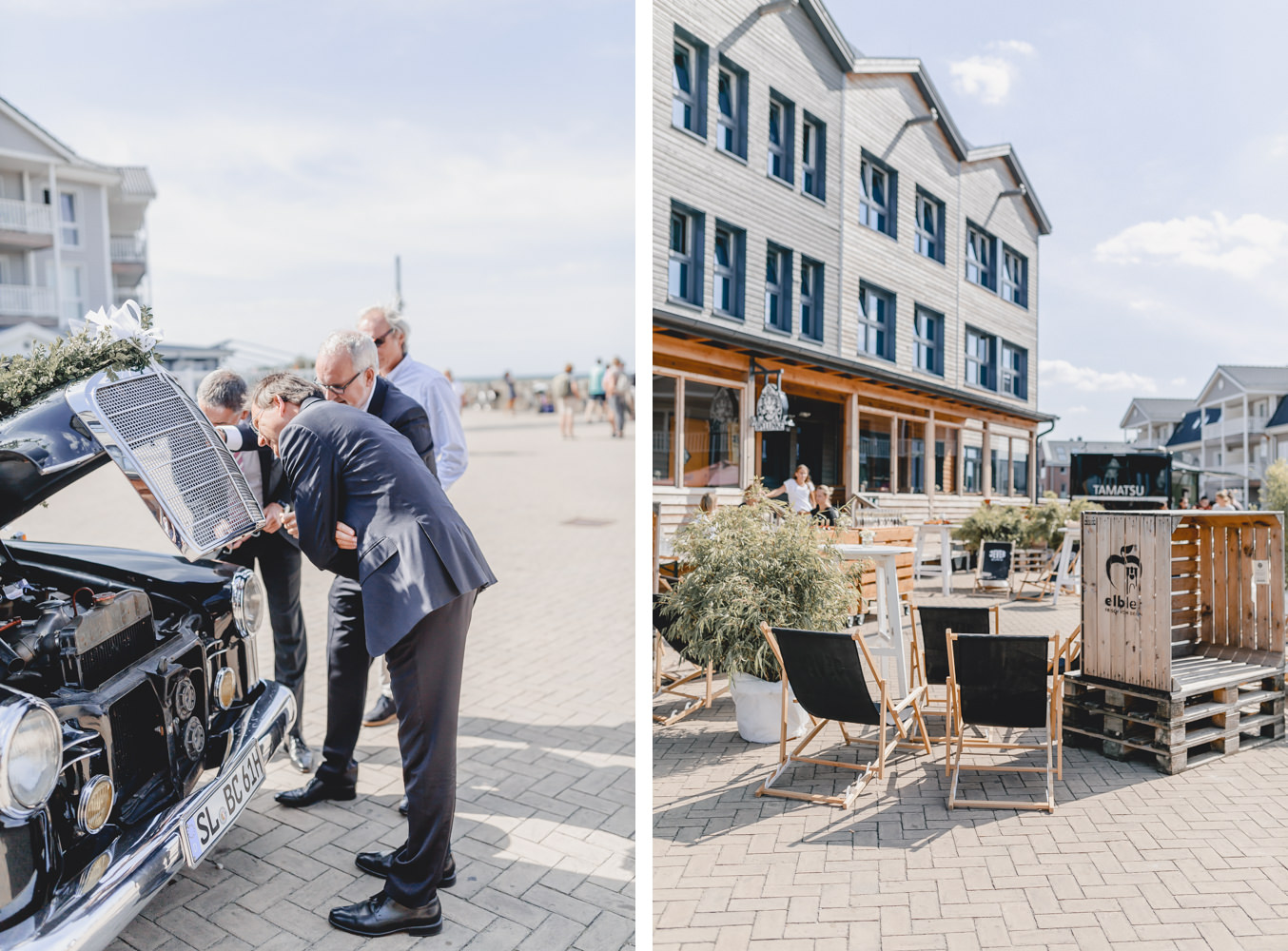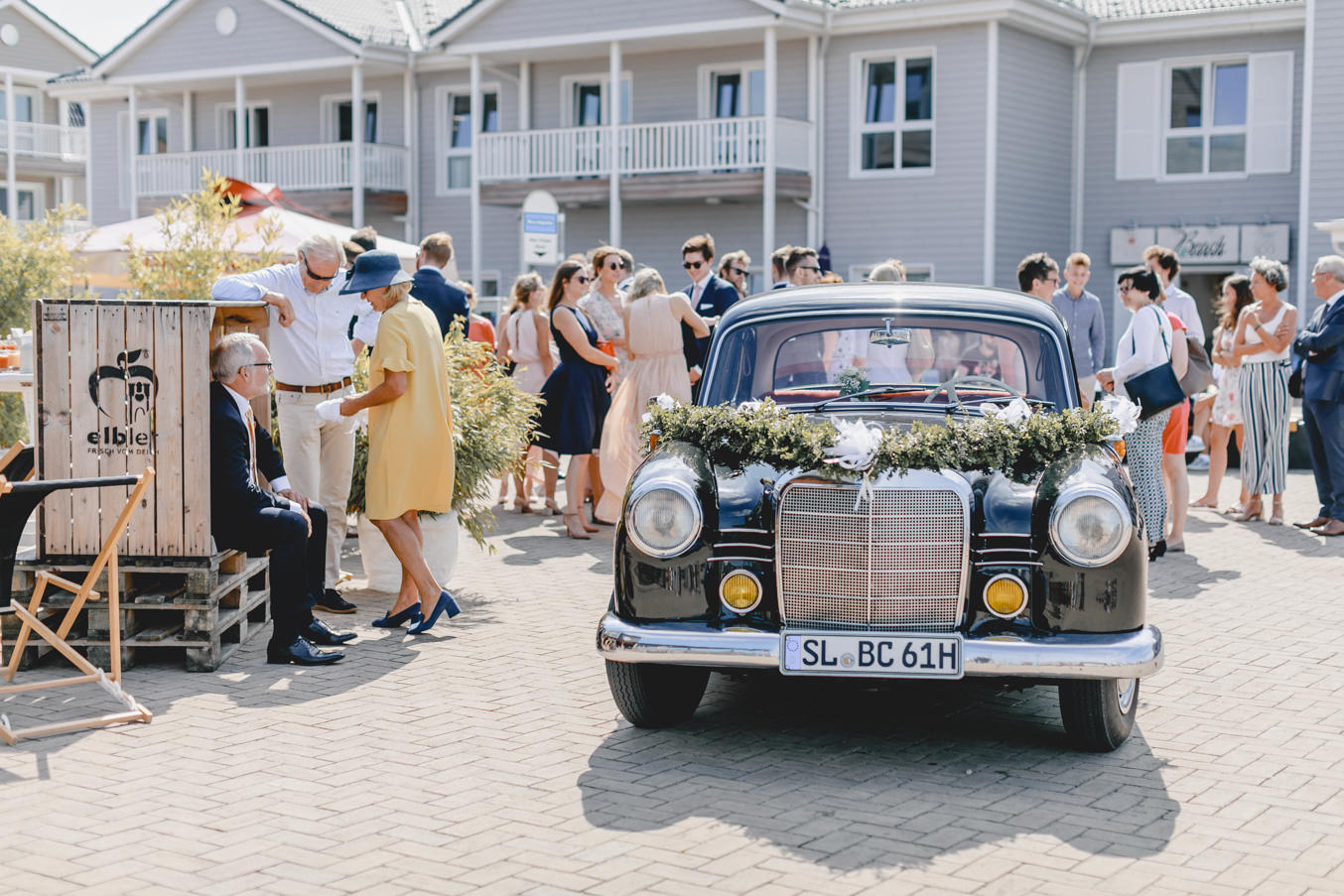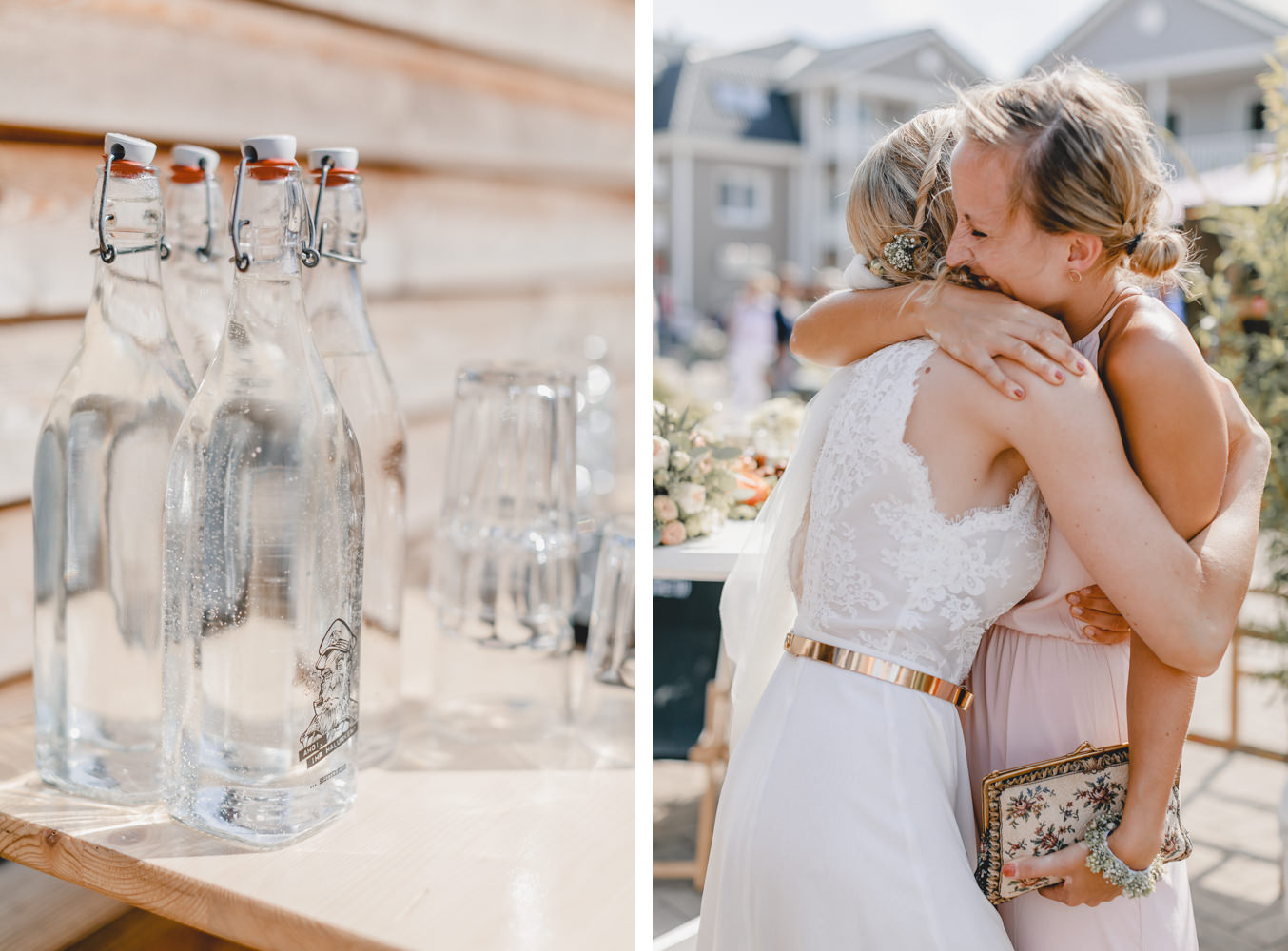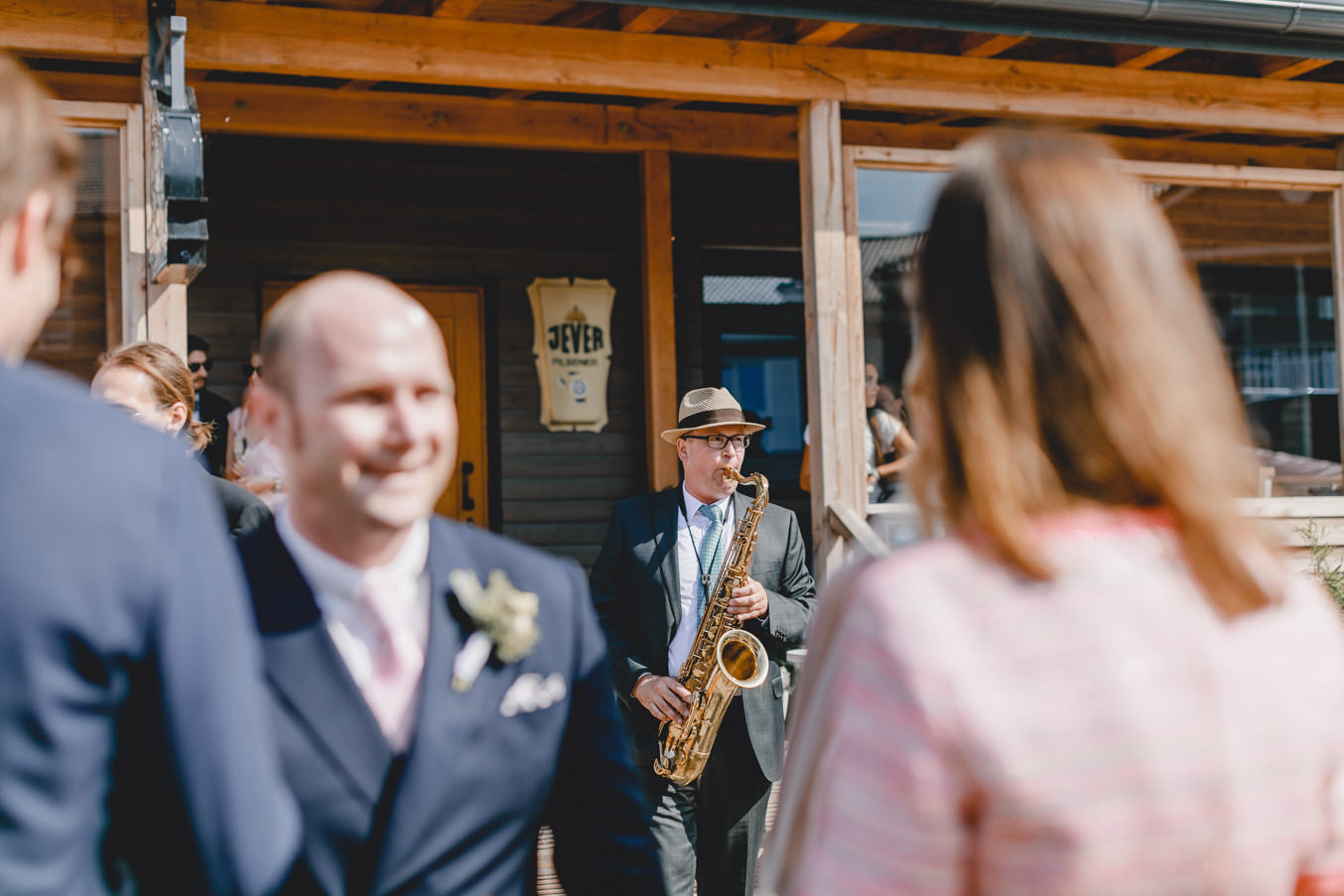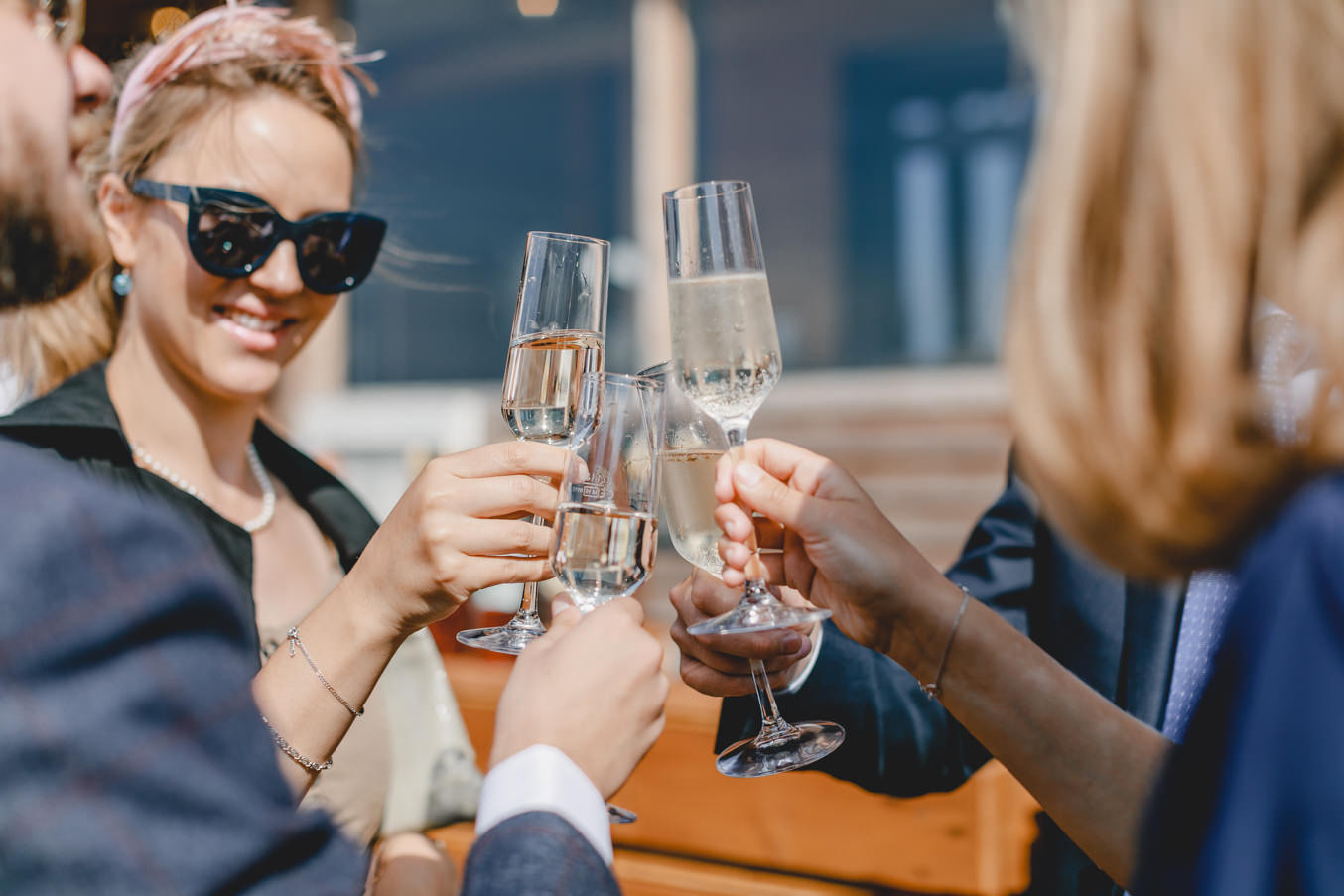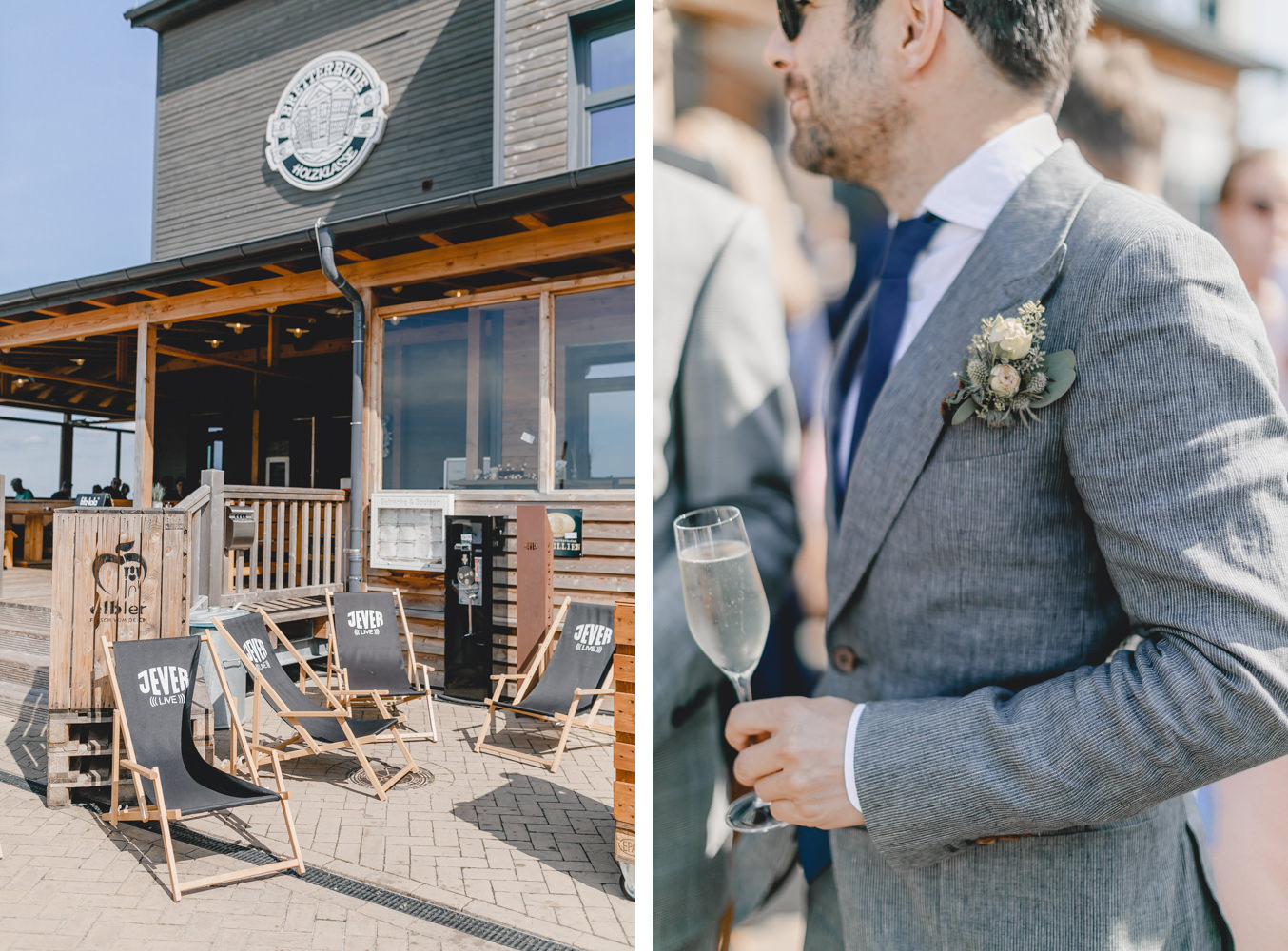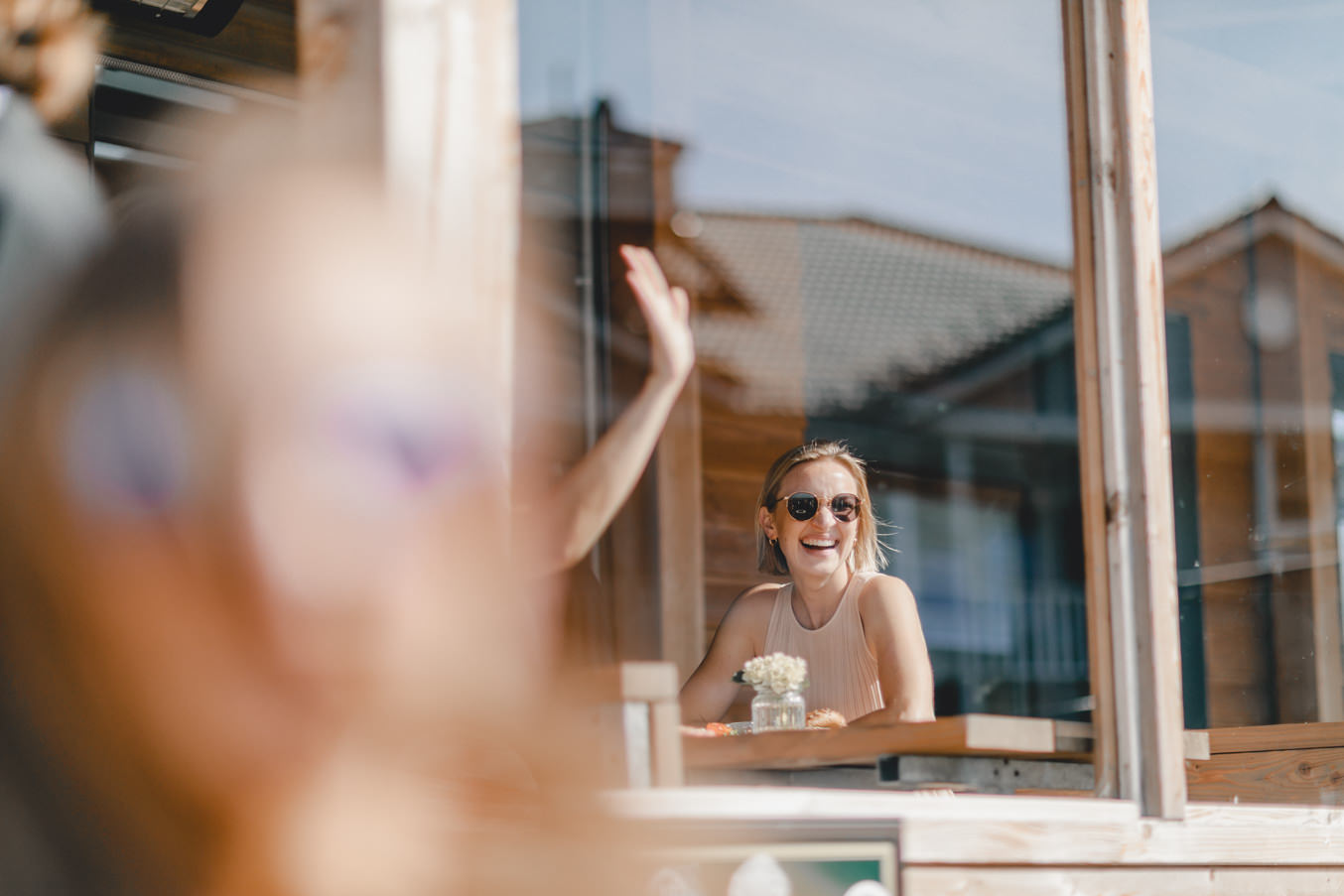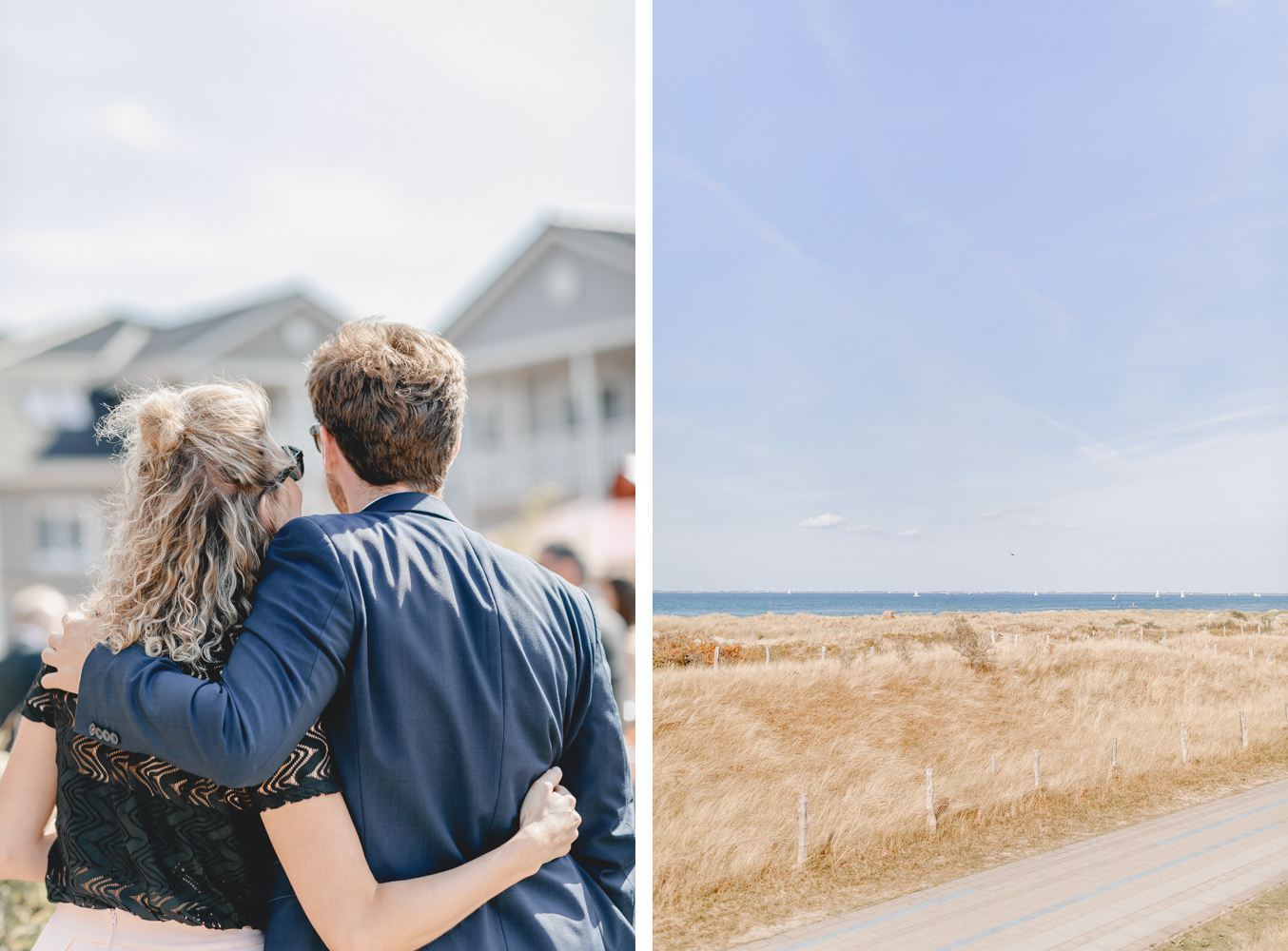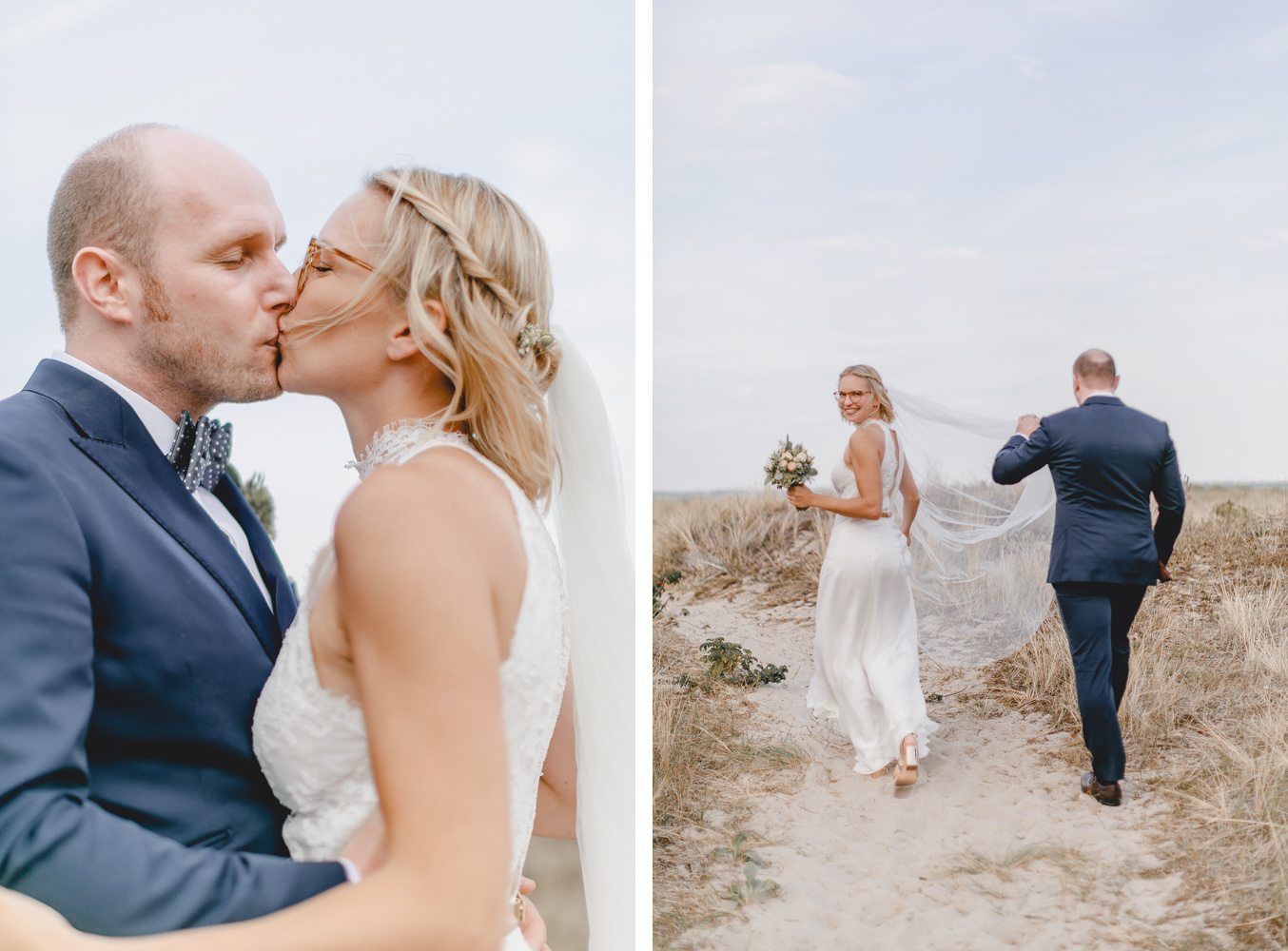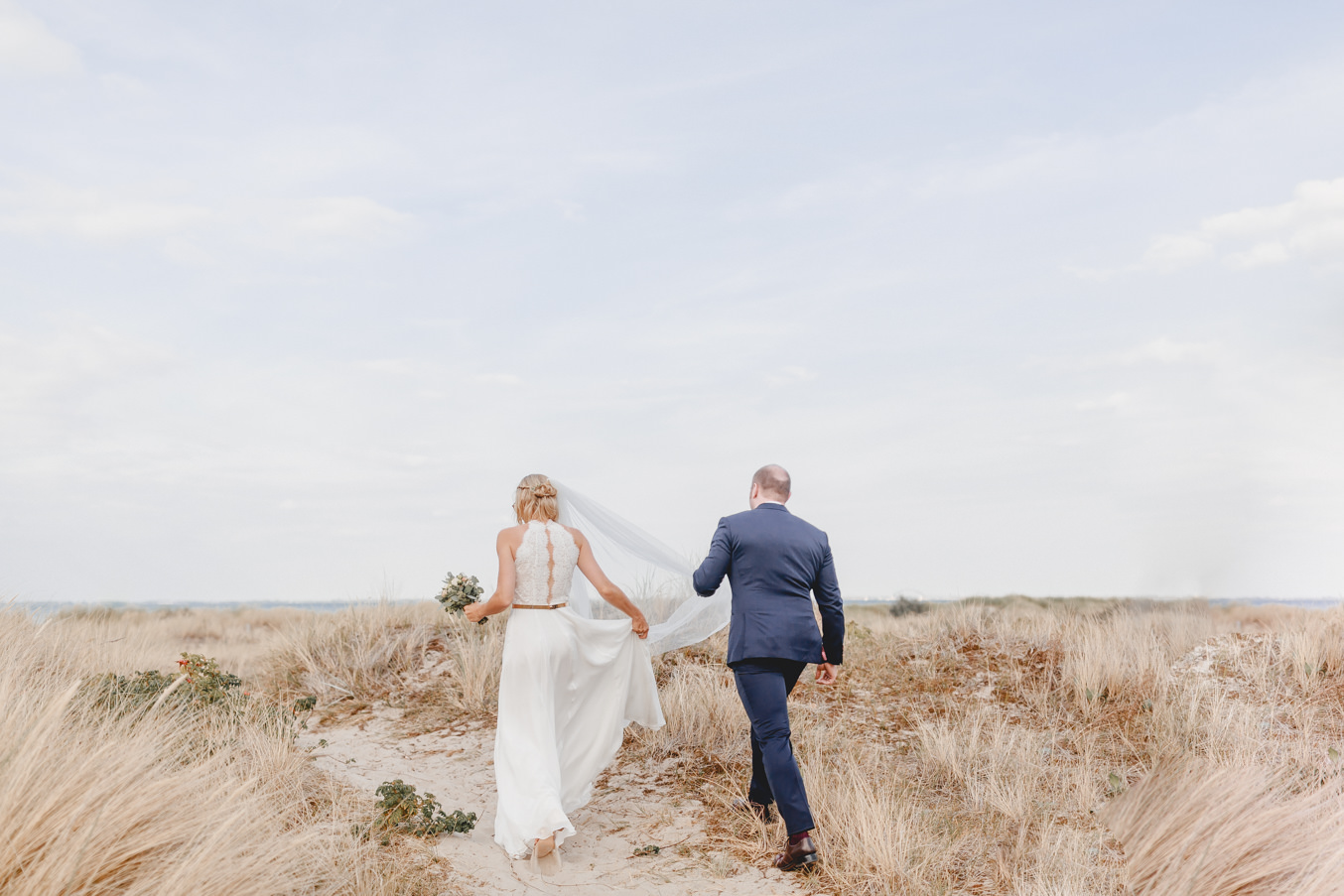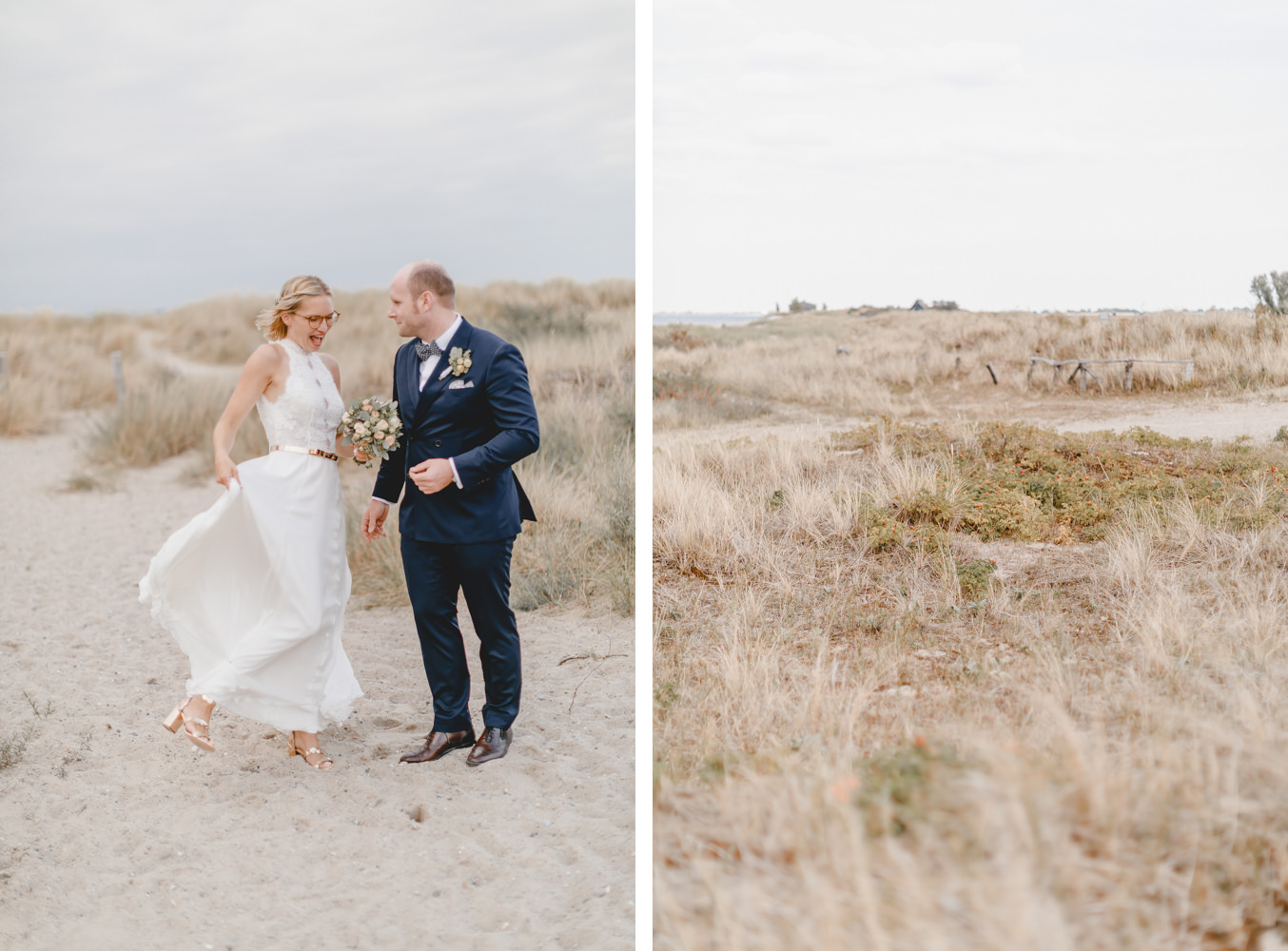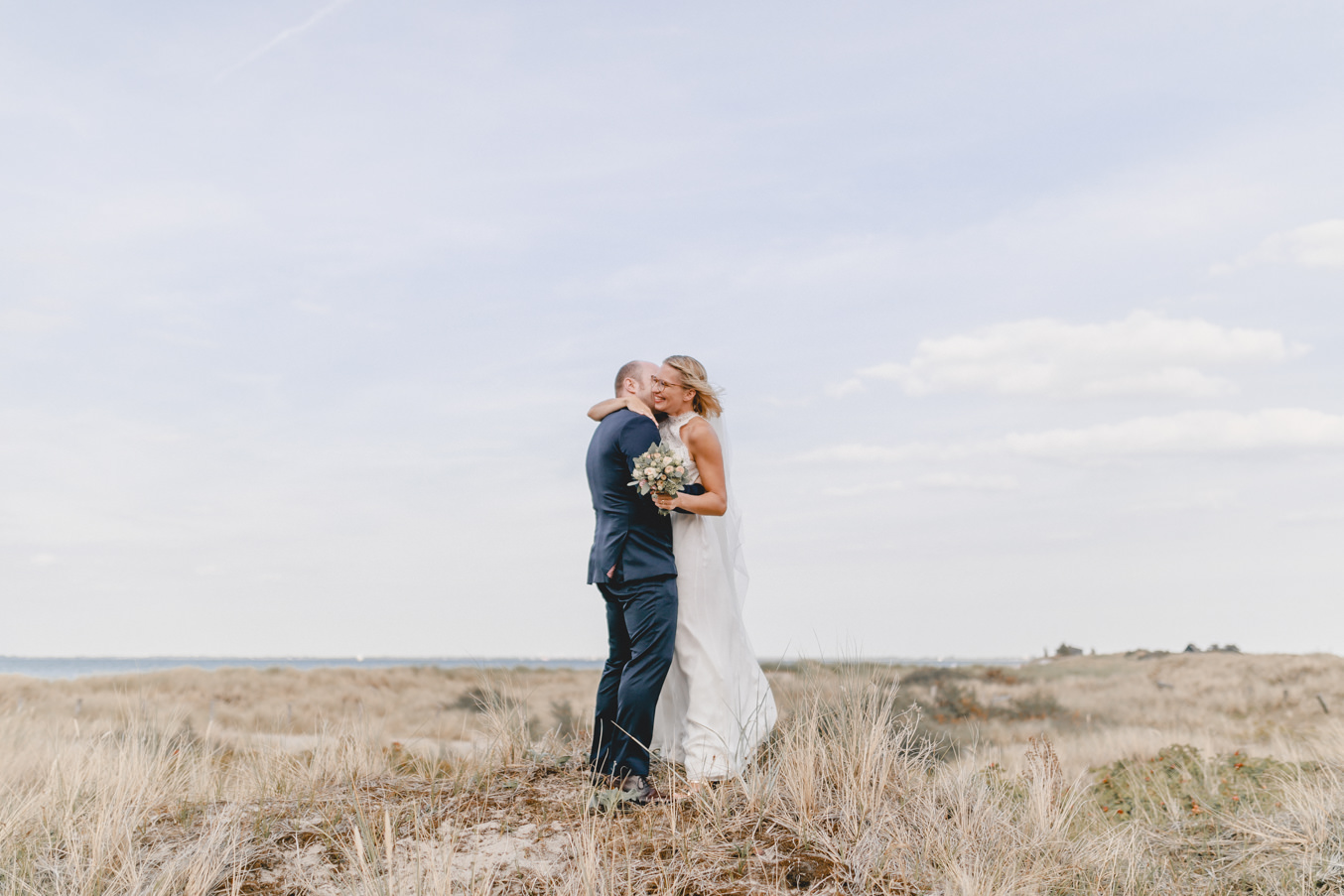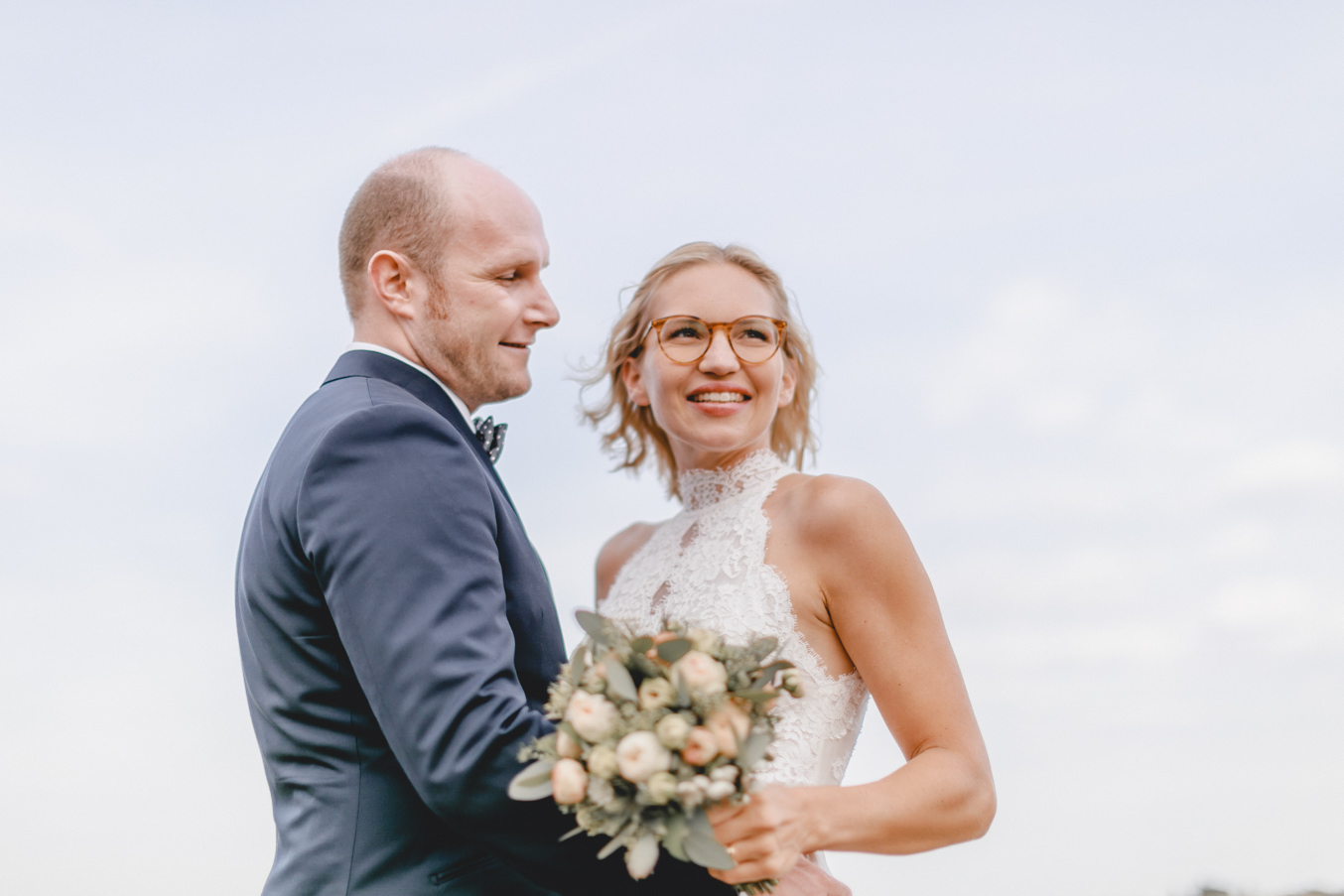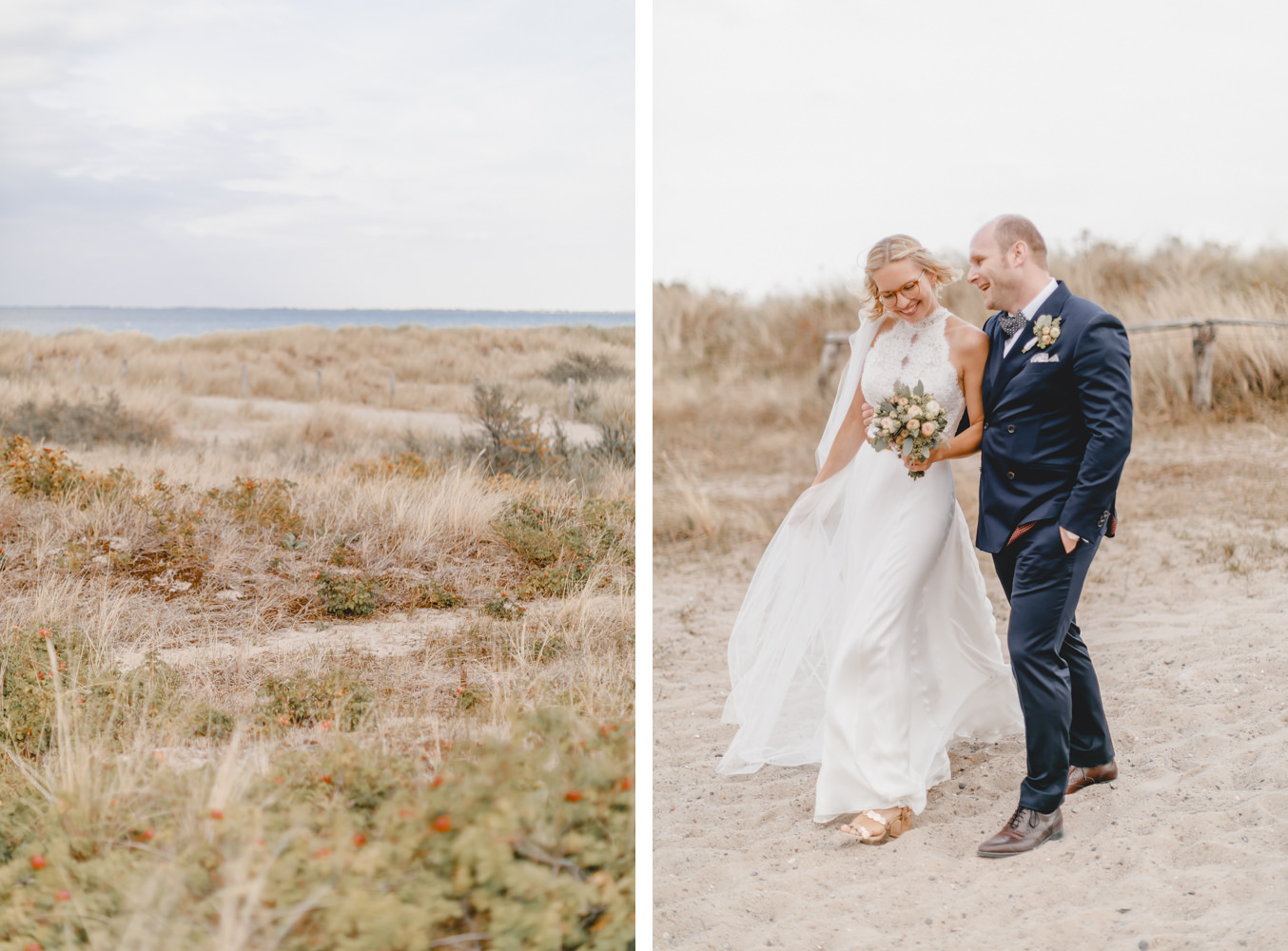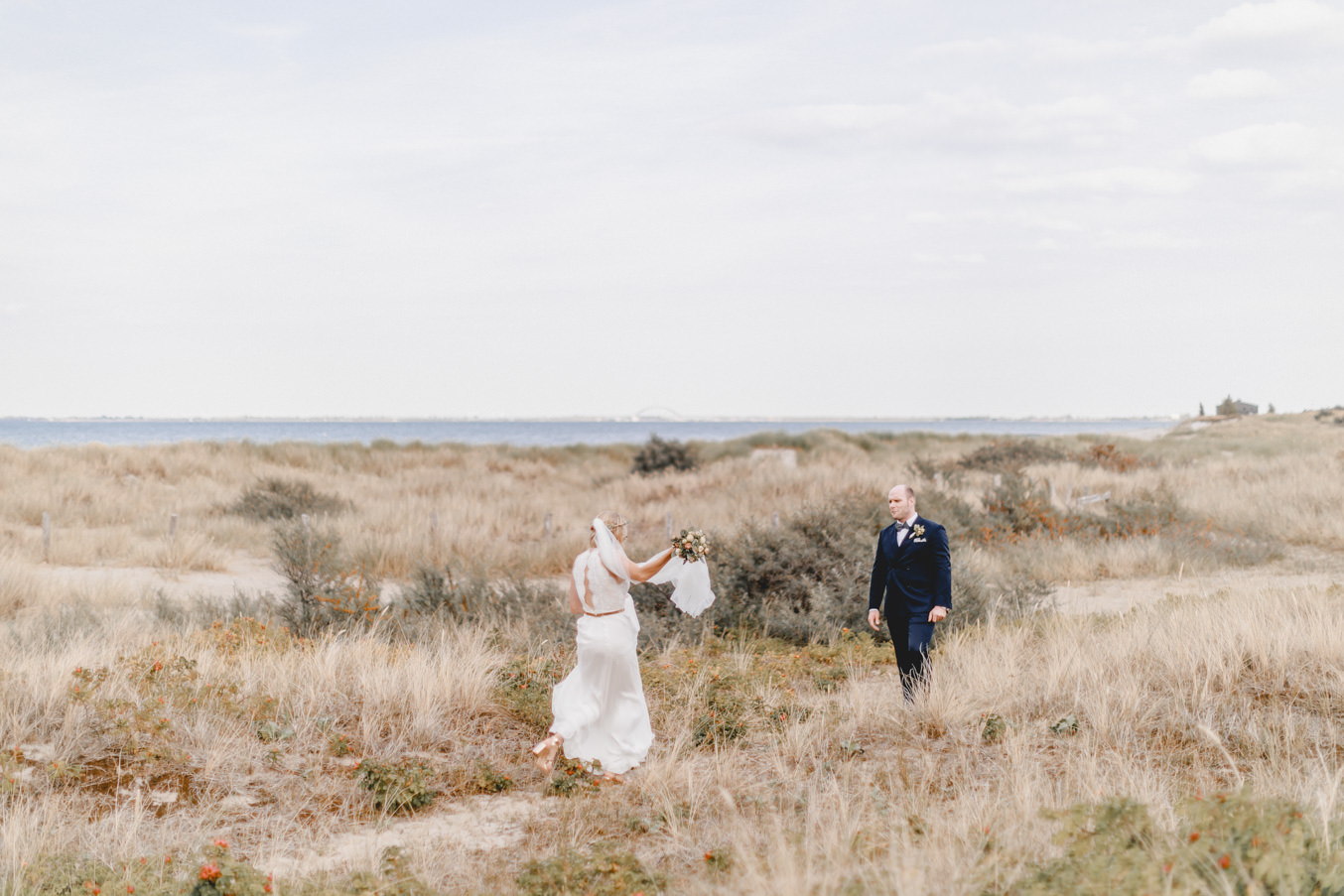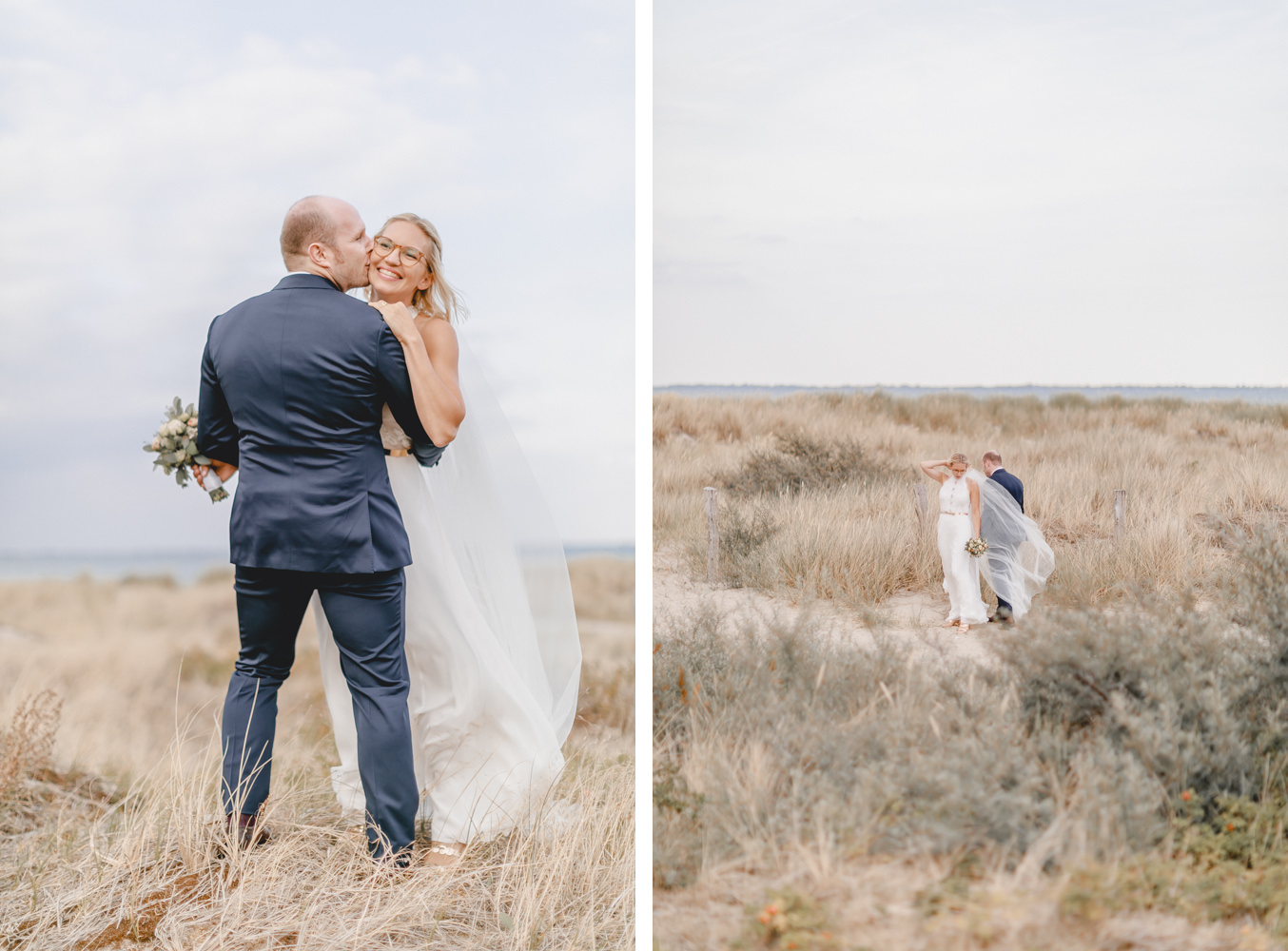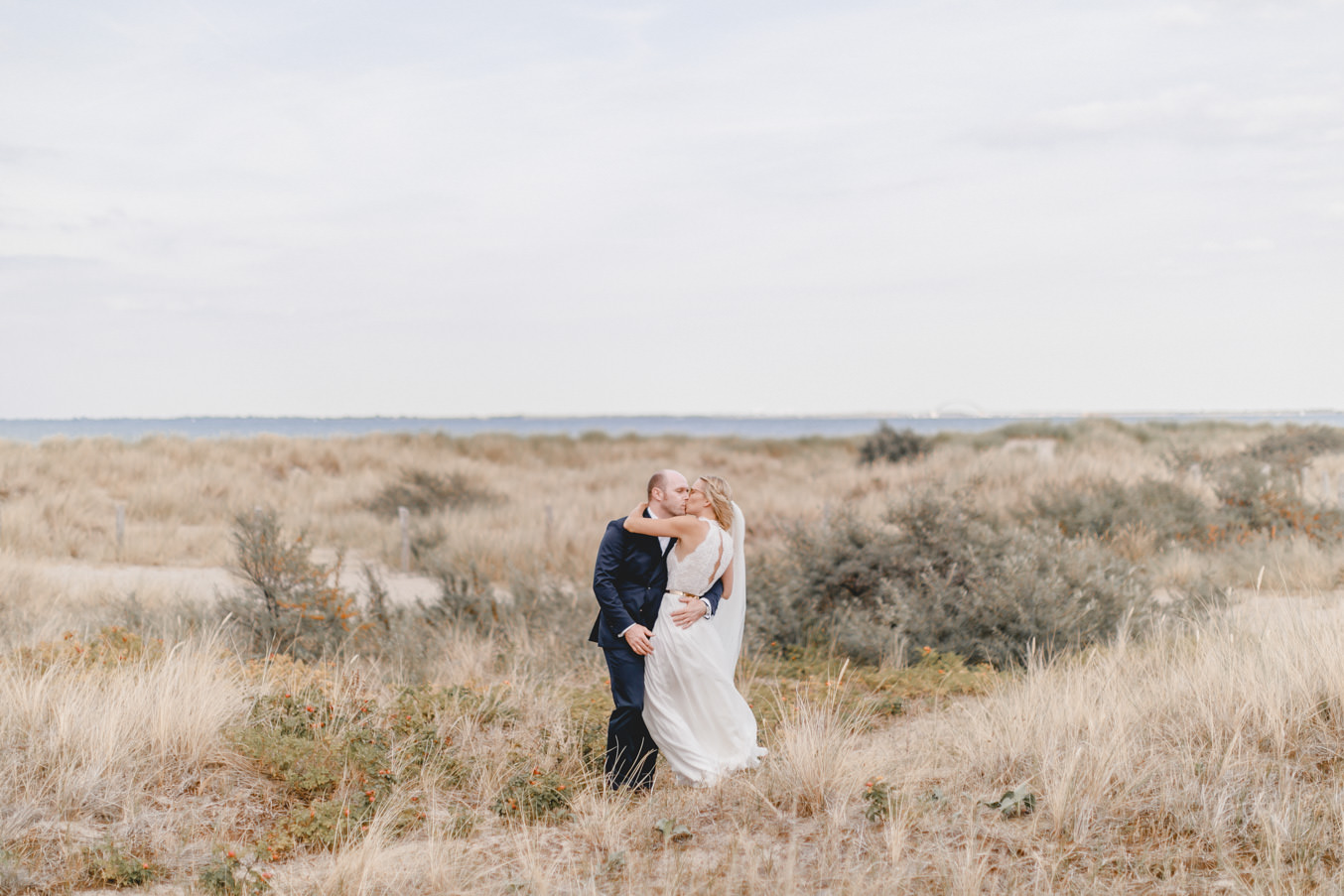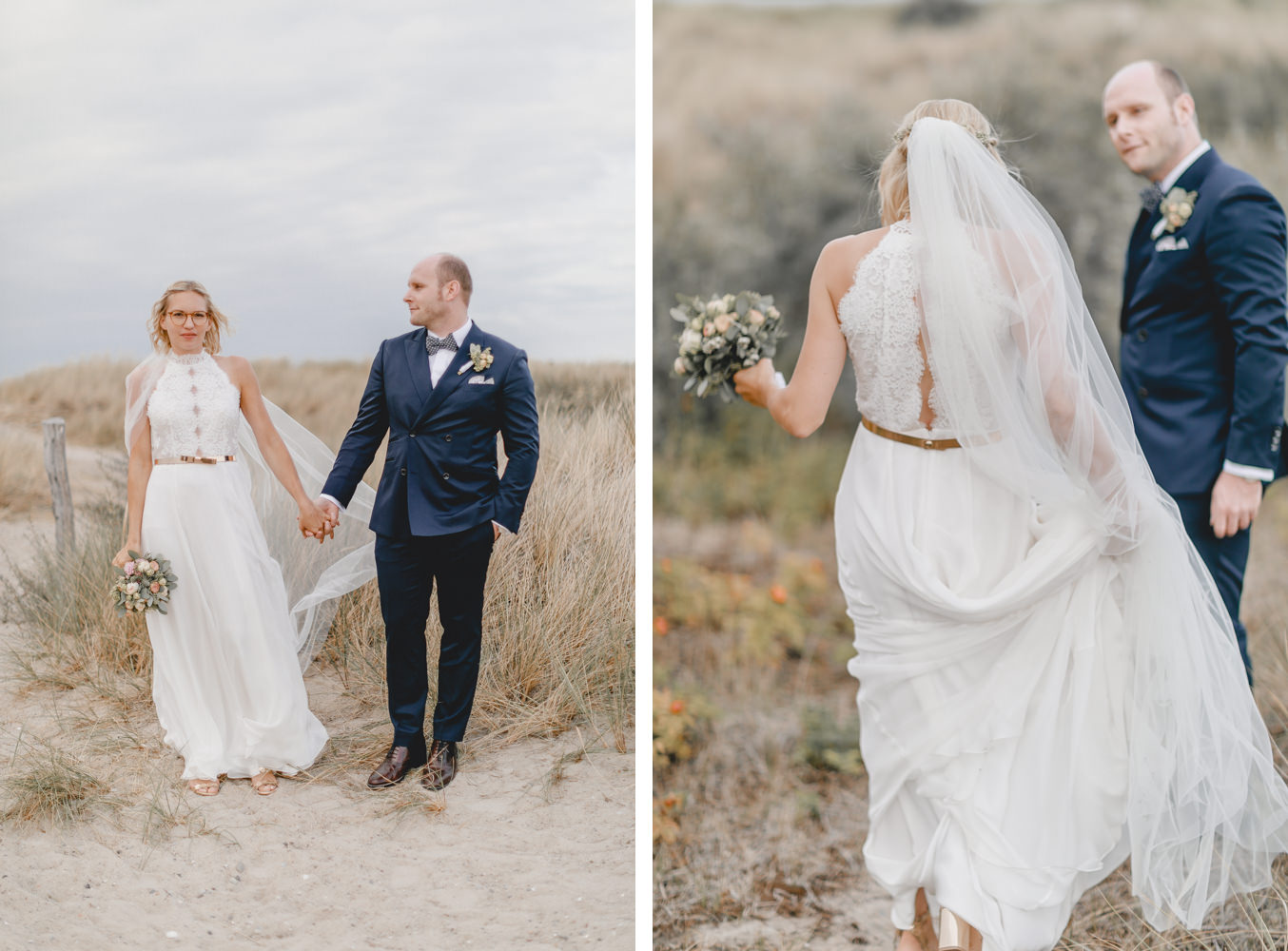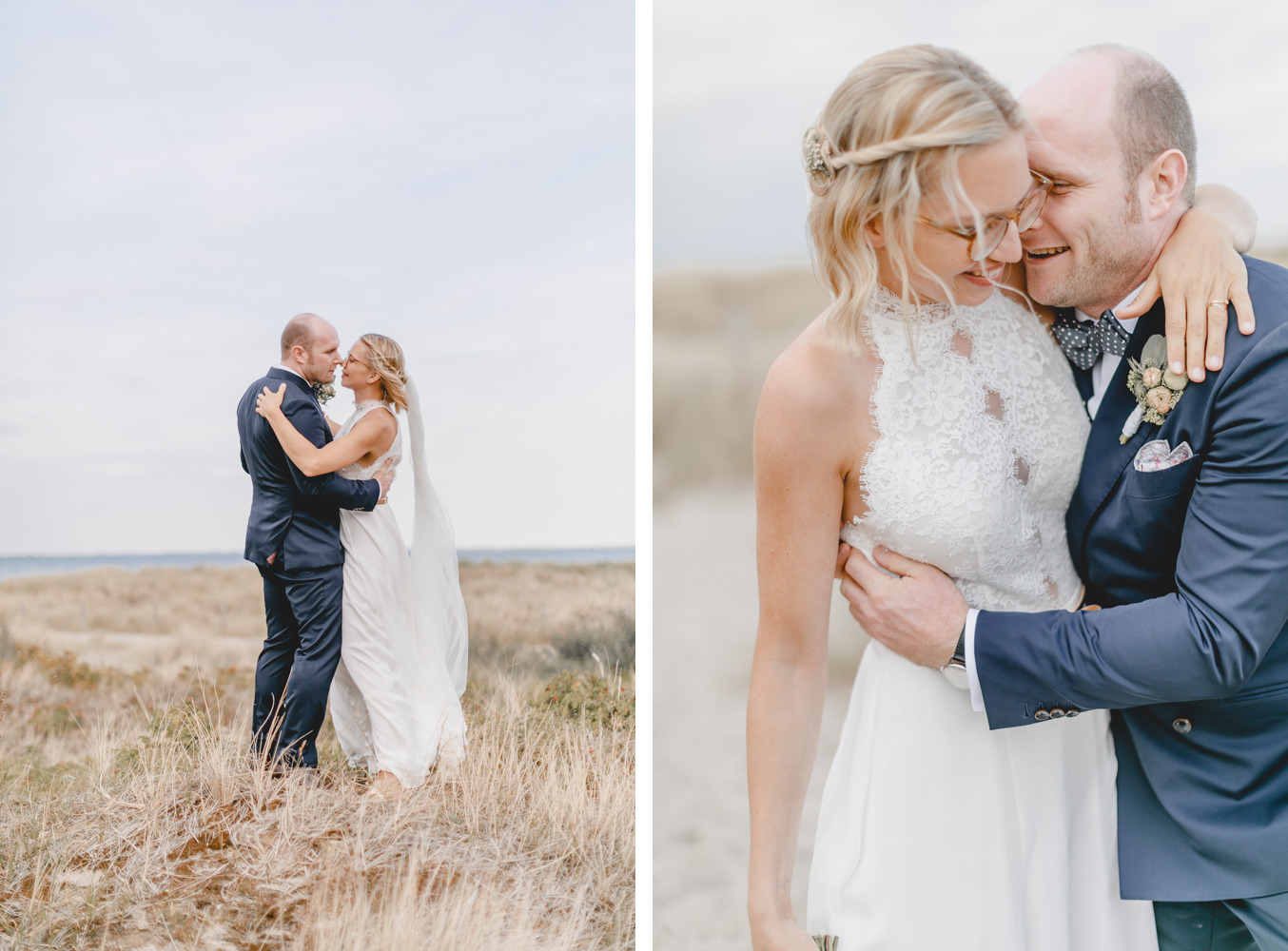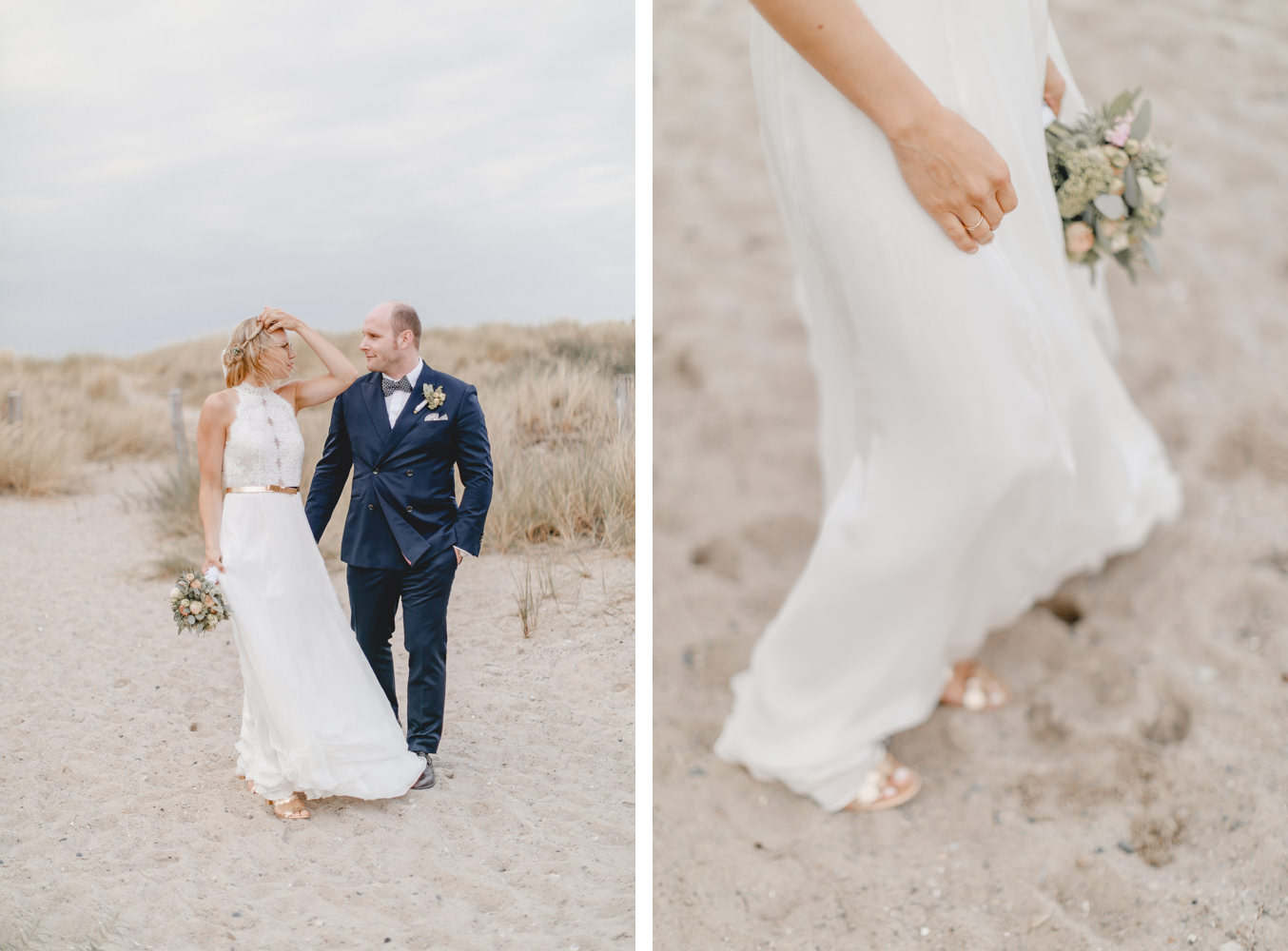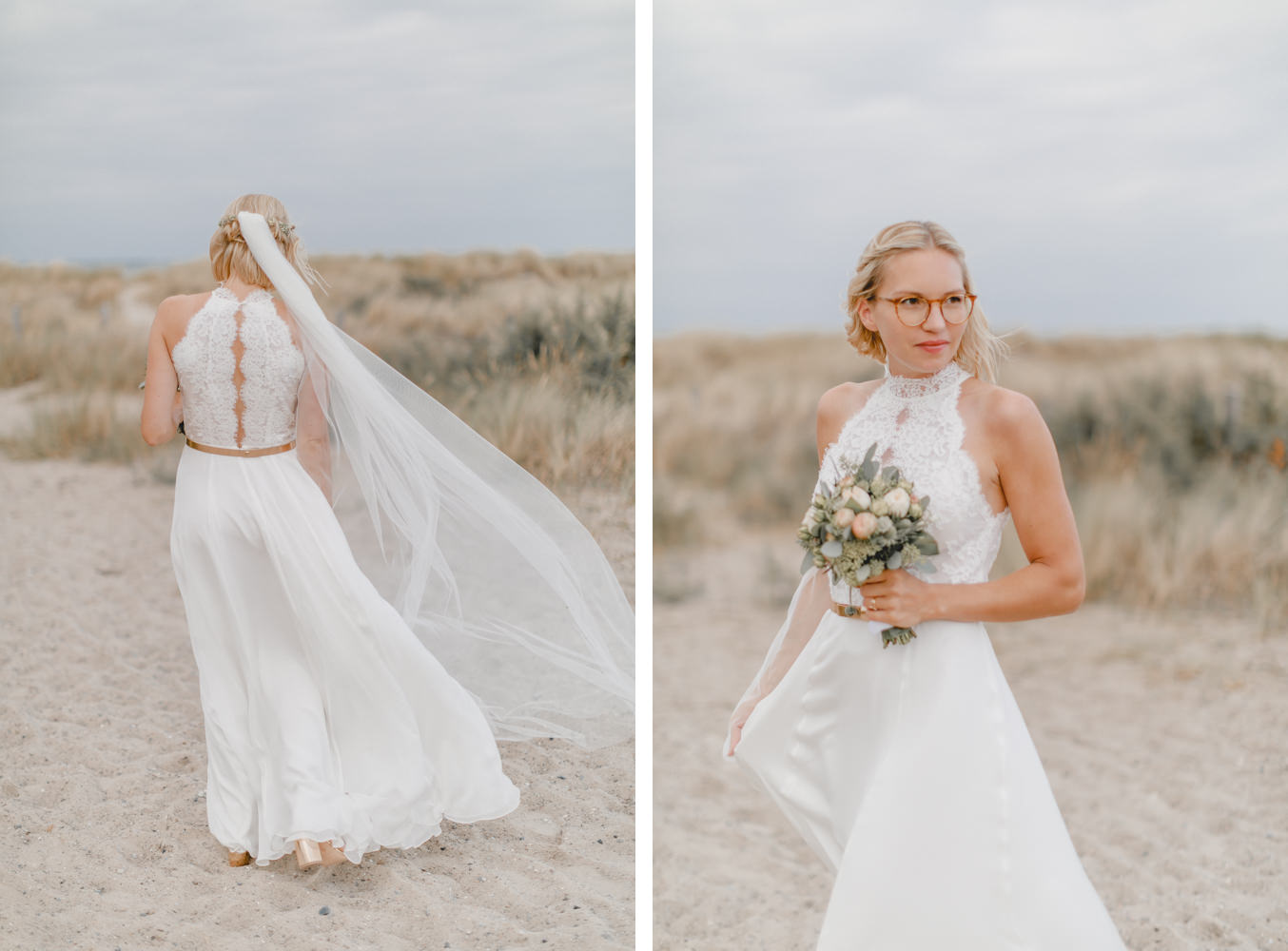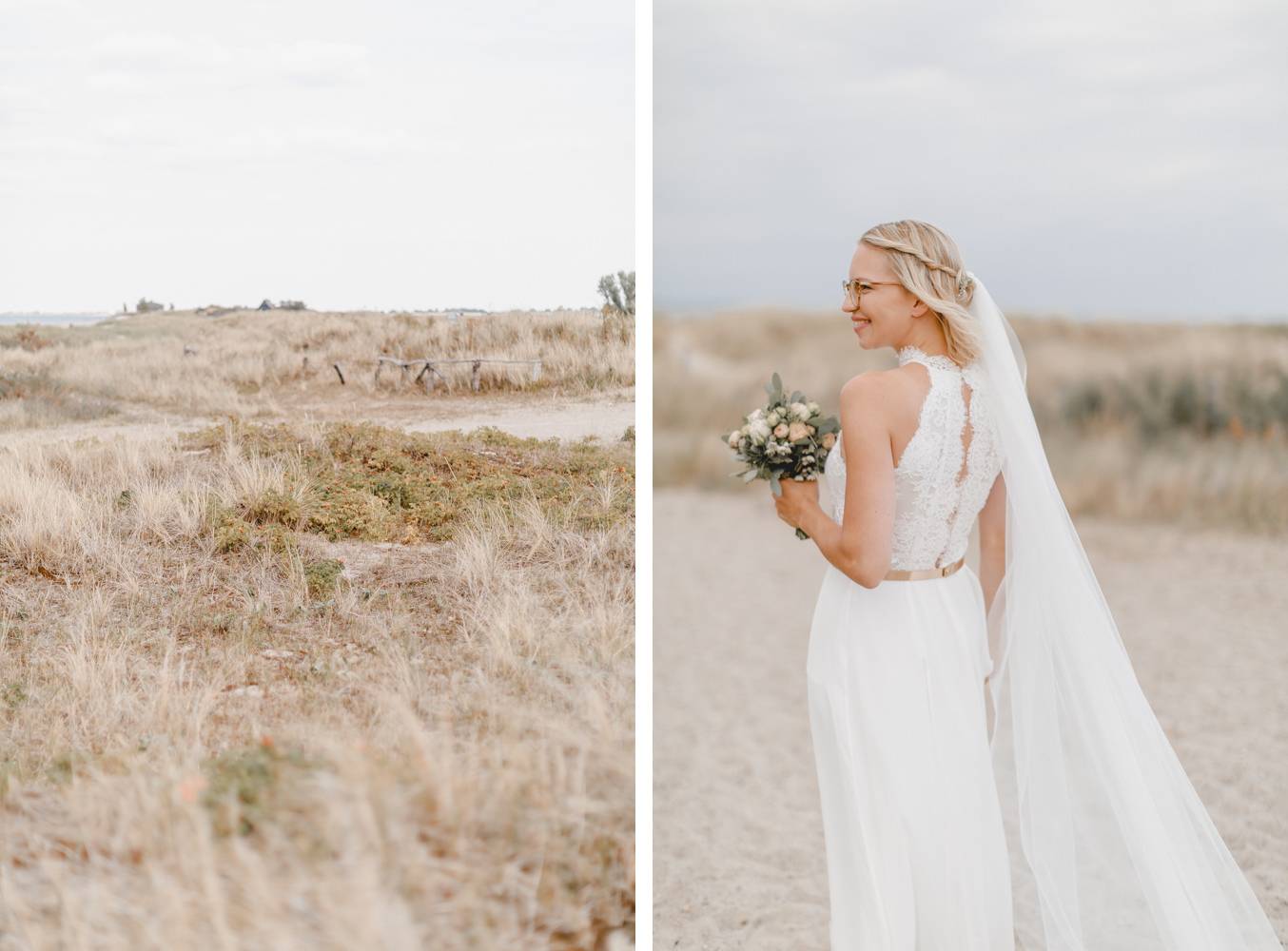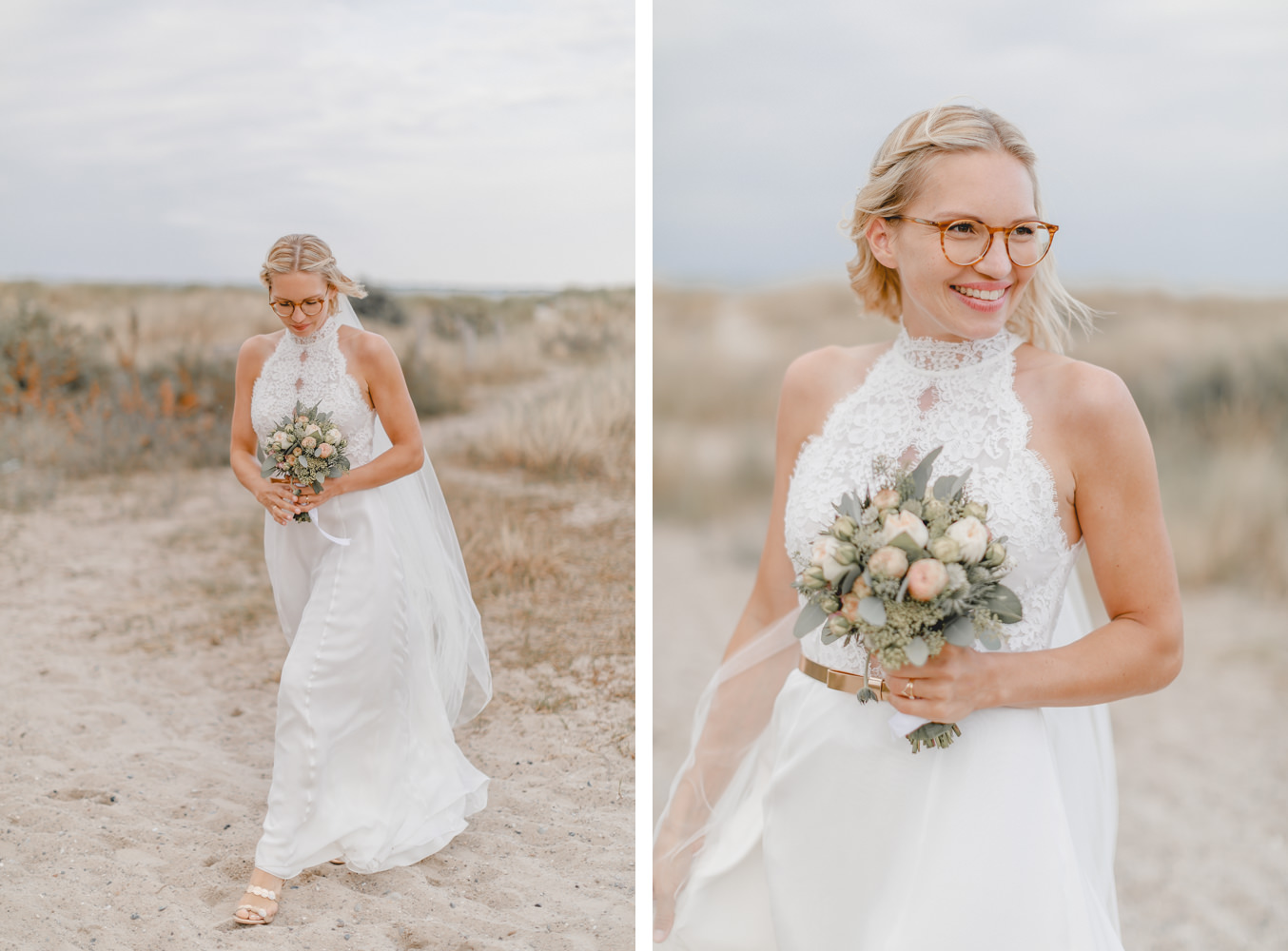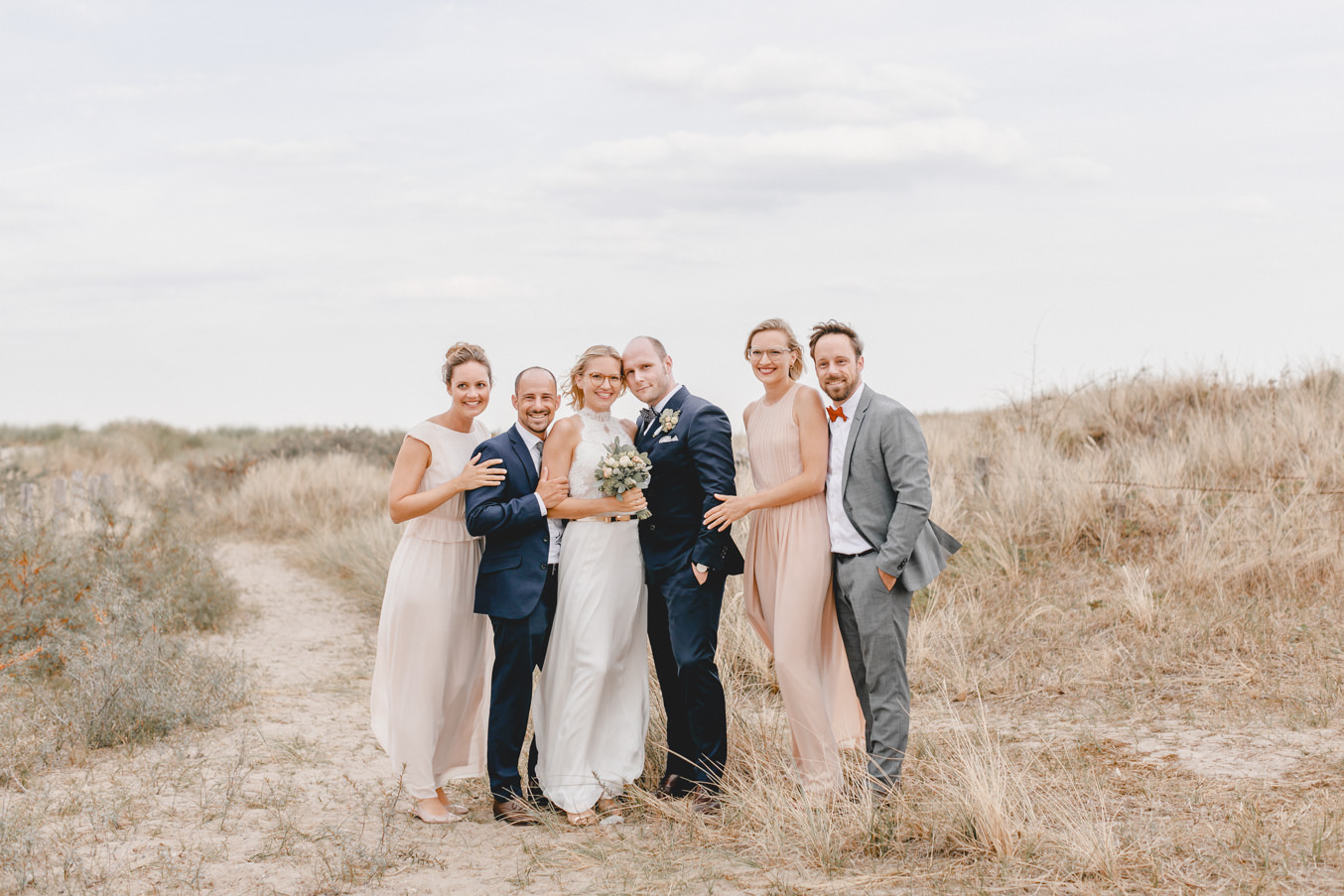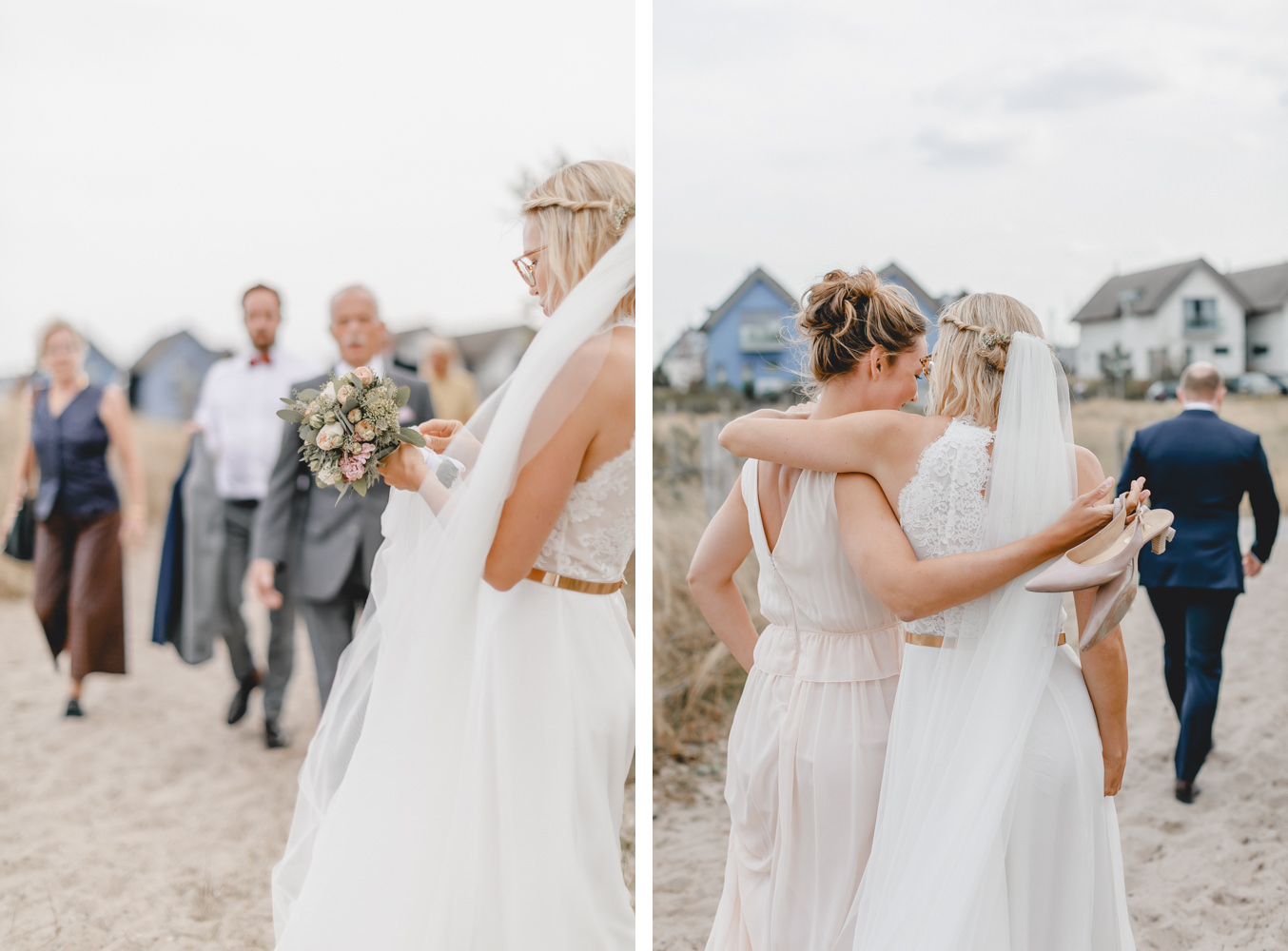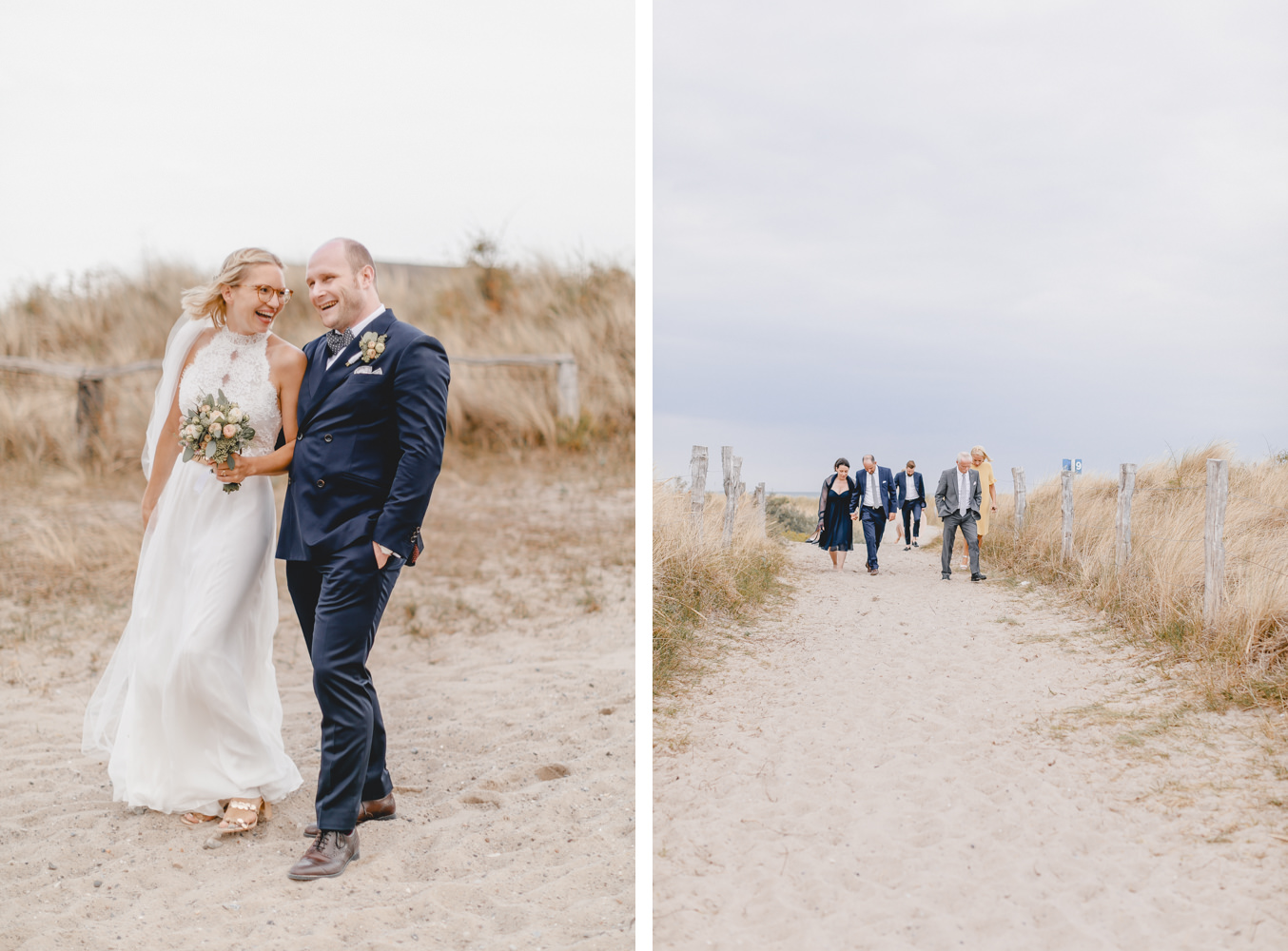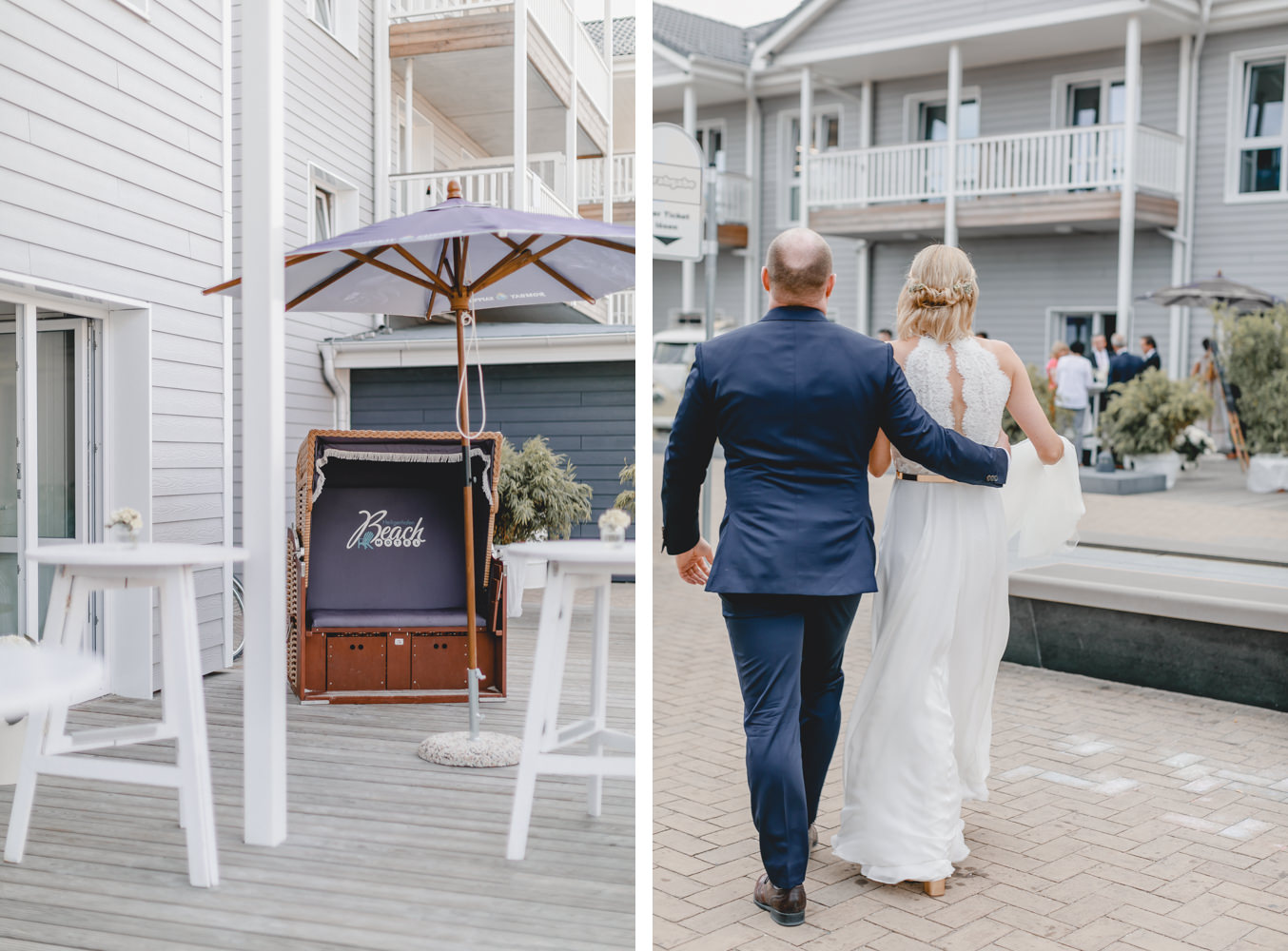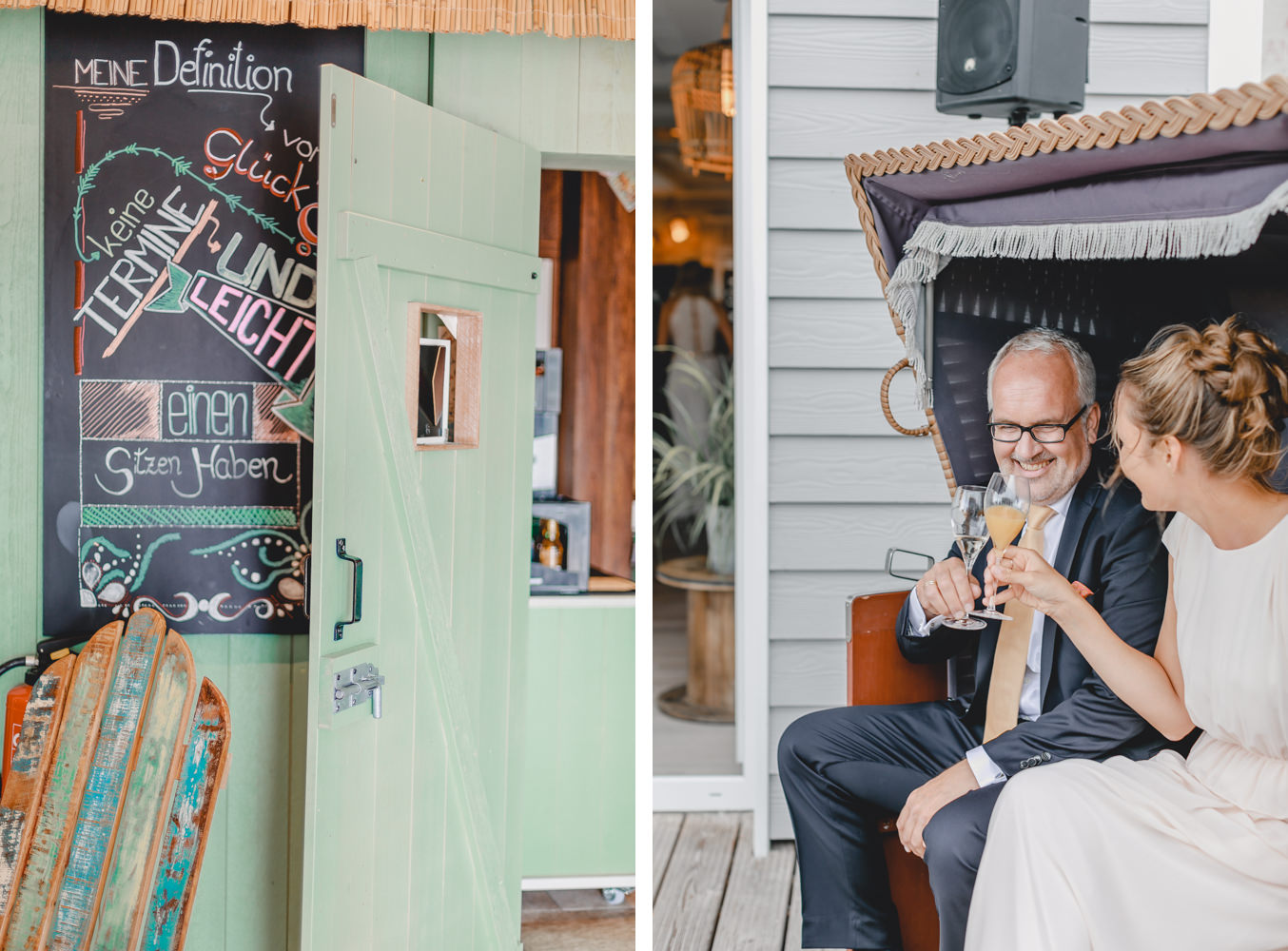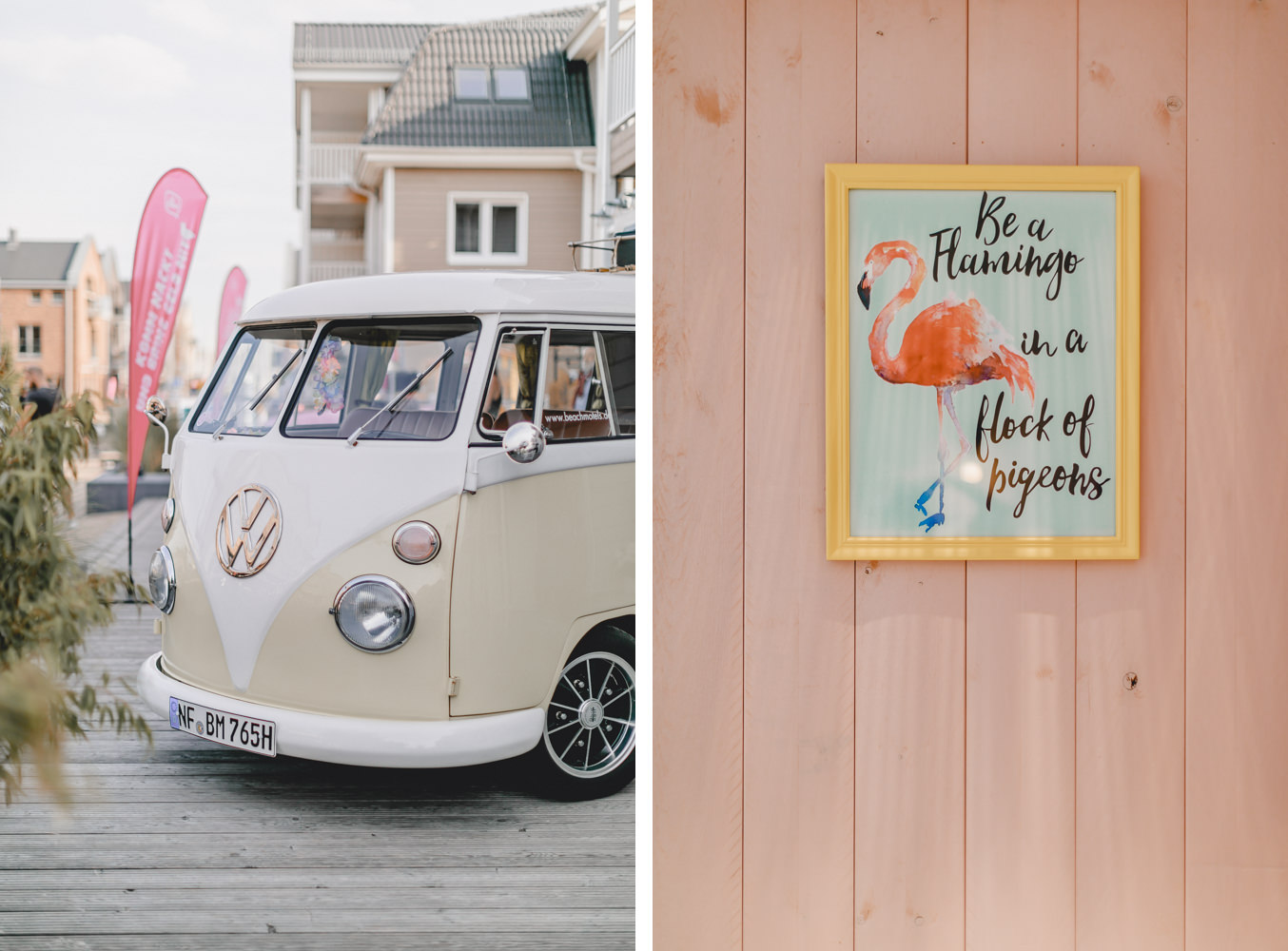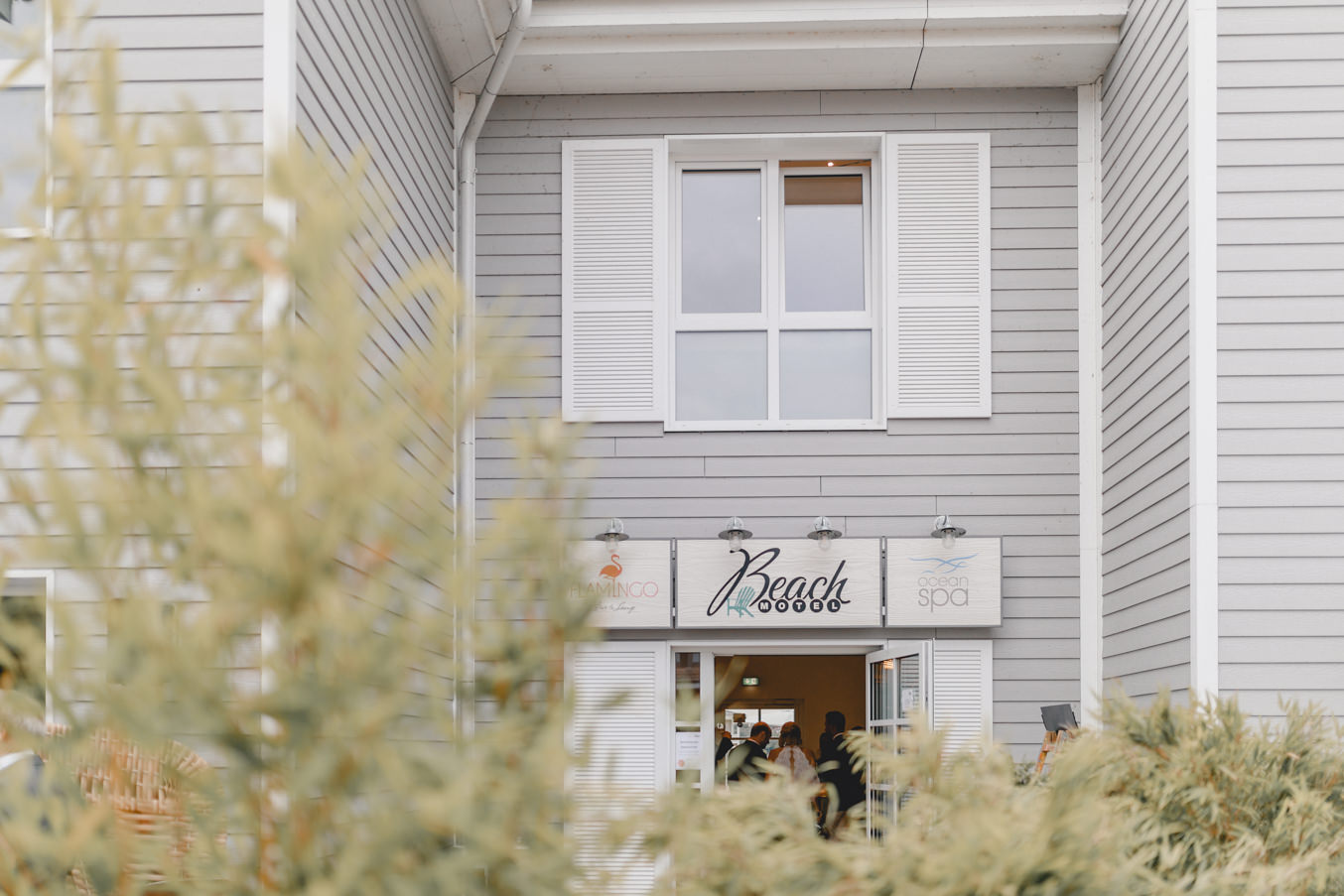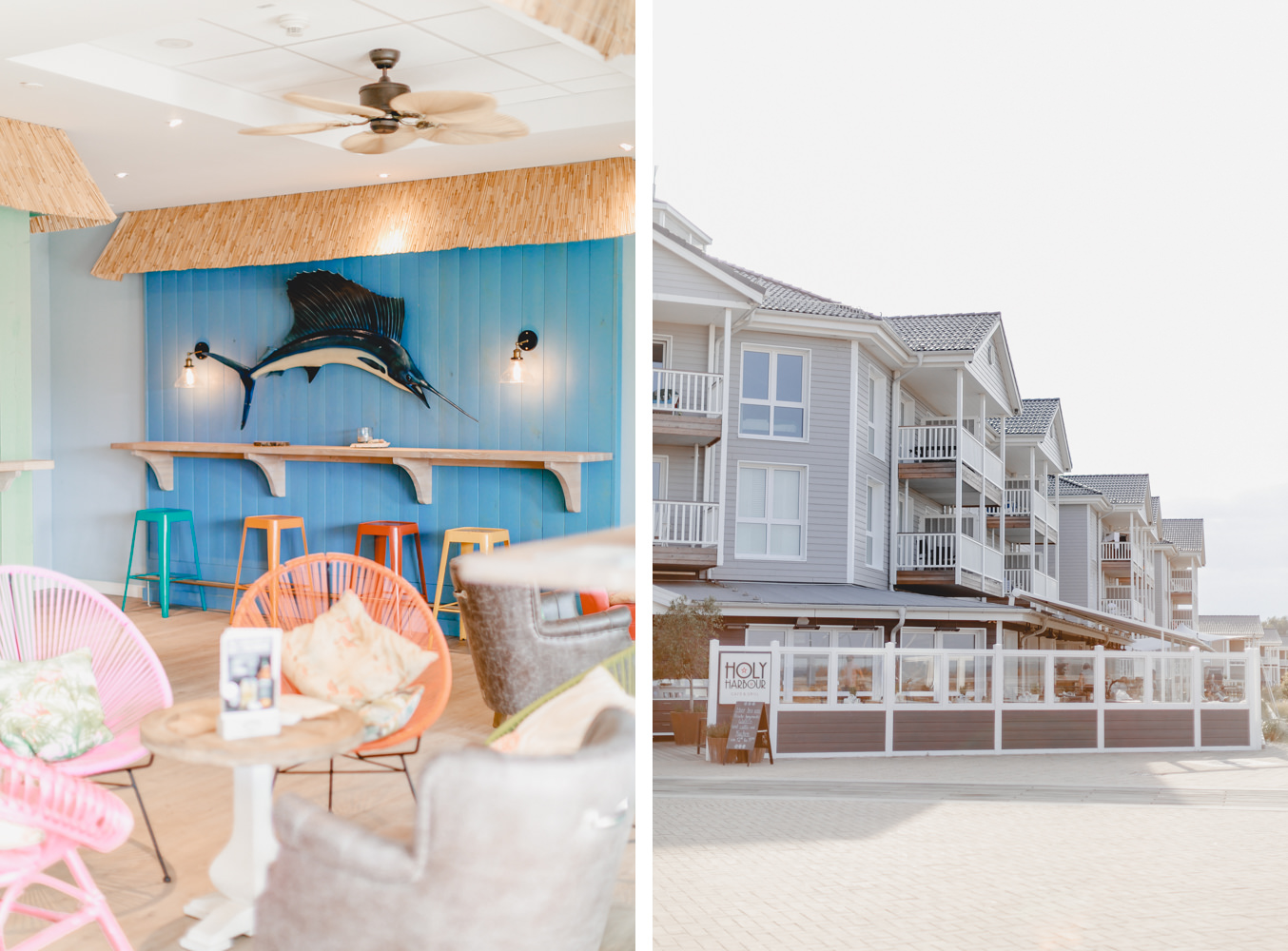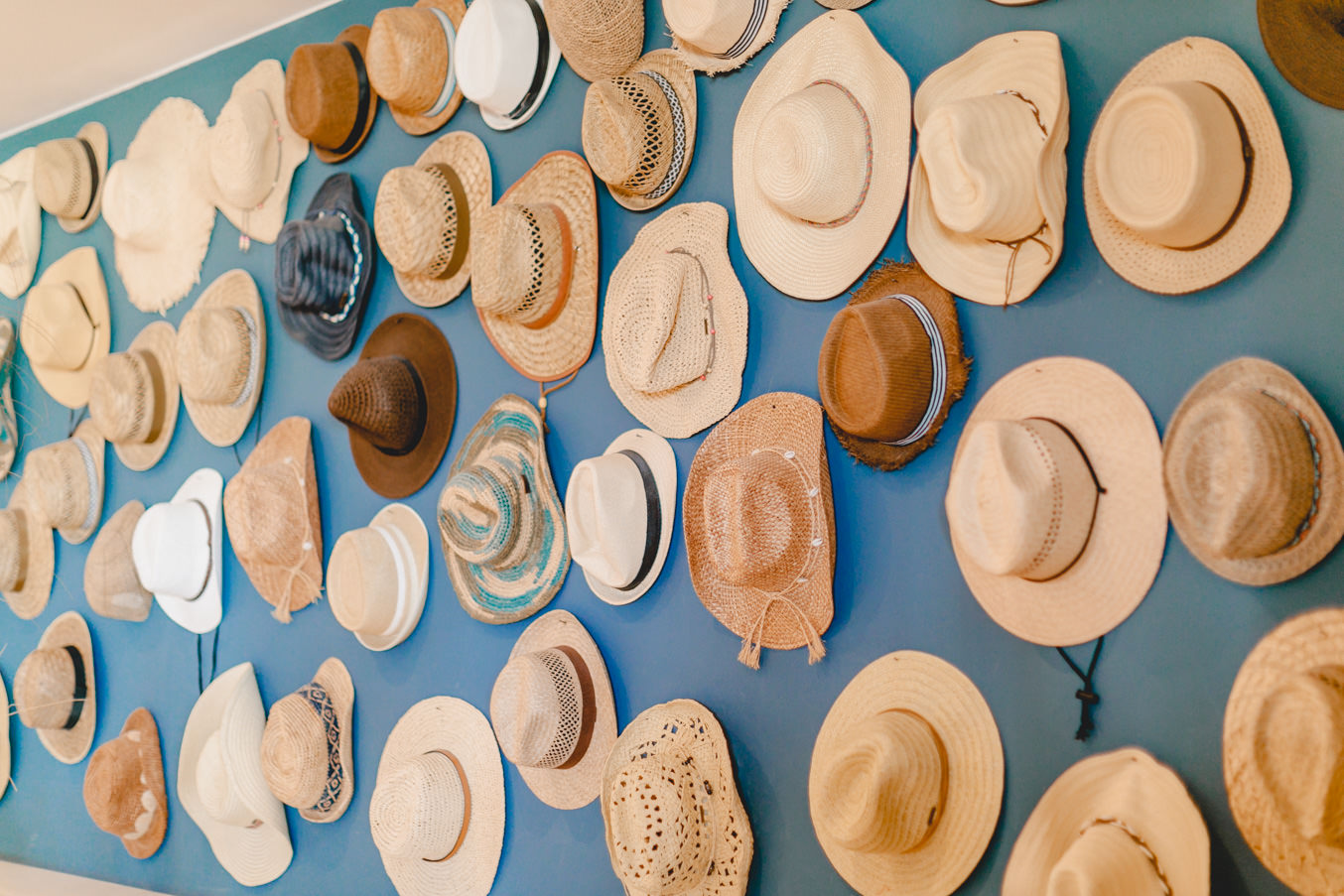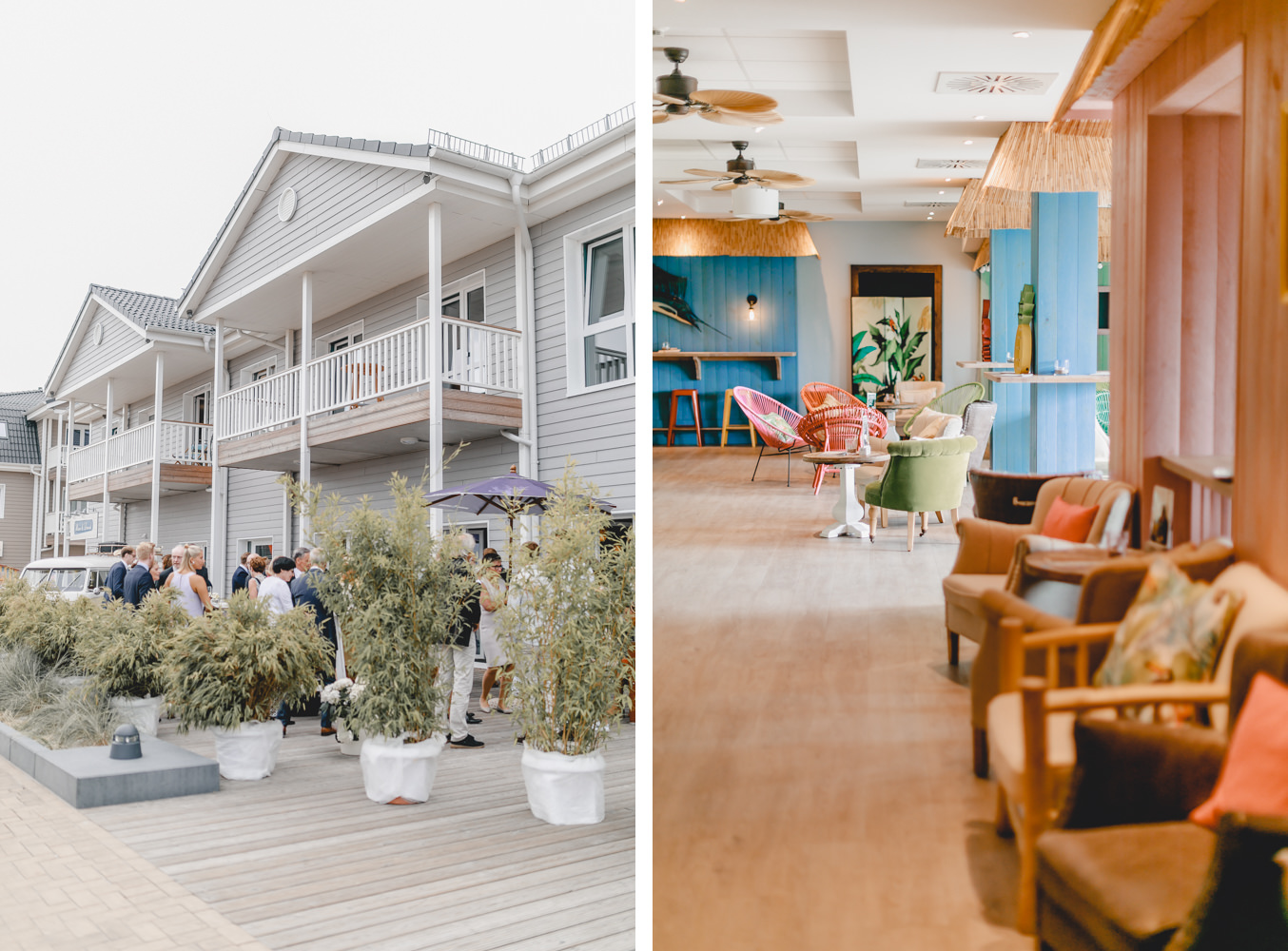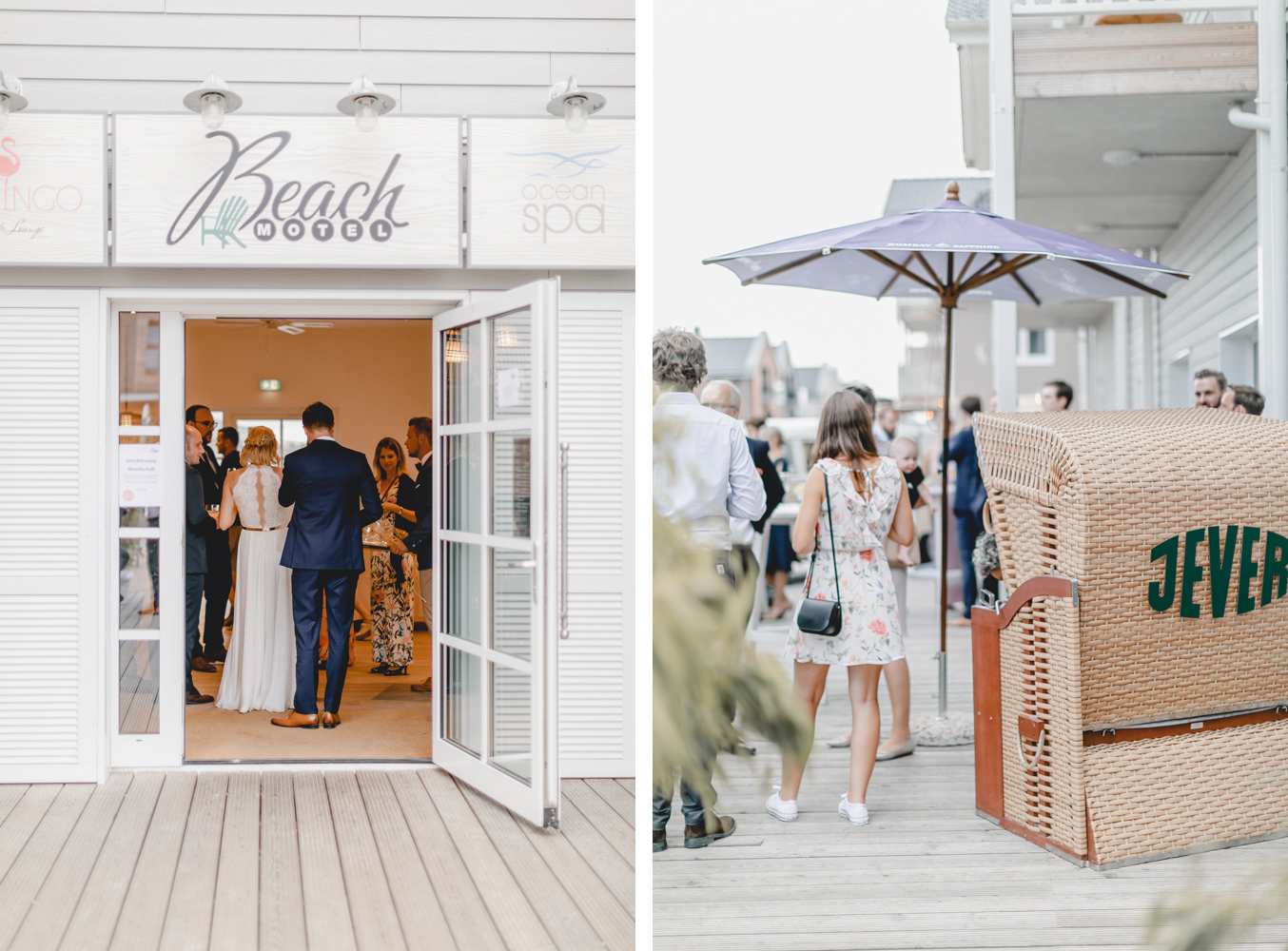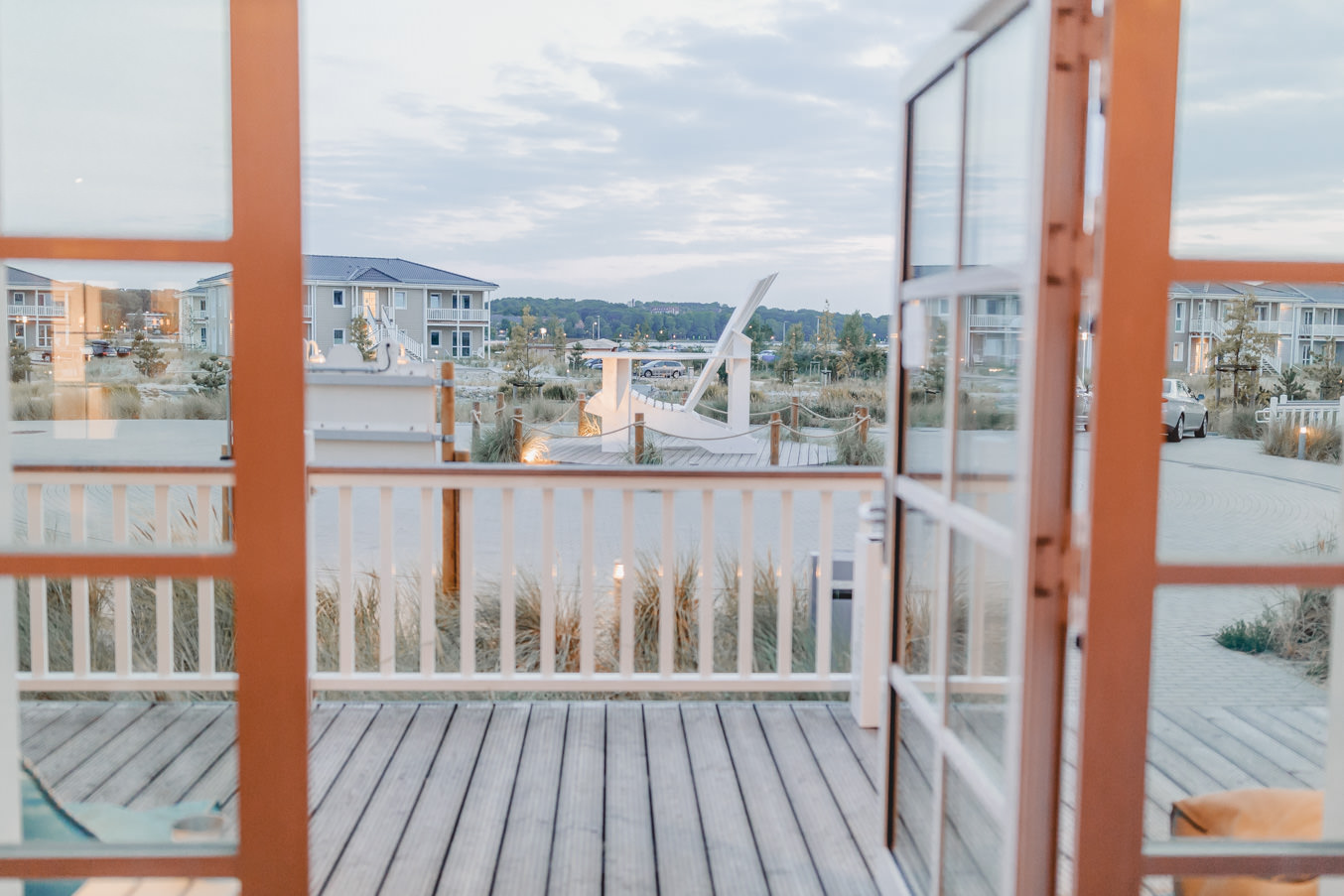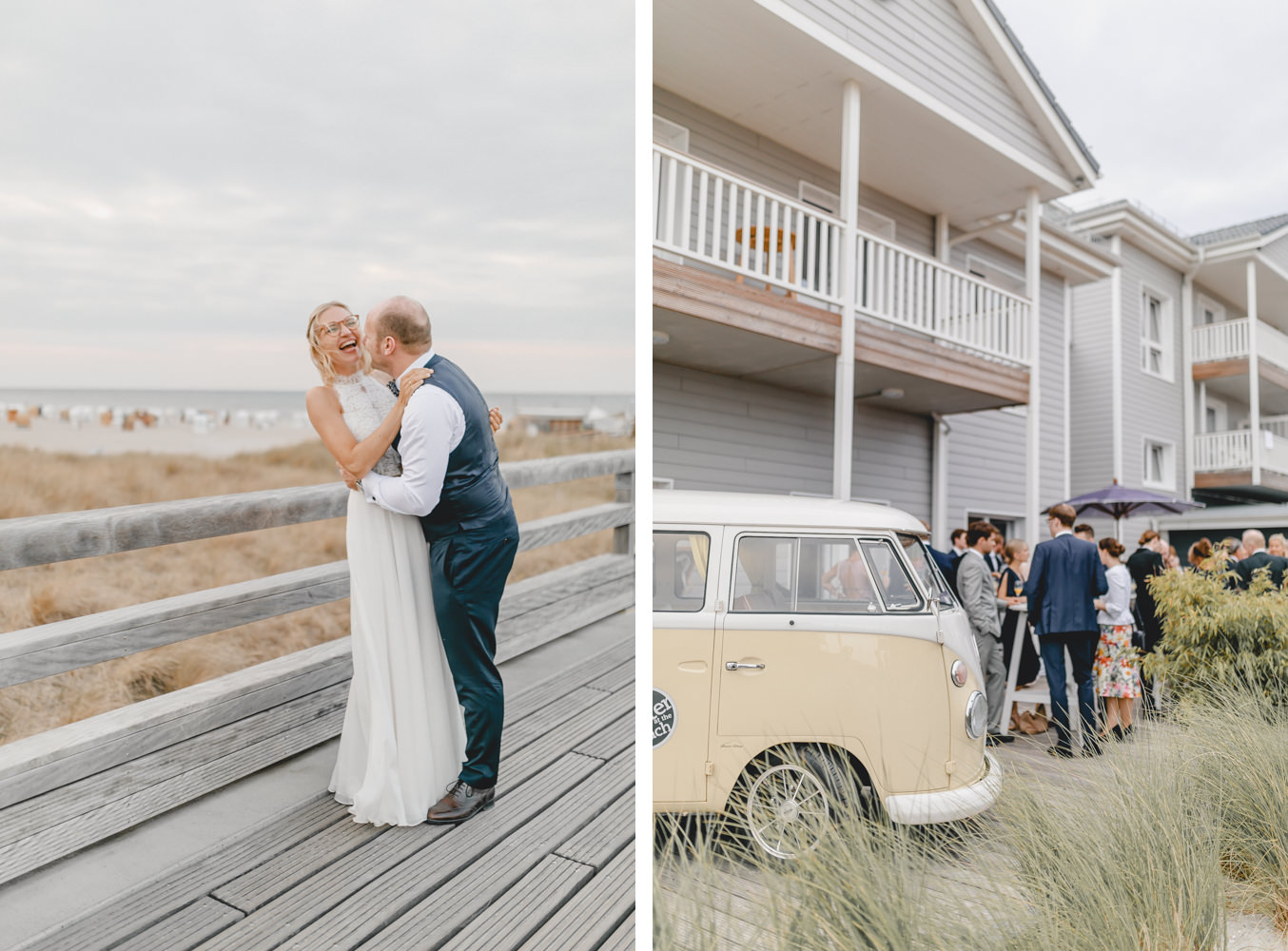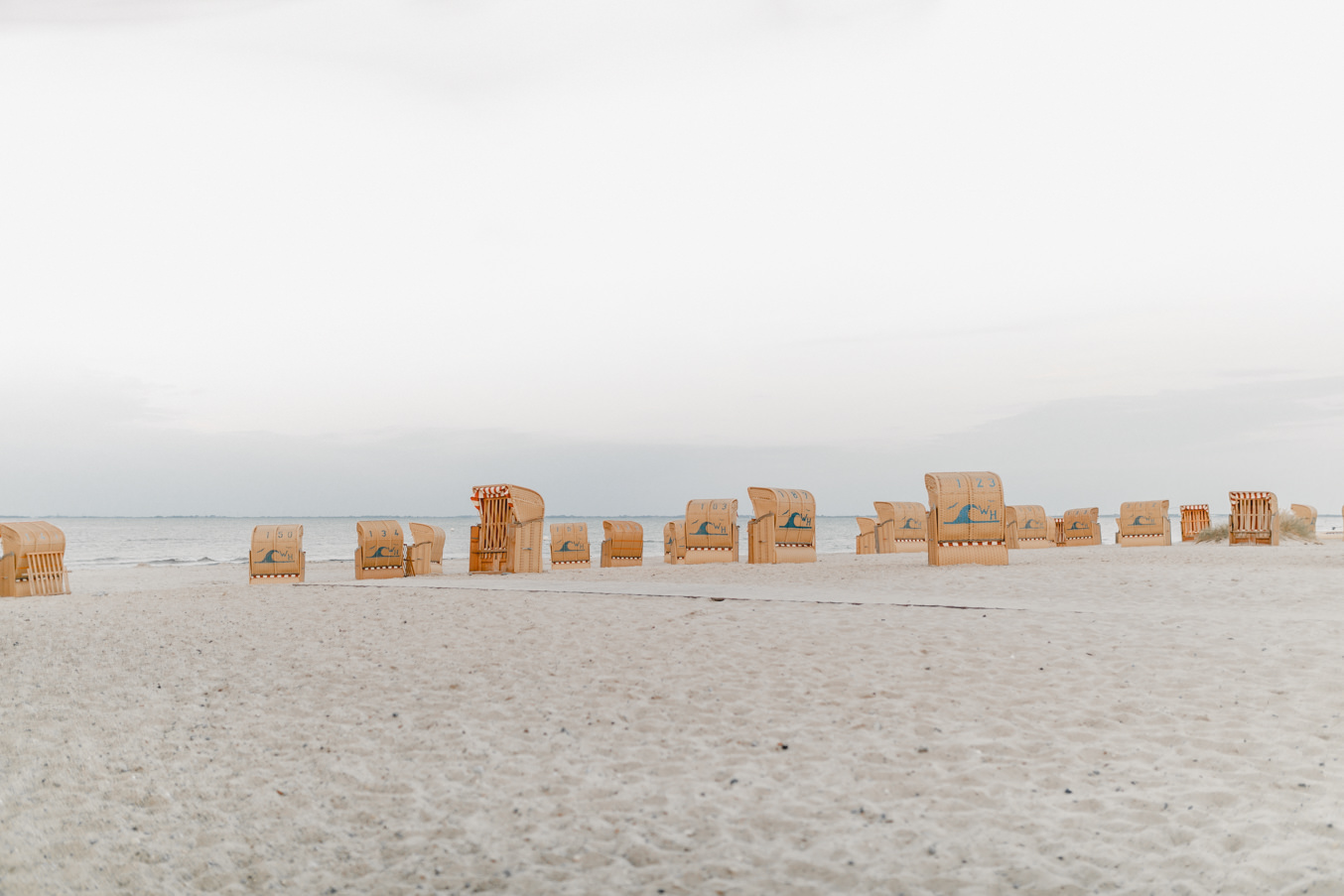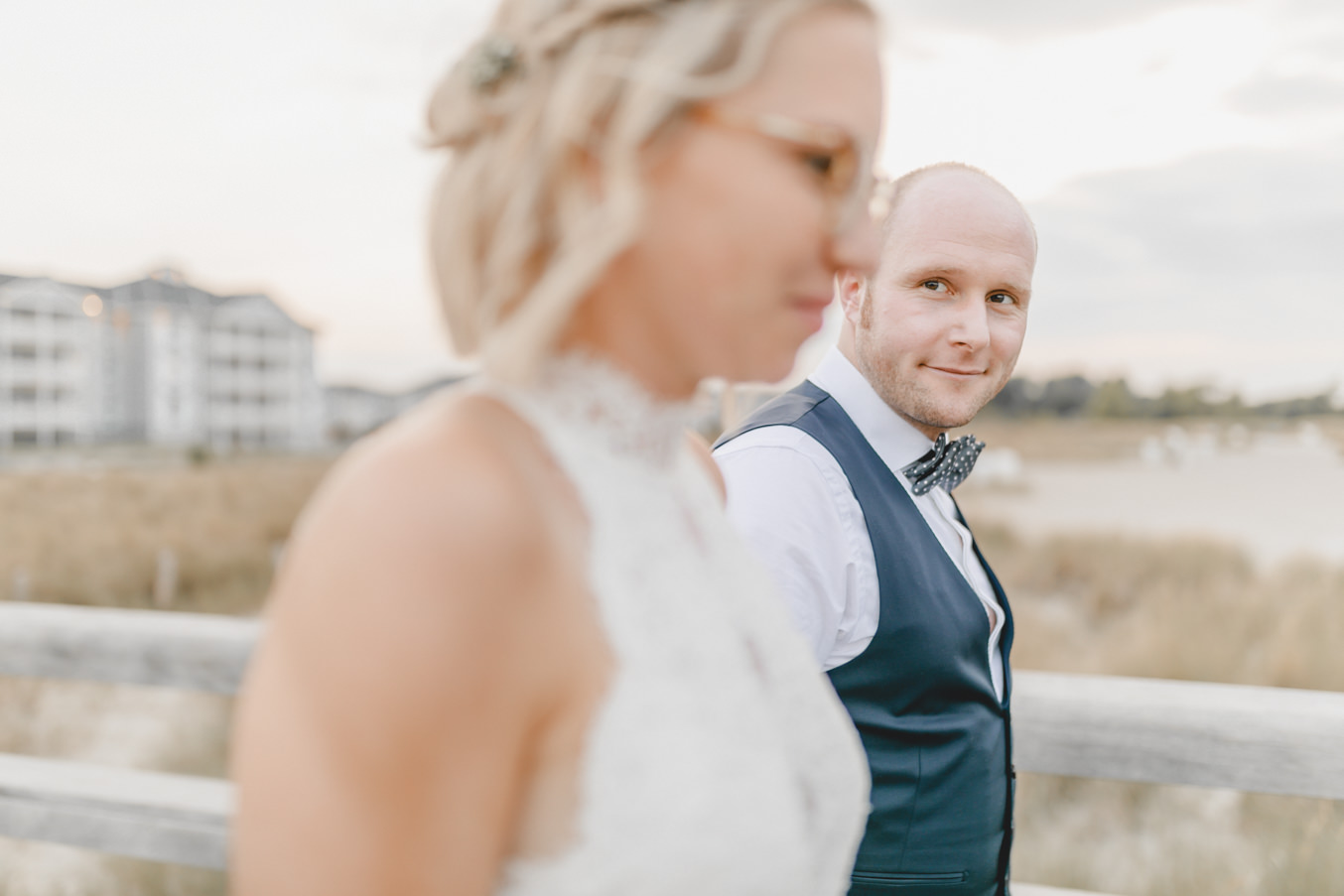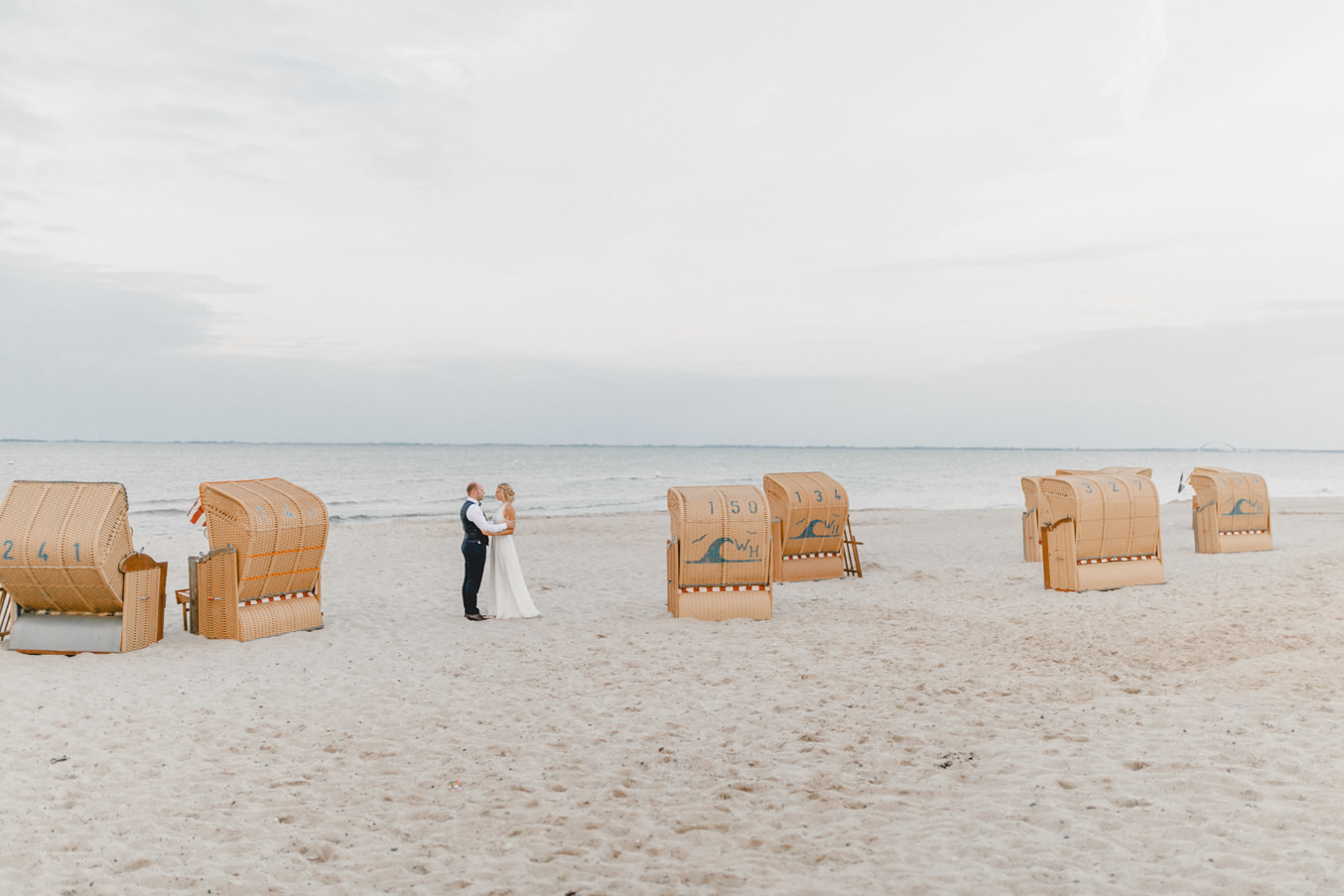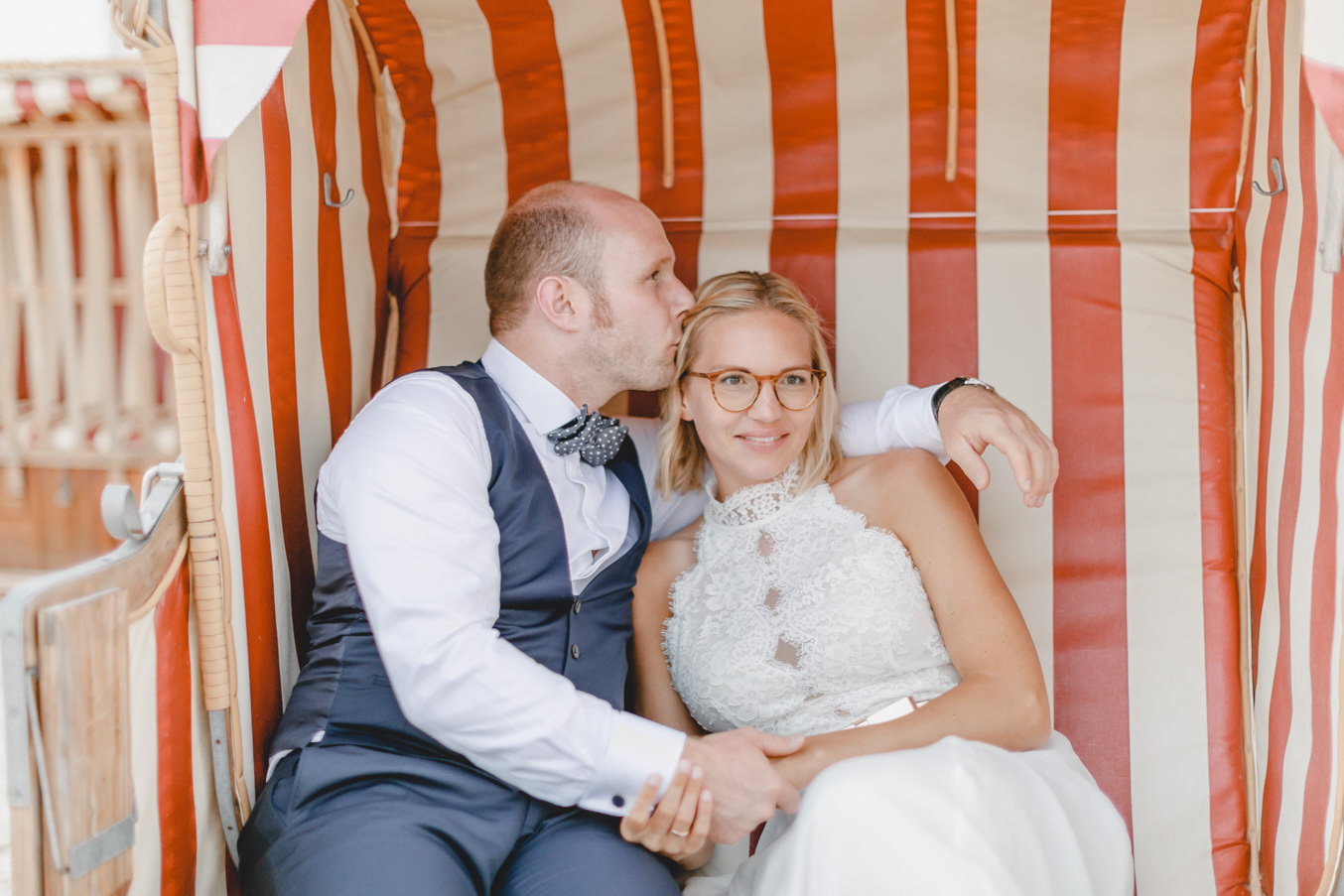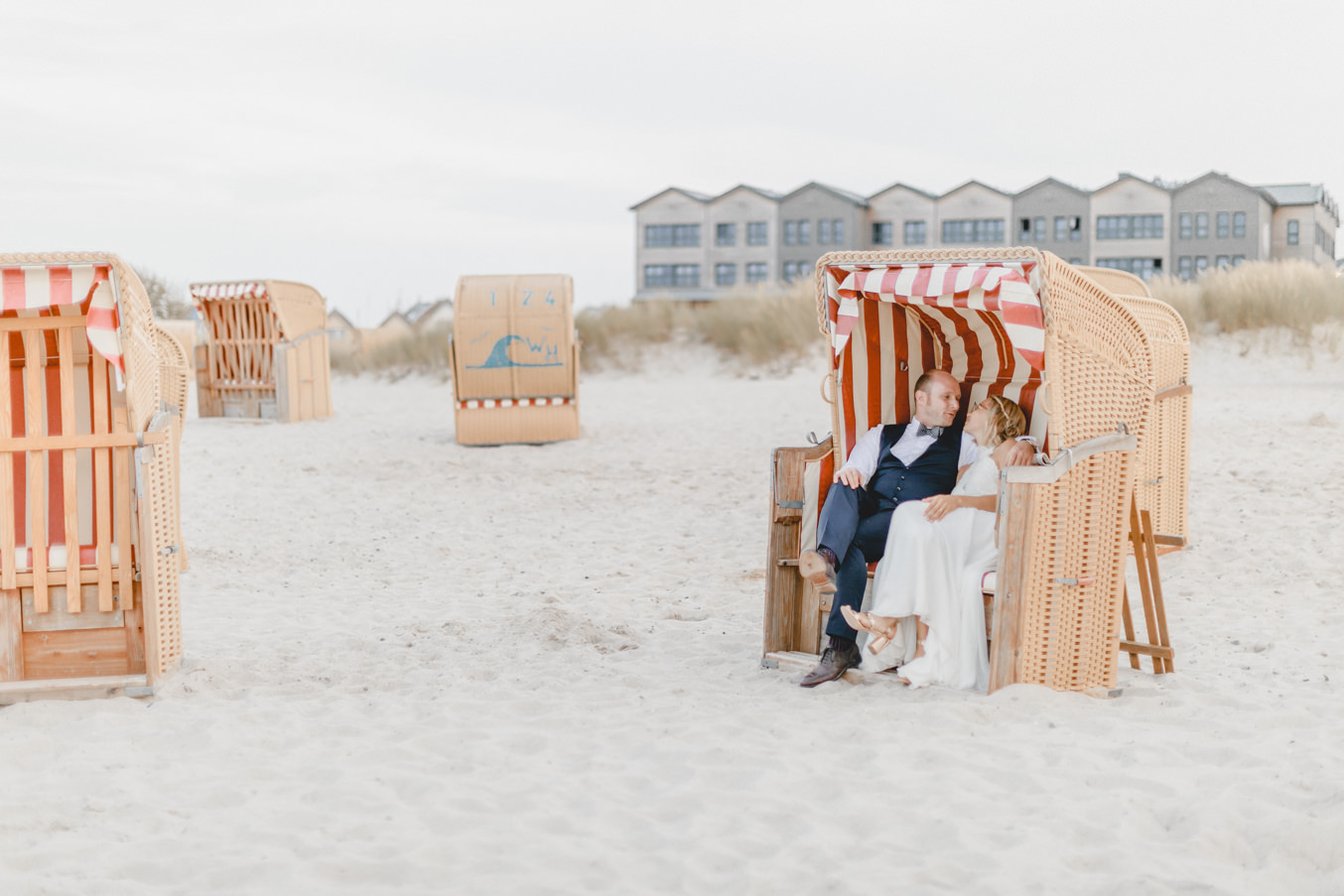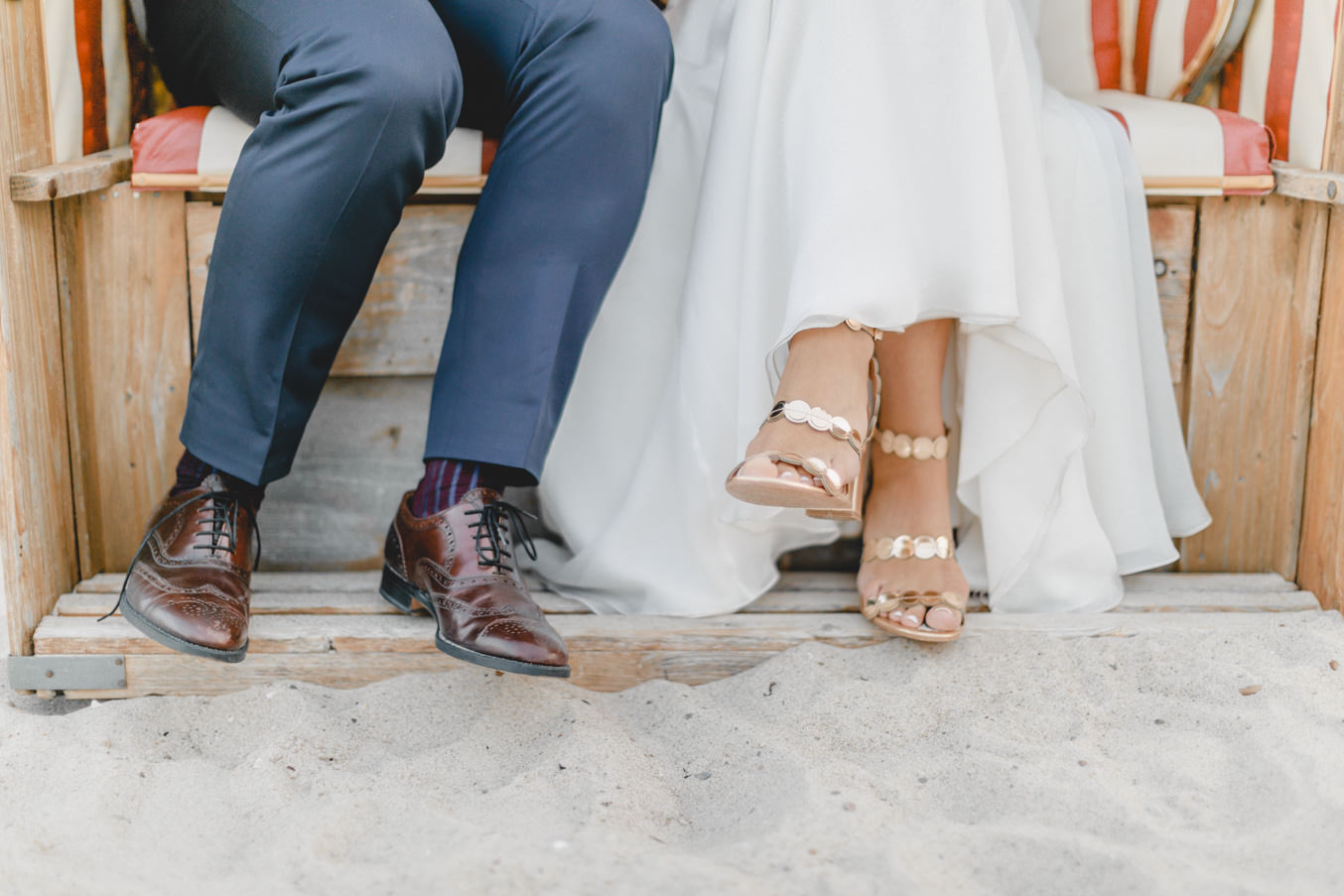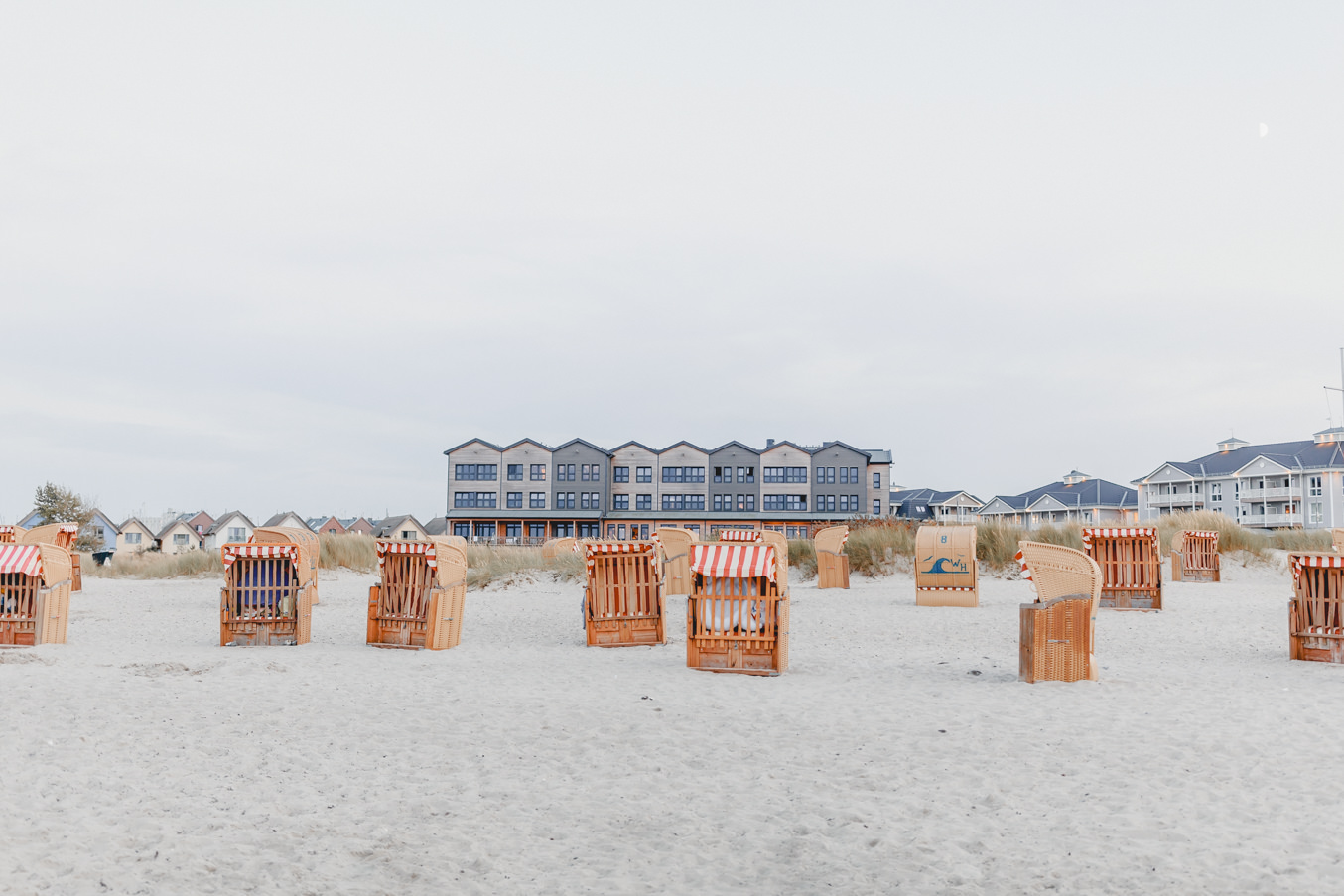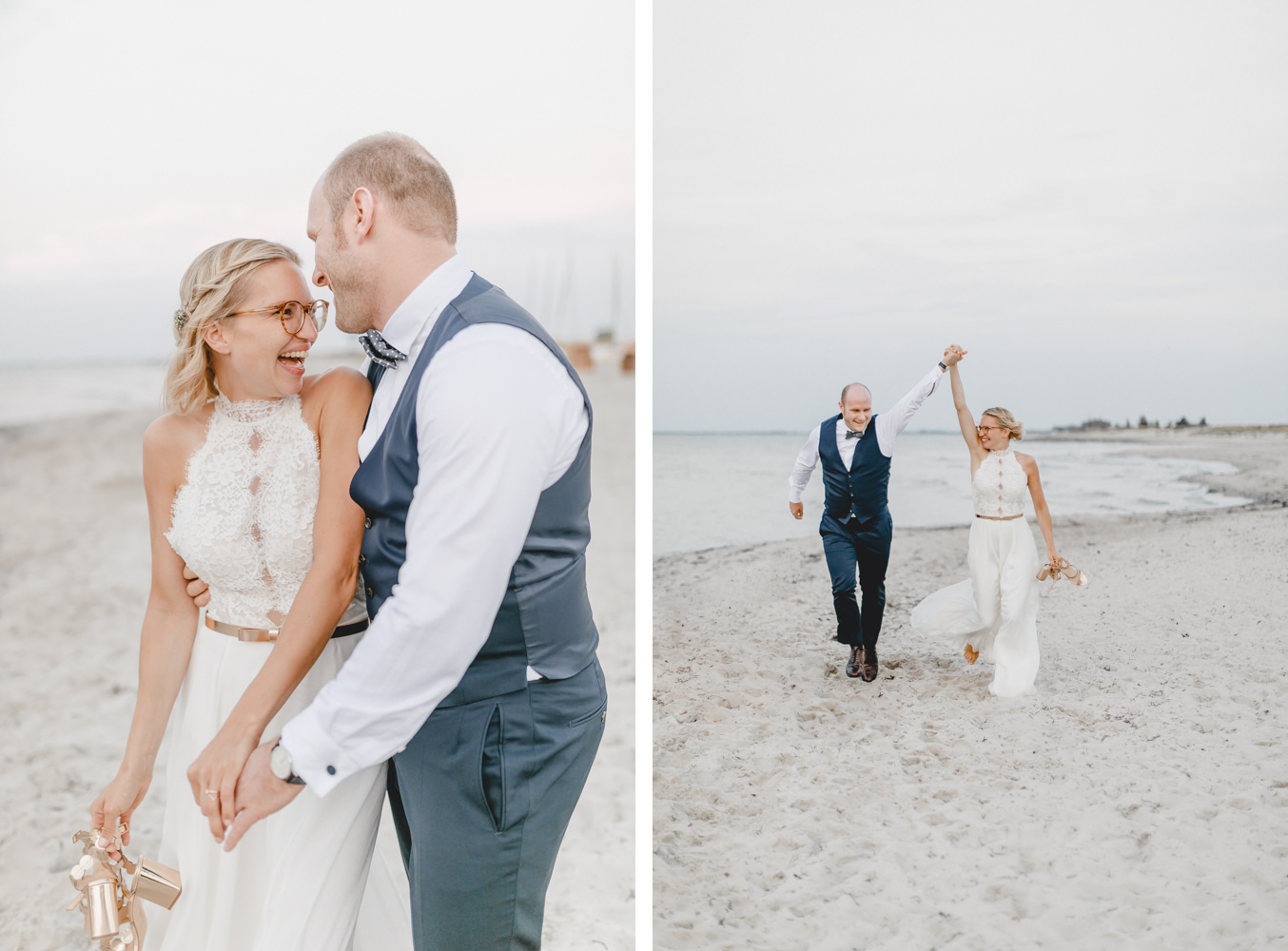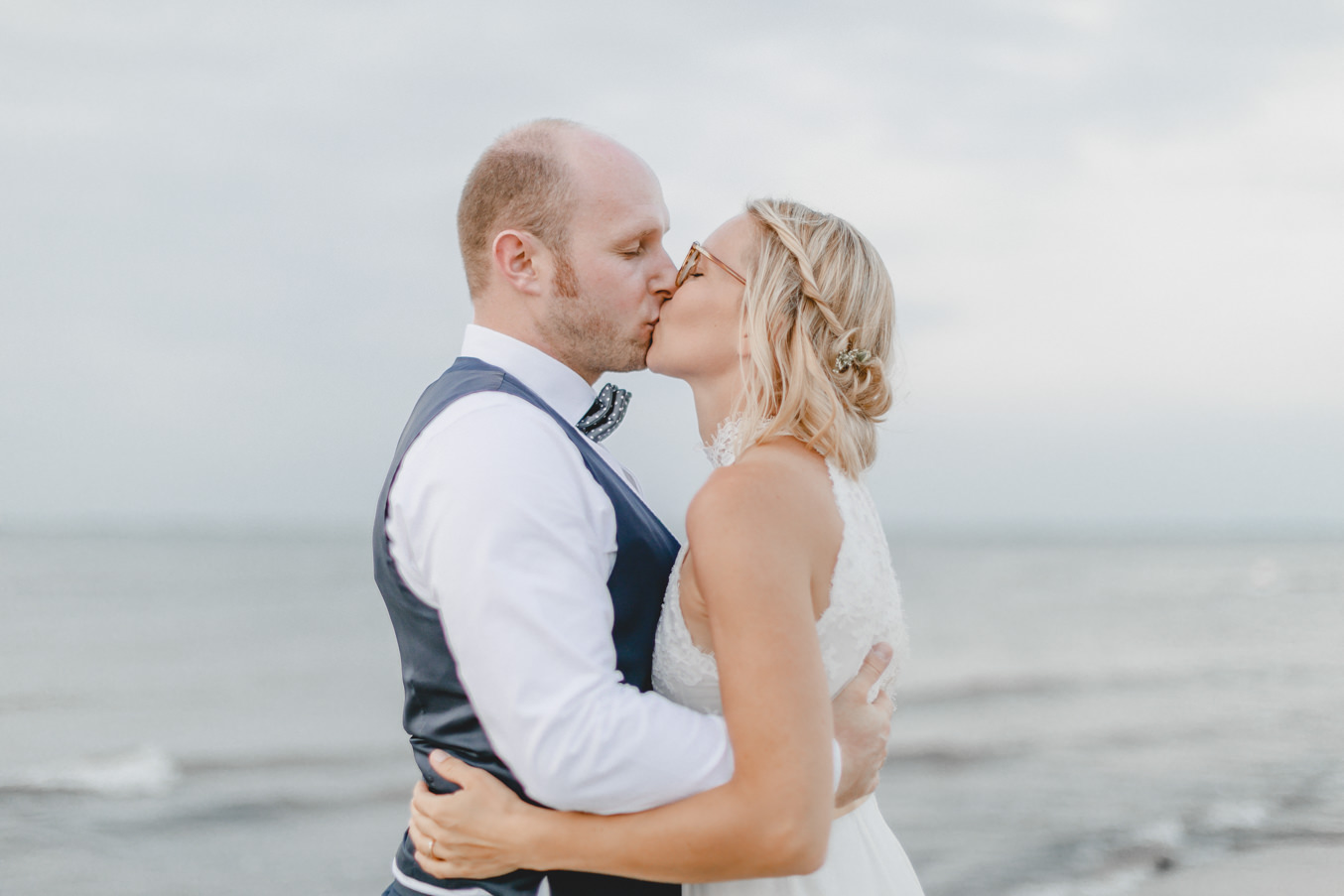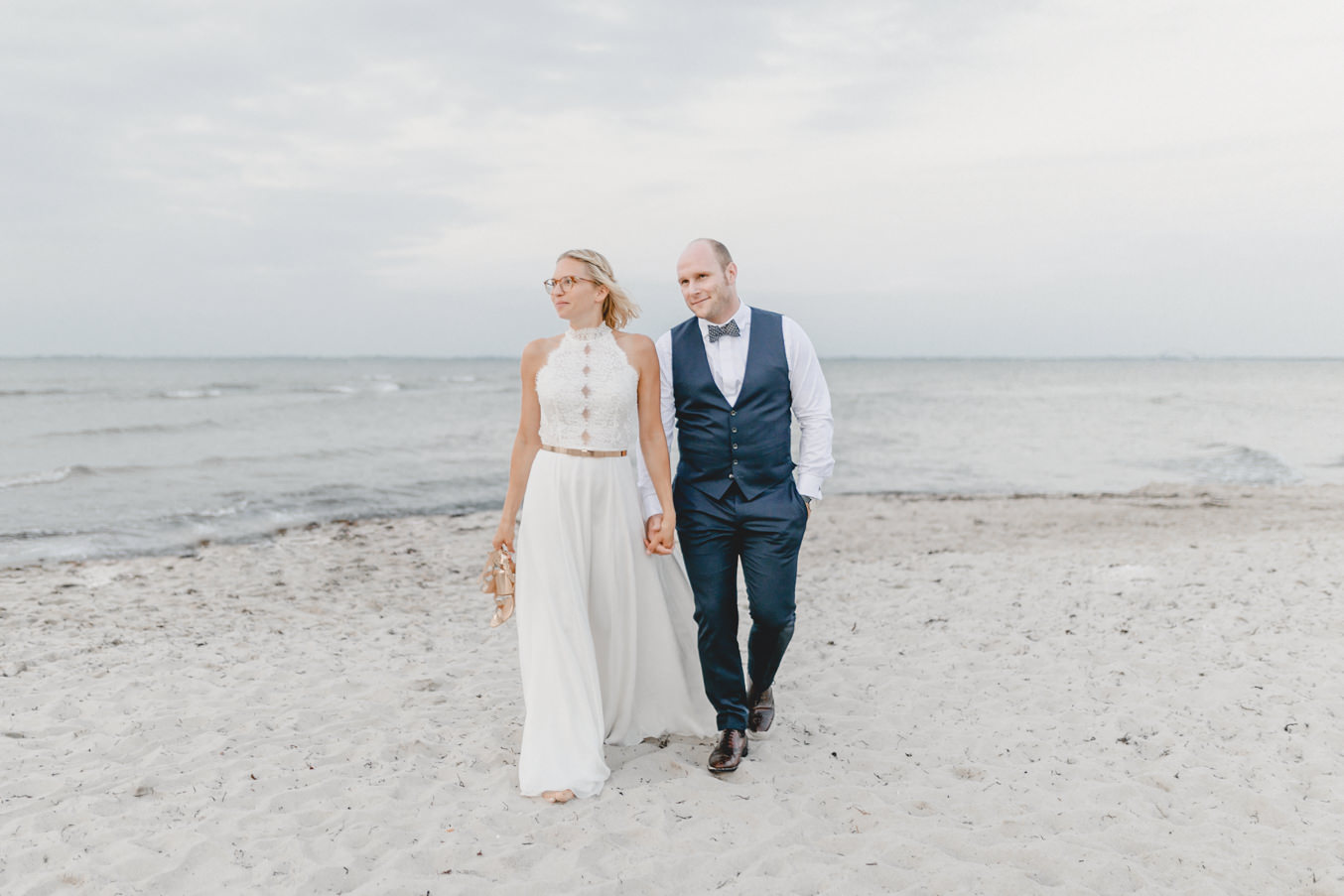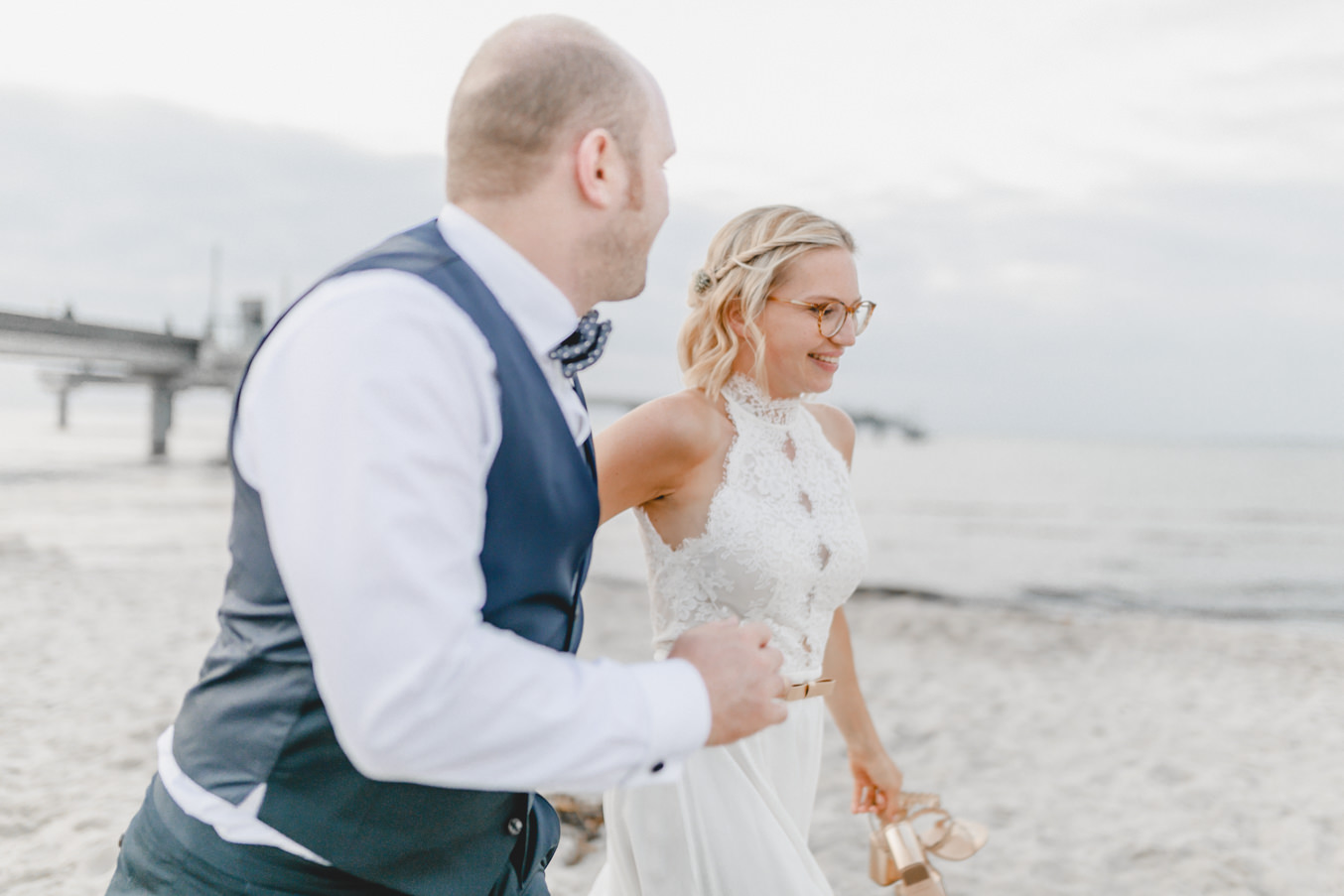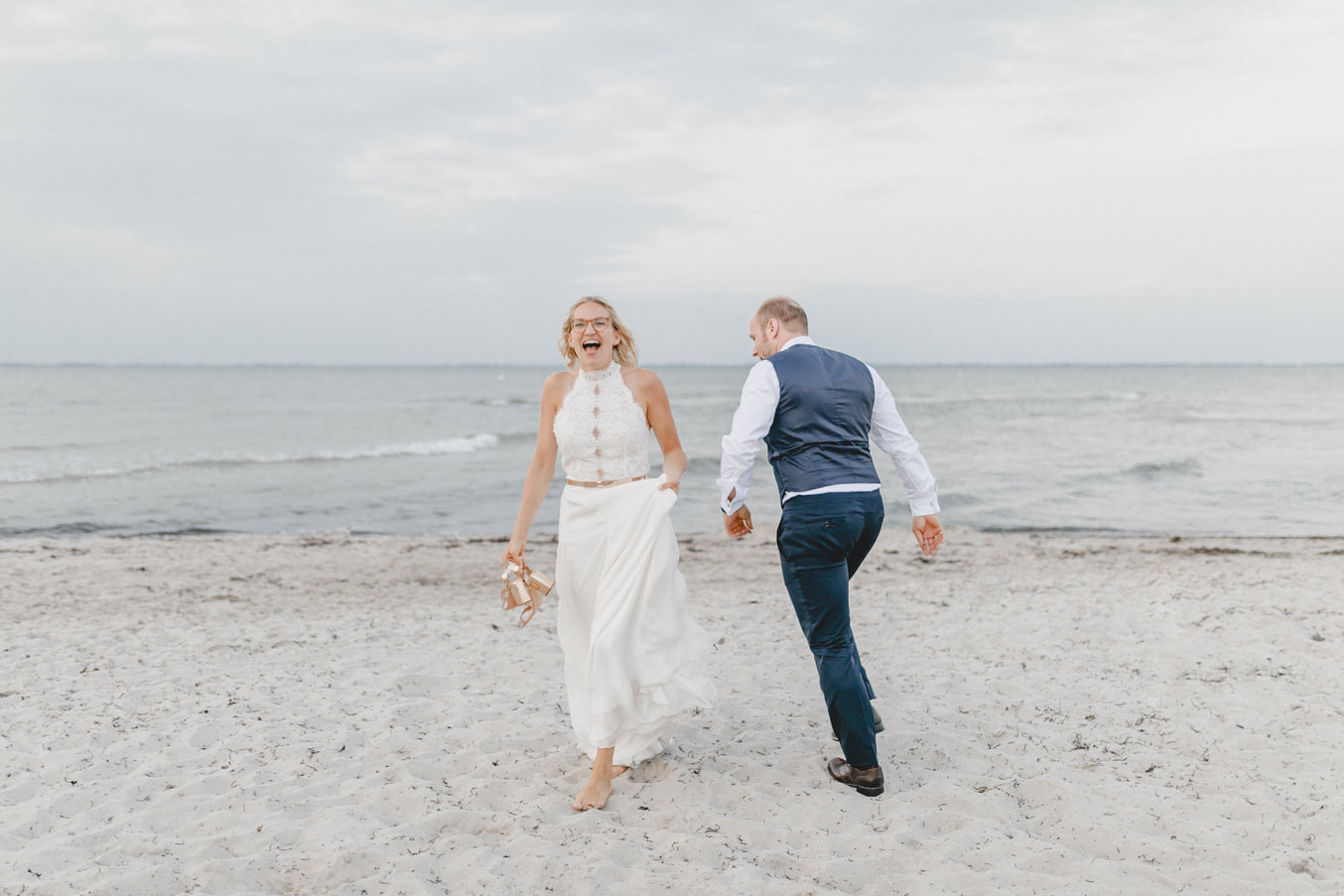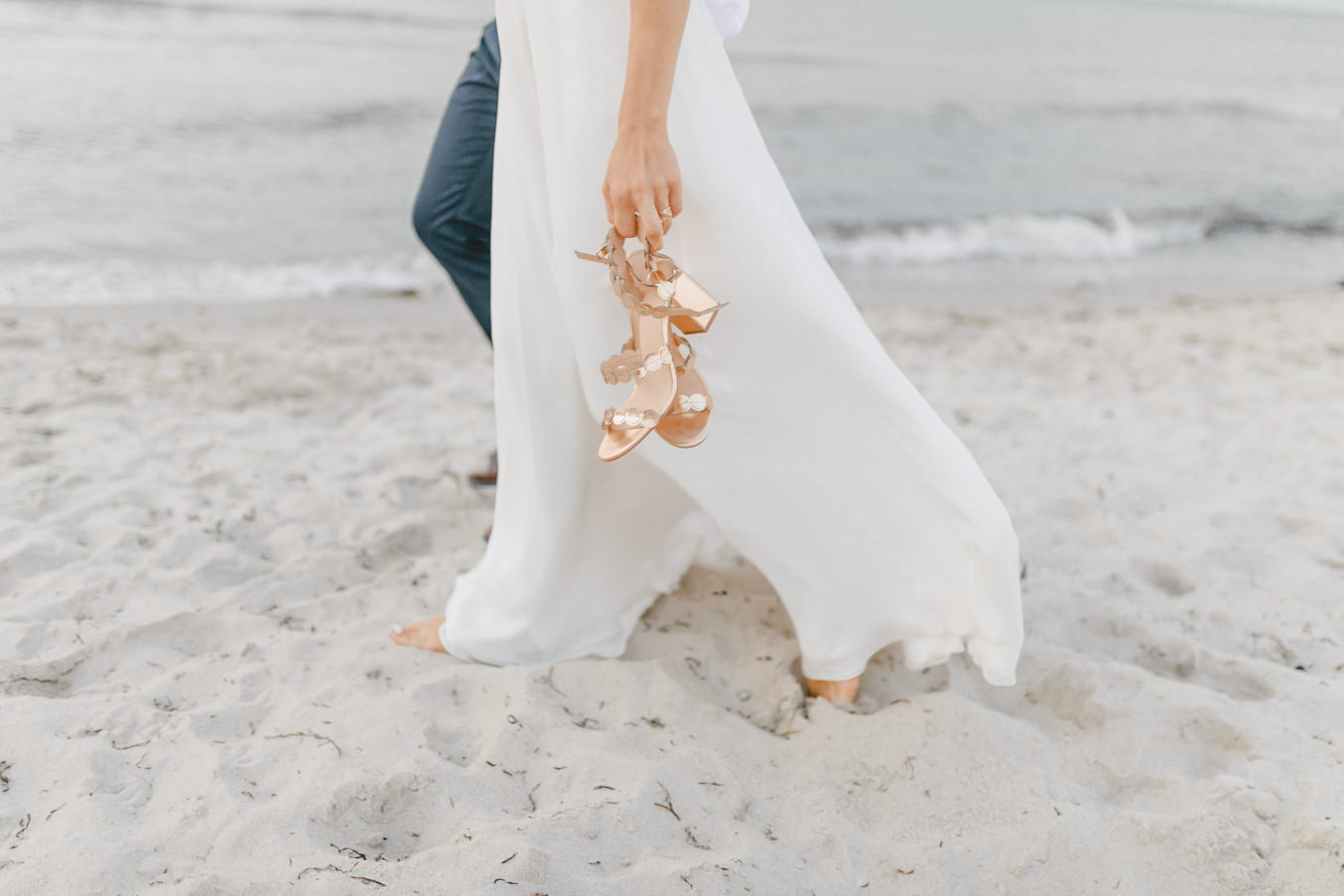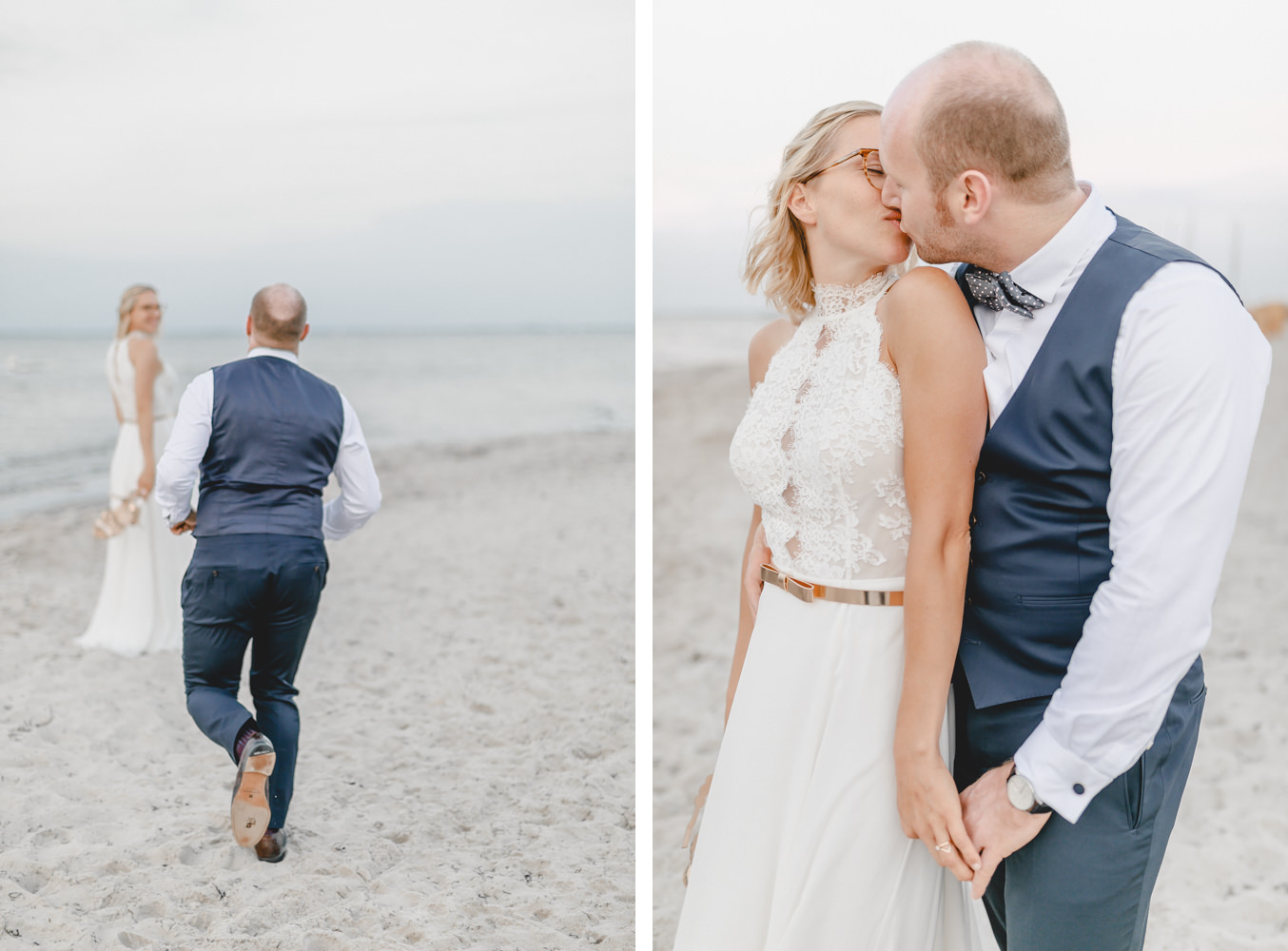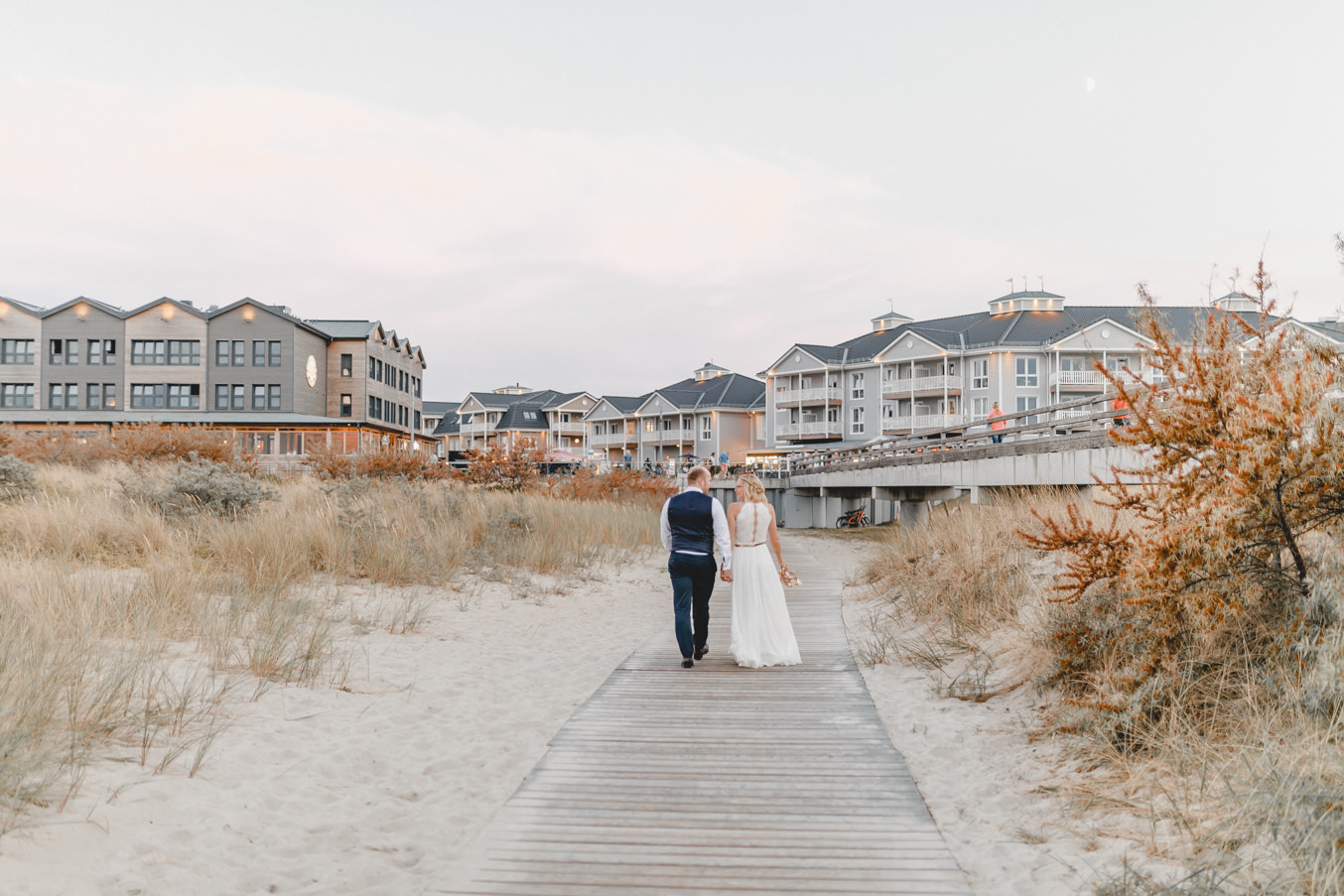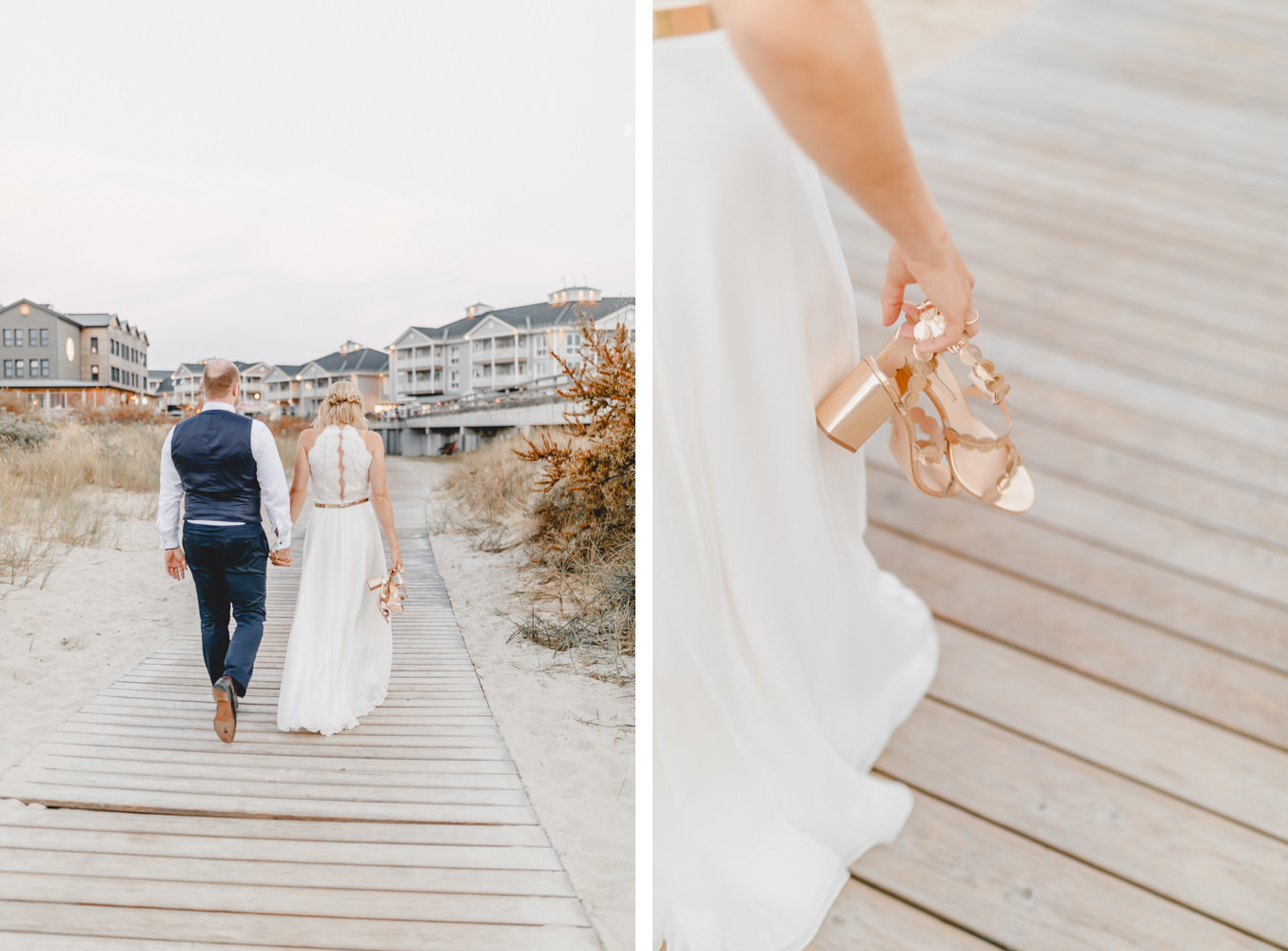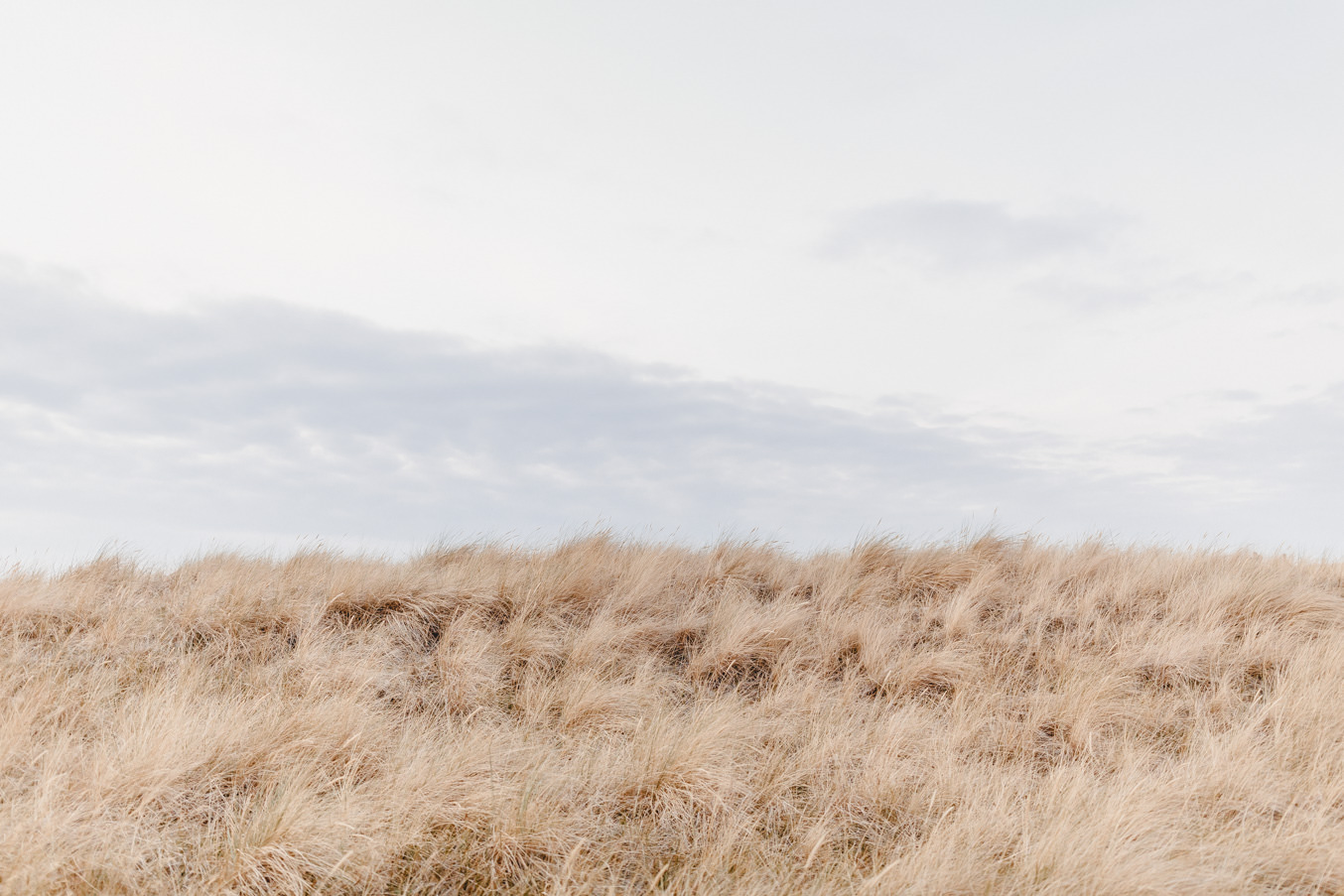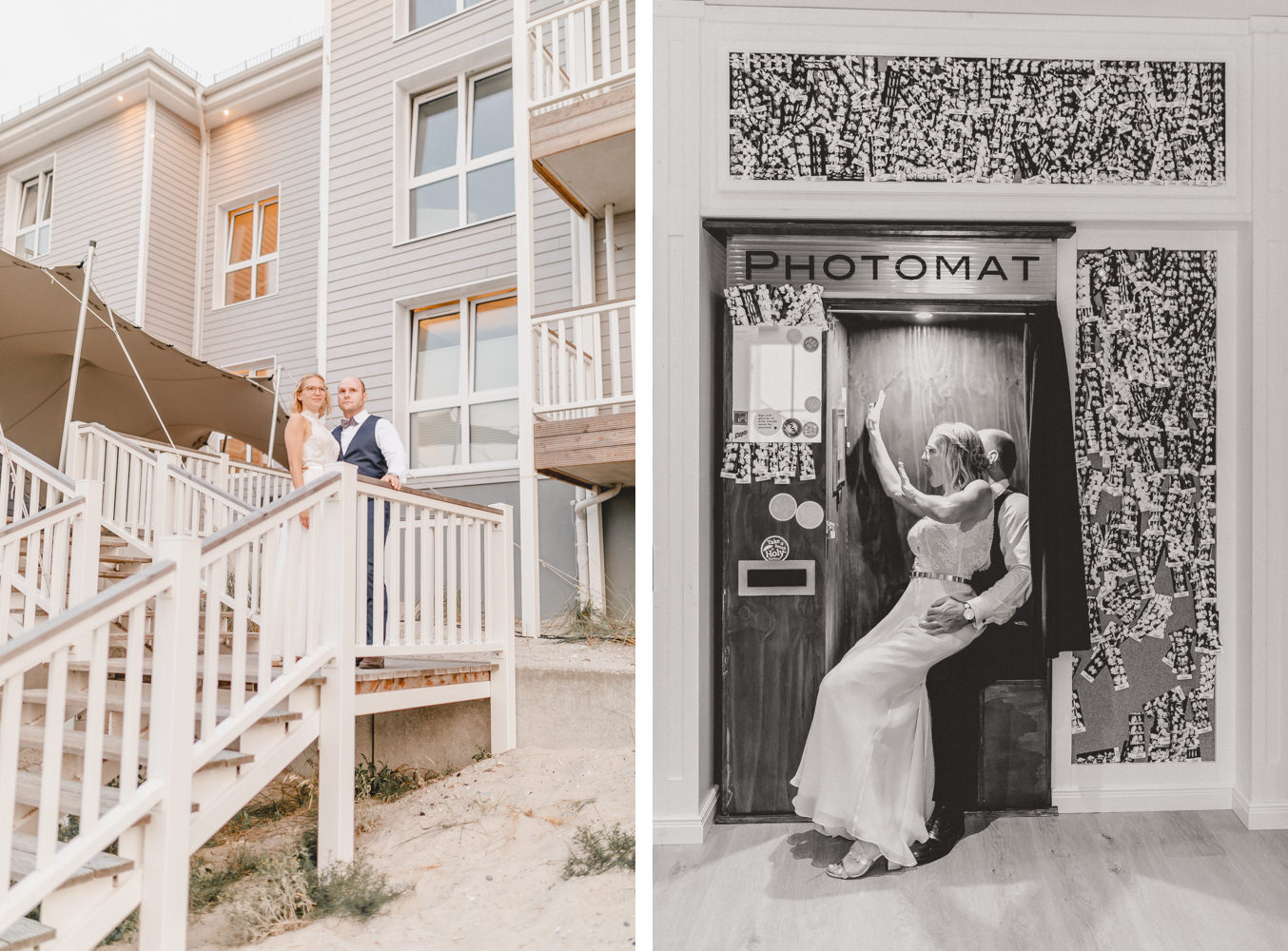 As a wedding photographer, I get to see so many wonderful places in the world. Heiligenhafen with its beautiful Baltic Sea was definitely a highlight. Especially that the beaches and the flair of the north of Germany surprised me so positively. Hamburg is already one of my favourite cities in Germany, but Heiligenhafen and the Baltic Sea will certainly see me again.
Would you also like to say I do on one of our German beaches? In Heiligenhafen? Or on another beach? As a wedding photographer I would love to join you in Heiligenhafen, on the island of Rügen, or at the beautiful North Sea in Norderney. Write me what you wish for your day and let us plan your vows together.
Lovebirds: Freya & Konstantin  |  Bridal dress and shoes: Kaviar Gauche  | Photoassistant: Caroline Rabe  | Reception: Bretterbude Heiligenhafen  |  Venue: Beach Motel Heiligenhafen, Germany | Church: Sankt Nikolai, Fehmarn